After I posted about that sour cream coffee cake, one of my readers (Hi, Mommychef!) shared her favorite recipe with me. Her recipe, she said, makes two cakes — one to bake right then, and the other to freeze, unbaked. That way, when a coffee cake hankering strikes, simply pop the frozen cake directly into the hot oven and — ba-bam! — fresh coffee cake.
I was intrigued. Could I really mix up a batter and freeze it for later? Would the frozen cake rise properly in the oven? And, if it worked to freeze the batter for a coffee cake, then could I freeze other cake batters, too?
Suddenly, I was struck with a vision of my freezer stuffed full with trays of cake batter-filled cupcake liners, pans of brownie dough, and mini loaves of banana bread, all ready to pop in the oven at a moment's notice. Wouldn't that be lovely?
But I've always thought that cakes needed to go directly into the hot oven once the rising agents were activated (i.e., the wet ingredients mixed with the dry) because if not, the cake wouldn't rise as high. But perhaps that's a myth? After all I do make certain recipes, like refrigerator bran muffins and buckwheat apple pancakes, in which the dough is fine hanging out in the fridge for days on end. And I already freeze raw cookie dough, scones, and pie pastry, so why not cakes?
I still don't know which batters can withstand a period of refrigeration or freezing — there's probably a scientific formula for this — but I'm happy to report that this frozen coffee cake batter bakes up most marvelously. I can't even tell the difference between the cakes made from frozen batter and the ones made from fresh batter. It's magic.
When I told my mother about this frozen coffee cake thing, she wondered if the cake tins might rust in the freezer. Already I was contemplating the problem of tying up my trusty cake tins for an extended period of time. But then I came up with a solution.
I line the baking tin with parchment and then, when the cake batter is frozen, I remove it from the tin (the dough is still soft but it holds its shape) and slip it into a plastic bag that's labeled with the correct pan size. Then when it's time to bake it, I simply plop the raw cake and its parchment shell, directly into the tin, and into the oven it goes.
I've been making this cake on repeat. I've taught my niece how to make it during one of her afternoon baking lessons, I've made it for our church's Easter breads breakfast, and I've made it for my family (and watched them devour nearly a whole cake in a single sitting).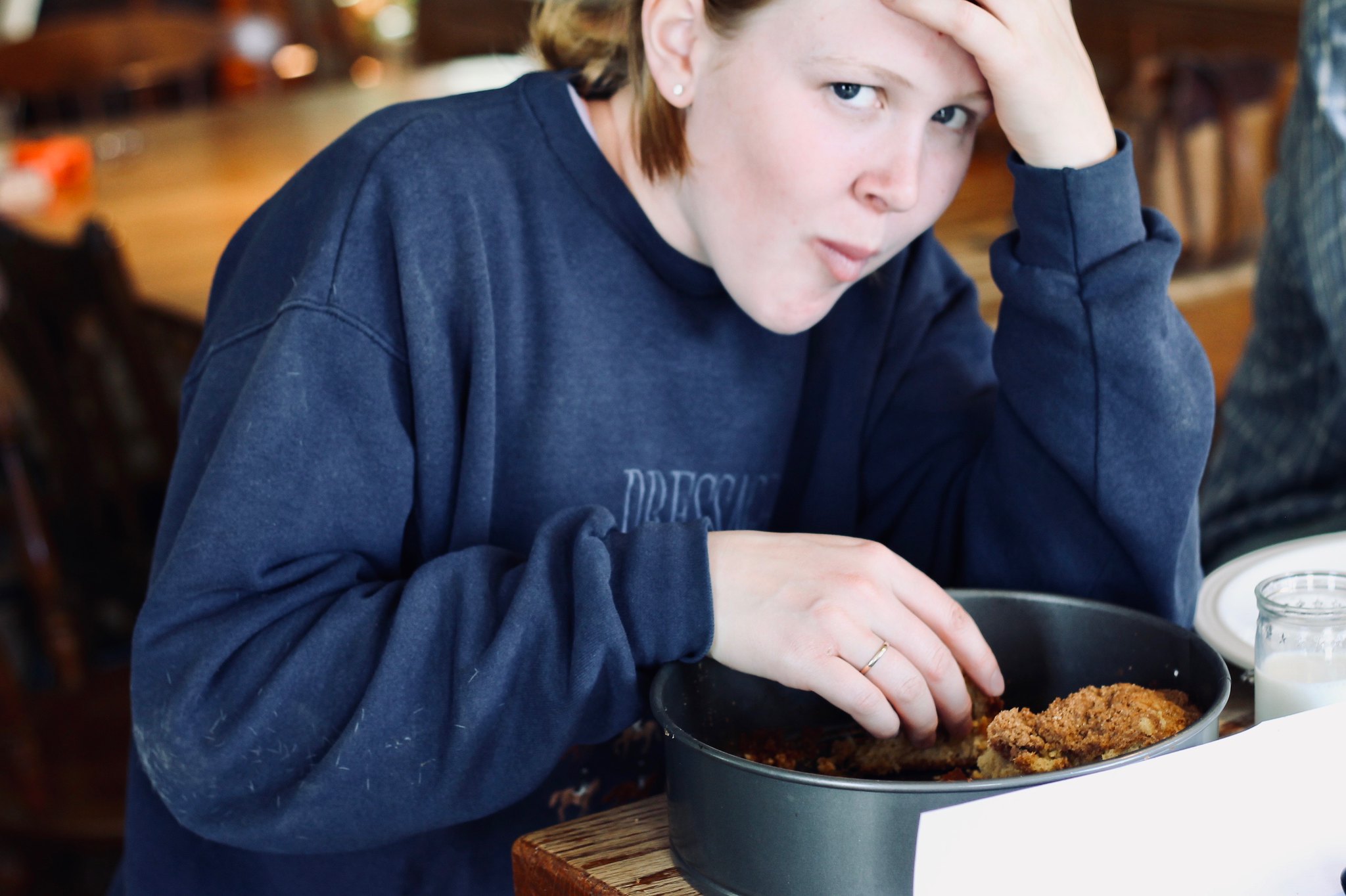 And then we ran out of sour cream.
But, never fear! This week when I went shopping, I bought a whole giant tub at Costco.
Another coffee cake is right around the corner….


Freezer Coffee Cake
Adapted from reader Mommychef.
According to the recipe, the coffee cake is supposed to be split between two 9-inch cake pans. My pans, however, have lower sides and they nearly overflow. So maybe aim for two 10-inch pans? Or one springform pan and one small loaf pan? Each time I make it, I seem to do something different.
for the streusel:
⅔ cup each brown sugar, white sugar, and flour
1½ tablespoons cinnamon
1 stick cold butter, cut into chunks
Put all the ingredients in a food processor and pulse until it comes together in a glorious crumbly mess.
for the cake:
3½ cups flour
1 cup brown sugar
1 cup white sugar
2 teaspoons baking powder
1 teaspoon baking soda
1½ teaspoons cinnamon
½ teaspoon salt
1½ sticks butter, room temperature, cut into chunks
3 eggs
1¾ cups sour cream
Put the dry ingredients — flour, sugars, baking powder and soda, cinnamon, and salt — into the mixing bowl. Beat in the butter, one chunk at a time. The mixture will be crumbly.
Beat in the eggs, one at a time. Add the sour cream a little at a time. Beat on high speed for a couple minutes, periodically scraping down the sides of the bowl.
Divide half of the batter between two greased 9-inch pans (see note at the top). Divide half of the crumbs between the two pans. Dollop the rest of the batter over the crumbs and use a knife to spread it smooth. Sprinkle the remaining crumbs over the cakes.
Bake at 350 degrees for about 45 minutes. Serve warm or at room temperature.
To freeze: Line the cake pan(s) with parchment paper. Fill with the batter, according to the directions above. Freeze for one hour until set. Using the parchment paper as handles, lift the frozen raw batter from the pan (it will still be a little soft) and immediately transfer to a ziplock bag. Label (so you know the correct pan to use!) and return to the freezer. To bake, simple remove from freezer, plop into pan (parchment paper and all) and slip directly into a preheated oven. Bake for an extra 5-10 minutes.
This same time, years previous: PUERTO RICO, the quotidian (5.1.17), the quotidian (5.2.16), carrot cake with cream cheese frosting, depression chocolate mayonnaise cake, baked-in-a-pot artisan bread, take two.