A couple months ago, my sister-in-law lobbed a couple cabbages at me. Or maybe it was just one enormous one? I can't remember. Anyways, I got me some cabbage(s).
Which instantly created problems. Because while I like cabbage, and my family eats it well enough (when leveled with a series of my most hairy eyeballs), I don't have any great preservation methods. So we eat it fresh or braised or in soups or whatever. It always ends up feeling like cabbage feast or famine.
But then I discovered curtido. Come to think of it, I may have discovered curtido before my sister-in-law chucked her cabbage(s) at me? Did I buy a cabbage from somewhere?
Hm, can't remember. My brain's a muddle.
ANYWAY. Point is, I made curtido and loved it. And then I made it again. (And then, I think, again? Whatevs.) I found the recipe on the New York Times Cooking email that pops into my inbox every several days, but then when I went to write about it, I discovered I was blocked. They had a new policy and in order to see the actual recipe I'd need to pay five dollars a month.
Briefly, I fumed. The audacity! The inconvenience! But then, sigh, I signed up. That's how badly I wanted the recipe! Even though there are hundreds of other curtido recipes splattered across the Internets, I wanted that one, so humph. (I haven't gone completely off the deep end; after this month, I'll cancel the subscription, don't worry.)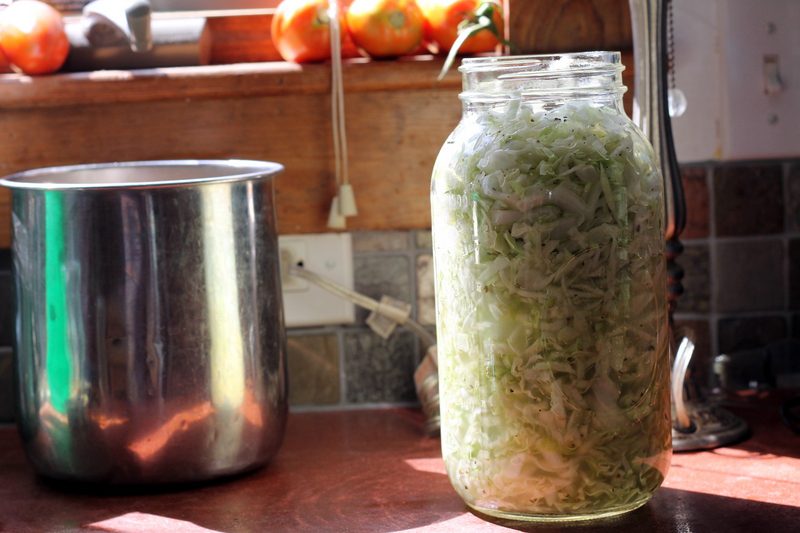 There's nothing fancy about the recipe (and after all that trouble, too, I bet you thought it was all sorts of exotic, ha): Just shredded cabbage and onion, packed in a jar and then covered with a heavily-salted and lightly-seasoned brine. Prepared like so, the cabbage just sits in the fridge for weeks on end, much like refrigerator pickles. The finished product isn't even all that exciting.
Except—EXCEPT—for when it's paired with beans. A scoop of curtido alongside a pile of rice and beans is an oo-la-la game changer. The salty cabbage adds crunch, salt, and tangy-zip. It makes my husband, the not-a-bean-fan grouch, actually smile and—get this—rave. So yeah, this curtido is nothing short of revolutionary. Mark my words.
My mother's hopped aboard the curtido bandwagon. She's cut down on the salt and is experimenting with different additions. She's serious about the stuff. (Hey Mom, you there? If you have a sec, would you mind noting your methods/changes in the comments? xo!)
with pupusas
Also, Dad planted fall cabbages and just passed on a couple starts to me, so there should be plenty of curtido in our collective futures, hip-hip!
Five-Dollar Curtido
Adapted from the New York Times Cooking website.
With 2 tablespoons of salt, it's quite salty. You could easily cut back to 1 tablespoon and be just fine. It might even be better that way.
1 pound cabbage, shredded
½ medium onion, sliced thin
½ cup white vinegar
1-2 tablespoons salt
½ teaspoon dried oregano
1-2 pinches ground cumin
¼ teaspoon black pepper
Combine all ingredients in a large bowl. Add 1-2 cups of cold water. Mix well. Pack into a half-gallon jar, pressing the veggies down so they are covered with the brine. Let sit at room temp for a day (or three) before transferring to the refrigerator. Serve with beans and rice, tacos, pulled pork, pupusas, etc.
This same time, years previous: the quotidian (9.5.16), rainy day writing, pear tarts, a quick rundown, say cheese!.