My younger son has been driving me bonkers. He's always been a go-go-go sort of kid, but lately he's turned into a spinning top. He bounces off the walls, flails fists, talks in a megaphone voice. Also, he has an affinity for flipping upside down whenever possible. I find myself almost wishing that he'd get sick, just so he'd hold still for two consecutive minutes.
Is this off-the-wall, upside-down, spin-around behavior a crucial step in healthy six-year-old boy development? Did I miss reading this section in the How To Raise A Child books?
The other day I took a series of pictures of him working on his Spanish. I was sitting at the art table, working with my daughter on her math or something, and every two seconds I'd turn around and snap a photo. Some of the pictures are blurry. I think you can figure out why.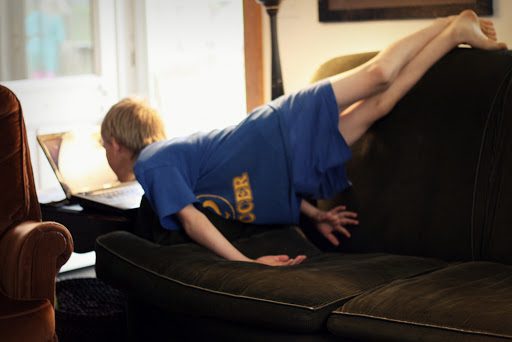 Maybe I should tie sacks of flour around his ankles to slow him down? Because I'm at my wits' end.
This same time, years previous: the greats