My birthday was on Tuesday.
from my sister-in-law and niece
The kids were super excited and spent lots of time planning the day. But then we got wind of what they were planning—to get up at 5 am to make me breakfast and have the day off of school work—and the poo hit the fan.
So then I had to mediate between my hyped-up kids and a husband who never plans anything. By "mediate" I mean "yell at."
To my kids: IT IS NOT RELAXING FOR ME WHEN EVERYONE GETS UP EARLY!
To my husband: ENGAGE, BOB. NOW.
To everyone: IT IS MY BIRTHDAY AND YOUR JOB IS TO WORK TOGETHER TO MAKE ME HAPPY!
And then I sent them all upstairs to work it out.
lunch, by the kids: note the copious amount of tinfoil
and the napa cabbage in place of lettuce (it was actually quite delicious)
My expectations for the day were fairly low. No cooking (unless I wanted to), I said. I wanted writing time, my husband to come home early from work, lots of evening time in which I could read out loud to the kids, and a movie after the kids were in bed. When my husband asked me what I wanted for supper, I said, "I don't care, but everyone has to like it and there needs to be a vegetable."
I spent the afternoon of the birthday day shopping for clothes and drinking coffee, no kids, no supper responsibilities, no nothing. It was lovely.
Also, I had my first famous person spotting. When I told my husband, he said, "Don't tell me. Let me guess. Was it a political figure?"
"No."
"A celebrity?"
"No."
"Someone from the newspaper?"
"Yes."
"From the cooking section!" a child interrupted.
"Yes."
"The Amish Cook?"
Huh? She's not from around here, so "No."
"Um… I don't know anyone else…" He was studying his plate, thinking hard. I caught the kids' eyes and made a jabbing motion towards myself.
"You!" they all yelled, and we about fell out of our chairs laughing because I was the famous "spotted" person.
The Story: I was walking through Wal-mart when a woman stopped me and asked if I write a cooking column. I quickly wiped the glazed-over stupid look, the one I get when I'm shopping, off my face and beamed, "Why yes!" She'd clipped the mac and cheese recipe from the paper, she told me, and her grandsons love it. We stood there in the florescent lighting and bonded over the column and recipes in general and husbands who sometimes cook and what they make (cracker stew) and Amish heritage. I couldn't stop grinning.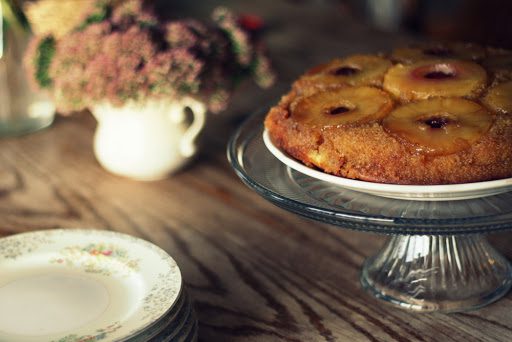 After a supper of sloppy joes, green beans, chips, and pineapple upside down cake, I sat on the brick hearth and the kids gave me their gifts: candy, candy, and more candy. Pure sweetness. We started our new read-aloud, The Westing Game, and then my husband and I watched another episode of Once while I ate a bowl of my birthday cereal, Reese's Puffs.
This same time, years previous: she outdid herself, the skirt, birthday minutia