It's been a struggle to keep the house warm today. I went for a walk this afternoon and thought I'd die from cold before I got back. In fact, it was so bad, I had a Jack London moment in which I heard wolves howl and nearly dropped my box of matches in a snowbank. (Never mind that there was no snow, let alone wolves or matches. The cold will do things to you.) It was freezing miserable, but I got my walk in.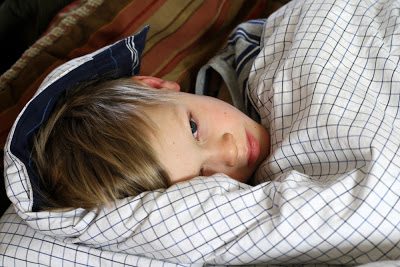 The kids and I spent most of the afternoon by the roaring, but-never-quite-hot-enough fire. I read books out loud, and we watched part of a National Geographic movie. My littlest was sick all day, and, excuse me from saying so, it was quite lovely. He—the kid who never stops moving—laid on the sofa in a most uncharacteristically calm and genteel fashion. So peaceful, so quiet, so still.
This evening, I stayed at home with Sick Boy while my husband took the other kids to town for our church's monthly supper and family fun night.
As soon as they left, I got a shower and then fixed toast for the kid and spiked hot chocolate with marshmallows for me.
I read books to him, and then I read to myself while he read to himself, and then he curled up on one end of the sofa to go to sleep while I settled in to write this on the other end.
Except now he's slumped over close to me, with his head laying on my arm, pinning it down to the keyboard.
I'll post this in the morning, but I wanted to get this sweet moment down right now, before it disappears in a swirling cloud of life.
(Also, my arm hurts, and I want more hot chocolate.)
***
That was last night, Tuesday night. Now it's Wednesday morning and I'm sitting by the fire again. (When we were getting ready for bed last night, shivering and shaking in the cold upstairs air, my husband said between clenched teeth, "It is freezing up here!" And I said, "At least we don't wake up with snow on us like Laura and Mary did." It's all about perspective, see.)
At 5:30 this morning, I braved the bitter cold when I dashed out to fetch the paper. I don't ever get the paper—that's the kids' job—but my column debuted today so I was all sorts of eager.
I had a series of writing-for-newspaper anxiety dreams last night and didn't know quite what I'd see when I opened the paper, but there it was, my words running down the front page of the Flavor section with my picture (taken by my son—not every five-year-old can boast that he's a published photographer!) at the top, like an upside down exclamation point, yee-haw!
I titled the column Kitchen Chronicles—since it will be about stories and food—and the first recipe is, of course, granola.
(I'd link to the article if I could, but the online paper is only for subscribers.)
This same time, years previous: baguettes, hitting the jackpot