*I brought these humongo lollipops back from NYC. My kids thought I was the bomb.
*This is what happens when hot weather hits before I buy our season pass to the pool.
*Punk Kid.
*A kid with a bad case of lip. (Waxiness aside, she really does. We're working on it.)
*This is what happens when my kids beg me to buy them flip-flops and I never get around to doing it.

When I'm old and decrepit, I'll try to recall the feeling of pudgy arms squeezed tight around my neck, the baby kiss-smacks, the oxytocin buzz from breastfeeding, but all I'll remember is the mismatched flip-flops. Acute and agonizing bouts of guilt will then ensue.
*We turned three bushels of Lodi apples into sauce. Each year my husband attempts to improve our system (drives me nuts) and this year was no different. Instead of simply washing the apples by hand in the sink, he pressure washed them.

And yes, it was faster and less work and a very nice step-up.
*Splashes of color on a splashy-wet day.
*Towel Toga.
*Morning quiet.
*Table reading.

Some friends gave us the books "What's Happening to Me?" and "Where did I Come From?". I read then out loud and all but one kid (can you guess which one?) loved them. I highly recommend the books, but do read them pre-puberty, before the subject gets excruciatingly embarrassing.
*I like to add a few frozen red raspberries to a glass of white wine. It's pretty, and the wine-soaked berries at the bottom of the glass are a tasty ending.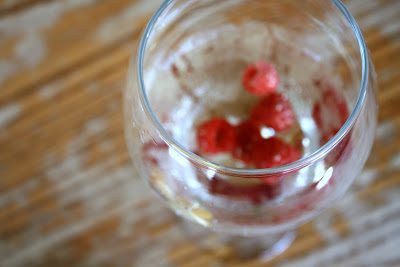 *July Garden (the corn is majestic!)
*My daughter, using all her appendages to scrub the floor, a la Curious George.
*Crossed wires. They clutter up my view and bug me to pieces.
*Wikki-Stix, one of The Birthday Girl's gifts.
*Listening to stories (note the dazed, I'm-in-la-la-land look) on a brand new CD player, another birthday present.
*Mama! There's a mushroom growing out my ear!
*A makeshift porch swing bed.
*Back porch hoe-down.
*Belly Dancing and Weed Smoking Boy in a Blue Bonnet.
*A new great way to use up all that zucchini.

Tons of raw zucchini (sprinkled with salt and then drained to get rid of excess moisture and a less raw taste), chewy whole wheat pasta, creamy-sharp Parmesan cheese, crunchy almonds, and a tangy olive oil and lemon dressing makes for a refreshing dinner on these hot summer nights.

Zucchini Pasta Salad
Adapted from Smitten Kitchen
Lots of room for improvisation here: onions (raw or caramelized), feta cheese, grain instead of pasta, cooked beans, some crumbled bacon, etc.
12 ounces whole wheat spiral pasta, cooked al dente, drained, and cooled
2 pounds zucchini, cut in half and then thinly sliced
1-2 teaspoons salt
2 ounces Parmesan cheese, grated
2/3 cup slivered almonds, toasted
½ cup olive oil
1/4 cup fresh lemon juice (from 1-2 lemons)
black pepper and salt, to taste
Put the zucchini slices in a colander and toss with the salt. Allow them to sit undisturbed for about 30 minutes. Taste—if too salty, rinse with water and pat dry. (I used 1 teaspoon of salt and mine were not too salty.)
In a small bowl, combine the olive oil, lemon juice, and a bunch of black pepper.
In a large bowl, combine the pasta, zucchini, and Parmesan. Add the dressing and toss. Taste to correct seasonings. Immediately before serving, add the almonds.
This same time, years previous: peas with prosciutto, red beet salad with caramelized onions and feta