Mini Bite #1: today's lunch
Leftover lovelies: mashed potatoes, corn, peas, macaroni and cheese, applesauce, sour cherries, meatloaf, and salad. Sometimes I am in awe of my children's appetites.
Mini Bite #2: foreclosed cherries
Someone didn't pay the rent on their freezer locker so the contents (sour cherries) were going to be emptied into the landfill. Some other people, smart ones, salvaged them. We got 70 pounds for 20 bucks.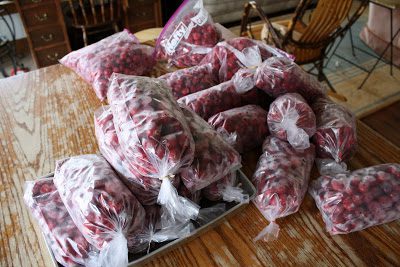 a portion of the haul

Mini Bite #3: Pi Day
It's Pi Day, you know: March 14 equals 3.14.
I'm making a—you guessed it—sour cherry pie. And perhaps a cherry cobbler, too.
I have no idea what we'll have for supper.
Mini Bite #4: camera happy
I've been reading through PW's photography tutorials and then spending a lot of time sitting in the yard puzzling over the buttons on my camera. I let my daughters take some pictures. There's this one.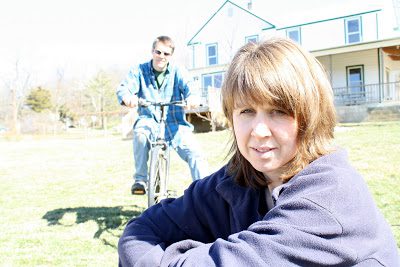 And this one.

They're overexposed, I know, but I really am learning new things.
And then, in exchange for letting me take pictures of him, I let Nickel take a picture of me.

Mini Bite #5: glorious poop
Our neighbor brought us a truckload of poop.

It made me really, really happy, especially considering that just that morning my husband and I had had a mild argument over the lack of garden fertilizer and how the said lack of fertilizer ought to be remedied. But then the neighbor showed up with the poop and all was well.
Mini Bite #6: airborn
After surgery, the nurse told Nickel that he wasn't allowed to run around the house for the rest of the day. He grinned at her cheerfully and then, once he was de-IVed, said he had to go to the bathroom and took off at a fast trot. There is no stopping this kid. Here are a few pictures of him in action, all taken within 36 hours of his surgery. In fact, he's still wearing the clothes he wore to the hospital.

Mini Bite #7: curry
I made a chicken curry that my whole family likes! This is a classic curry—one that's perfect for adorning with all sorts of yummy condiments.

Golden Chicken Curry
Adapted from a hand-me-down cookbook: The Flavors of Bon Appétit 2000
the meat from one cooked chicken, chopped
1 hearty glug of oil
2 or 3 large onions, chopped
1/4 cup minced, peeled fresh ginger
3 garlic cloves, minced
3 tablespoons curry powder
1 teaspoon cumin
½ teaspoon ground cinnamon
2 tablespoons flour
1 cup plain yogurt
3 tablespoons tomato paste
3 cups chicken broth
1 cup applesauce
1 10-ounce (2-3 cups) packaged frozen peas
½ cup sour cream
½ cup coconut milk
salt, to taste
Toppings: cilantro, green onions, chutney, chopped bananas, raisins, chopped peanuts or cashews, coconut, etc.
Sauté the onions in the oil till they're translucent and tender. Add the ginger and garlic and sauté one minute. Add the curry, cumin, cinnamon, and flour and sauté one minute more. Add the yogurt and tomato paste, stir until thick, and simmer for one minute. Add the broth and applesauce, bring to a boil, and then simmer for a few minutes. Add the chopped chicken and peas and heat through. Remove the kettle from the heat and stir in the sour cream and coconut milk (you may continue to heat, as needed, but do not boil). Taste to adjust seasonings.
Serve the curry over rice, with a smattering of condiments.

This same time, years previous: relief and pride, plus memories, breakfast pizza, a child's blessing, warm sourdough chocolate cakes