Just because I'm not baking sourdoughs now doesn't mean that sourdough isn't taking a prominent role in our diet. On the contrary, we're feasting on the bread, steadily plowing through the loaves that I had squirreled away in our freezer.
Just today, for example, I made grilled cheese sandwiches with the Country White.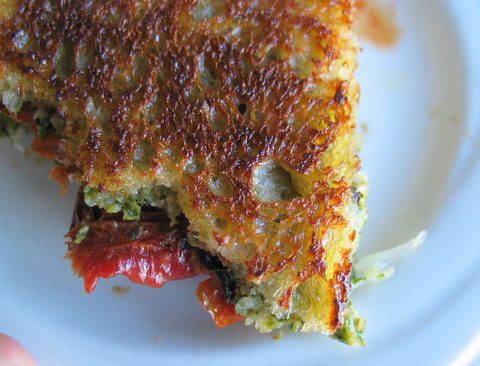 Country White elevates a simple grilled cheese sandwich to a whole new level. Especially when you add pesto and oven-roasted tomatoes.

I'm racking my brain to see if there is any other sandwich that I favor above this one—Reuben? Sweet Lebanon Bologna? Egg, Bacon, and Cheese? Hot Meatball Sub?—and the answer is, dare I say it?, not a one. This grilled cheese takes the cake. Period.

I suppose I should write about this recipe over at Mama's Minutia, but since the sourdough bread plays such a crucial role in this recipe, or rather, this food configuration, I decided to add it to the Sourdough Blog. I have some other Ways-To-Use-Sourdough recipes that I'll eventually post here, too. But for starters (ha! no pun intended!), here's a darn good basic one.
Grilled Cheese Sandwich with Pesto and Oven-Roasted Tomatoes
Country White Bread (or any other non-sweet sourdough bread, though the Country White is my favorite)
A good melting cheese such as mozzarella
Butter
Pesto
Oven-roasted tomatoes
Take two slices of bread. Spread one slice with about a tablespoon of pesto. Cover the pesto with slices of cheese. Put the second piece of bread on top. Generously butter the outer pieces of the bread. Fry the sandwich on a hot cast-iron skillet, about two or three minutes for each side, or until the bread is golden brown and the cheese is oozing out the sides. Open the hot sandwich and stuff with the tomatoes. Close the sandwich back up again, take a bite, and moan with pleasure.