Um, about those apple dumplings, don't make 'em.
I mean, you can make them, if you want, but — and my apologies for being so wishy-washy — I've got something better now: Old-Fashioned Apple Roll-Ups.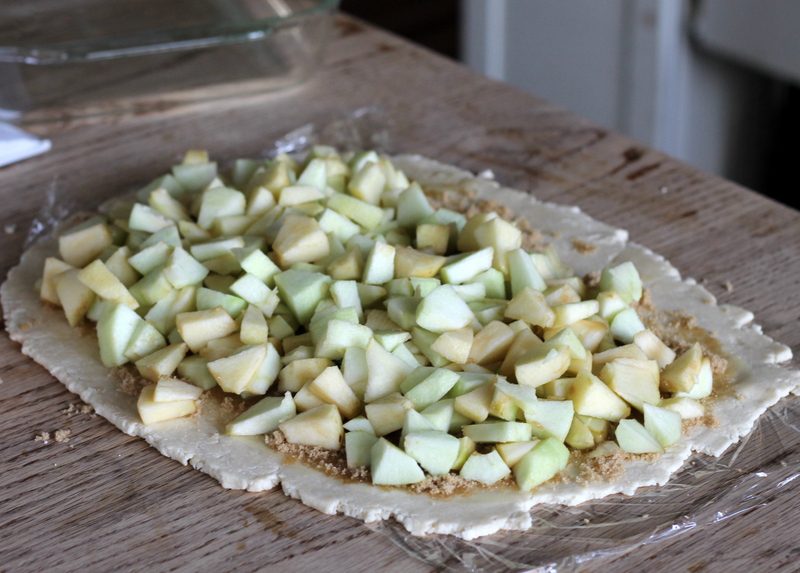 It's the same recipe as the dumplings — and it's actually from the same cookbook, just an adaptation that immediately follows the dumpling recipe — the only difference being that the apples are chopped and then rolled up in the biscuit dough (along with melted butter and brown sugar) a la sweet rolls.
The method is sort of a disaster because the dough doesn't roll very well and all the apples fall out but persevere. The apples cook directly in the syrup, which is most delightful, and the lower half of the biscuit drinks up a fair portion of the sauce which makes the stickiest, sweetest dumpling bottoms ever. Also, the apple roll-ups are way more manageable to eat — no more wrestling with oversized hunks of scalding hot apple — and it's easier to serve, too: simply scoop out as little or as much as you like.
I added "old fashioned" to the title because only people who churn butter by hand, hoe potatoes by the blasted acre, and walk six miles to town (uphill both ways) can justify eating this much butter and sugar. (It's a good thing I'm not into justifying my food.)
* Media Break *
Stranger Things (Netflix streaming)
Have you watched the second season yet? The first day it came out, my older son watched the entire thing. My husband and I have been a bit more measured; we are halfway through. (Though he just tried to pull me away from my writing to get me to watch another episode! And in the middle of the day, no less!)
Last night we watched two episodes and then had to decompress with some light reading. Once in bed, the lights off, we heard faint music. Was there a car outside? I opened the window but only quiet night-time noises came wafting in. Was our older son having a late-night dance party? My husband checked, but no, his light was off, too, the room perfectly quiet. And there were no noises from our older daughter's room, either.
Back in our room, my husband turned off the fan so we could better detect where the sound was coming from. Briefly, the music disappeared all together, and then it came back, louder and louder and louder. What in the world? And then I recognized the music — the creepy theme song for Stranger Things! My husband opened the little storage cupboard above our built-in closet, and there sat my older son's Bose speaker. My husband stomped down the hall to my son's room, the blaring speaker in hand. From my bed, I could hear my son shrieking with laughter. That child!
Beatriz at Dinner (got it from Red Box)
My husband watched about ten minutes of this before quitting — he can't handle anything socially awkward and this movie is intensely awkward. I loved it. There were so many layers, so I had a lot to think about afterward. (And it also made me mad at my husband for not watching it because I wanted, needed, someone to process it with, grr.)
Jane The Virgin (Netflix streaming)
A funky blend of both mystery and comedy, my husband (!) and I are enjoying this show that spoofs telenovelas, the Catholic church, and Latin American culture. (I love seeing a Hispanic actor in the lead role — she's fantastic.) Even though the characters are (hilariously, wildly) stereotypical, they (some more than others) still manage to be authentic.
Our Souls At Night (Netflix streaming)
I loved this movie, too: Slow and meandering, wonderful acting, intriguing premise. (And no, my husband didn't watch it with me.)
* End Media Break *
Old-Fashioned Apple Roll-Ups
Adapted from the Mennonite Community Cookbook.
Feel free to add raisins and chopped walnuts or pecans to the filling, if that sort of thing makes you happy.
for the pastry:
2 cups flour
2 ½ teaspoons baking powder
½ teaspoon salt
⅔ cup butter (about 10 tablespoons), cut into chunks
½ cup milk
for the filling:
6 baking apples, peeled, cored, and cut into chunks
4 tablespoons butter, melted
½ cup brown sugar
for the syrup:
2 cups brown sugar
2 cups water
¼ teaspoon each cinnamon and nutmeg
4 tablespoons butter
To make the pastry: Stir together the dry ingredients. Using your fingers (or a food processor), cut in the butter. Add the milk and knead lightly to form a ball. Press into a rectangle, wrap in plastic, and chill in the refrigerator. (It can be refrigerated for a couple days, or frozen, if desired.)
To shape the roll-ups: Roll the dough into a large rectangle.
Spread the melted butter over the pastry and then sprinkle with the half cup of brown sugar. Mound the chopped apples over top. Roll up the pastry as best you can and cut into eight pieces. Place the pieces in a 9×12 baking dish as best you can. Scoop up any pieces of apples that didn't make the transfer and sprinkle them between the rolls.
To make the syrup: Put the sugar, water, and spices in a kettle over medium-high heat. Bring to a boil, reduce the heat, and simmer for five minutes. Remove from heat and whisk in the butter. Pour the hot syrup over and around the apple roll-ups.
Bake the roll-ups at 375 degrees for 35-40 minutes. Serve warm, drowned in cold milk.
This same time, years previous: meatloaf, the quotidian (11.4.13), laid flat, lemon squares.