Our grapes went gangbusters this year.
Once I got into the rhythm (after the first 12 pints of pallid jelly from underripe grapes, blech), I turned out batch after batch of jelly followed by a bunch of sweetened grape juice. (Confession: I've never really liked our grape juice—it always tasted sort of rotten-ish—but then this year I got lavish with the sugar. Plus, I quit diluting. Now we drink it straight-up over ice, all rich and sweet and deliciously grapey.)
I thought I was pretty much done processing grapes, but then I went out to the arbor to photograph my daughter picking a bowlful of grapes, the morning sun filtering through the leaves, and I was shocked to see that the arbor was still loaded.
And after all that juice and jelly making, too!
Clearly, it was time for grape pie.
So I sent one of the kids to the attic to hunt down my old-fashioned fruit strainer/musher, and then set about the business of making a grape puree: stem and wash the grapes, separate the skins from the eyeballs, cook down the eyeballs until they release their seeds, strain the sauce to remove the seeds, and then, finally, add the reserved skins back to the pale-green, applesauce-like sauce and then heat it through until I had a bubbling mass of dark purple, grapey deliciousness.
For the pie, I stirred some sugar and cornstarch into three cups of the puree, simmered it until thick and bubbly, added the juice of half a lemon and a pat of butter, and then poured the whole mess into a pie shell.
I topped the pie with a flurry of buttery crumbs and baked it in a blistering hot oven for thirty minutes. And then I had to fly out the door to rehearsal, leaving the pie to cool on the counter.
When I got home that night, only a quarter of the pie was left. My husband reported that the kids had gone wild over the pie. Like, bonkers crazy. Loved it, rave reviews, the works, etc, etc.
I ate my piece with vanilla ice cream—my husband had a piece, too (his third)—and then I had another piece.
"I have to make more puree," I said.
"Yes," my husband said.
Because, see, grape pie is nothing short of revolutionary. So intense, so rich, so thoroughly grapey, grape pie is a pie like none other. In fact, I'd venture that until you've tasted a grape pie, you've never really lived.
Those, my friends, are the over-the-top, paradigm-shifting thoughts that flit through one's brain while eating a piece of grape pie. That's how good it is. It's no coincidence, I don't think, that we frequently find ourselves dropping the 'p' in grape and replacing it with a 't.' Great pie, we call it.
And truly, it is.
Good to my word, I spent the next day making grape puree, and now enough filling for eight pies is squirreled away in the freezer. What riches!
And now my younger son has grape fever. He's created a signature grape sauce by cooking down whole grapes, straining them, and then cooking the purple sauce with clear jell and sugar until it thickens slightly. We had some at lunch today, drizzled over vanilla ice cream for dessert, be still my beating heart.

And he baked a grape pie today, from his own puree (and some of mine, because he was short two of the three cups, ha!) and pastry, too. He's so proud.
We'll eat it for supper tonight, with ice cream. And there will also be an apple pie, made from the scrappy apples from our tree, and fat juicy burgers.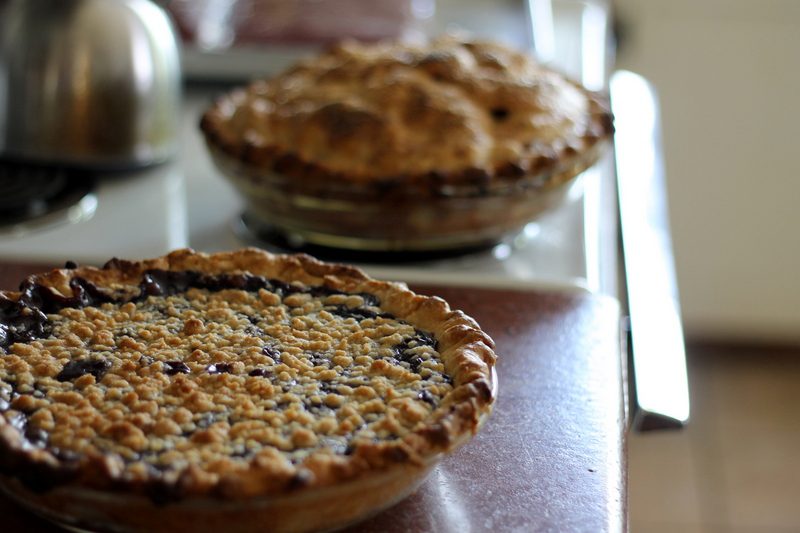 I'm excited.
Grape Pie
Loosely based on a recipe from The Mennonite Community Cookbook.
This pie is best eaten the same day it is made. To make the grape puree, follow my instructions as written in the body of the post. Or these instructions.
The crumb topping is rather sparse, but it's plenty. Trust me.
½ recipe of rich butter pastry
3 cups grape puree (from four cups of whole grapes? Five? Not sure…)
½ cup sugar
3 tablespoons cornstarch
juice of half a lemon (1-2 tablespoons)
1 tablespoon butter
½ of a recipe of crumb topping (recipe follows)
Line a 9-inch pie pan with the pastry. Crimp the edges. Set in the fridge until ready to fill and bake.
Measure the grape puree, sugar, and cornstarch into a saucepan and cook over medium-high heat, stirring occasionally, until bubbly and slightly thickened. Remove from the heat and stir in the lemon juice and butter.
Pour the filling into the pie pastry. Top with crumbs. Bake on the bottom oven rack at 400 degrees for 20-30 minutes or until the pastry is deeply browned and the filling bubbles.
Cool to room temperature. Serve with vanilla ice cream.
Crumb Topping
Adapted from The Mennonite Community Cookbook.
¾ cup flour
¼ cup each brown sugar and white sugar
6 tablespoons butter
Mix everything together with your fingers until sandy and crumbly. Use half the crumbs on one pie and freeze the rest for another pie.
This same time, years previous: a day in the life, the quotidian (9.21.15), the quotidian (9.22.14), when the relatives came, vacationing till it hurts.