Along with beef (update: one of the promised freezers is a dud, PANIC), these days I've also been consumed with all things peach. More specifically, peach pie. You see, I've never landed upon a peach pie recipe that I like. Oh, I've eaten lots of peach pies, and I've made peach pies, and they're all fine, I suppose, in a pallid, insipid, and uninspired way…*
So no, not fine. Not fine at all.
Maybe peaches just don't belong in pie? But I can't quite believe that, because everyone loves peach pie (or so they say). I want to like peach pie, too!
So I've been on a quest (I actually think I may have found one I like, but I'm not for sure since it's still cooling) (**), which I mentioned to my mom and she was like, Why don't you just make fresh peach pie?
Because, I explained, that feels like cheating—all fresh fruit pies are guaranteed winners. And I want to make a baked peach pie, a golden-crusted, burbling, lightly-spiced affair. Something to serve with vanilla ice cream and swoon, okay?
But then I made a fresh peach pie anyway, because I don't think I'd ever really made one and I had two bushels of peaches spread out on tables in the downstairs bedroom. It was delicious, of course. Everyone said so. Repeatedly.
In fact, my family keeps talking about that pie. Probably because I keep shoving pieces of baked peach pie in their faces? Dutifully—diligently—they chew and swallow, and then, invariably, they say, "Whatever happened to that pie you made the other night? What was wrong with that one?"
So now I've inadvertently upped the stakes on myself: this baked peach pie has to be as good as, or better than, a fresh peach pie.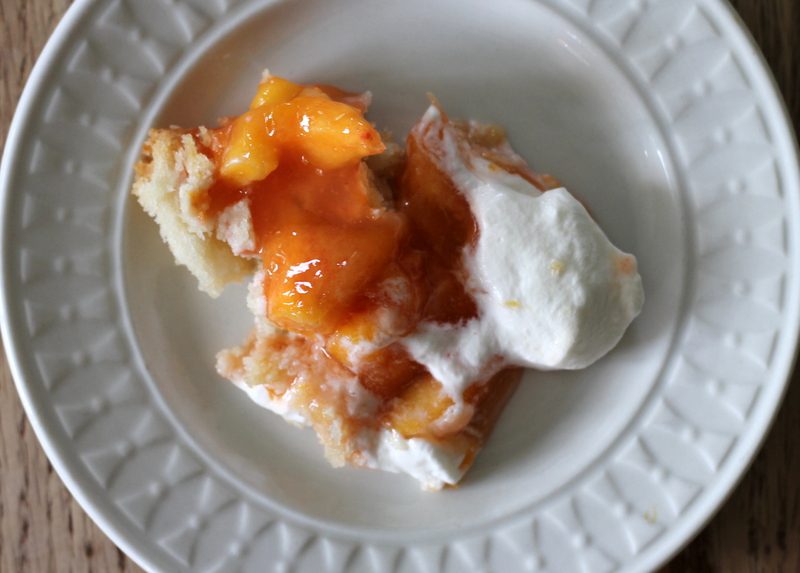 Way to go, Jennifer.
Fresh Peach Pie
Based on measurements my mother gave me via email.
This pie does not cut neatly—it's more of a spoonable affair. This deters no one.
1 recipe no-shrink tart crust (9-inch), prebaked
5-6 cups peaches, peeled and chopped
¾ cup sugar
5 tablespoons thermflo, or cornstarch
¾ cup water
a couple drops of red food coloring
2-3 cups whipped cream
Measure the sugar and thermflo into a saucepan and whisk in the water. Cook over medium-high heat, whisking constantly, until thick and bubbly. (It will look horribly wrong, like a thick glue, but don't worry. It's all good.) Whisk in the red food coloring and remove from heat.
Add the chopped peaches, just a little at a time, making sure each addition is fully incorporated before adding the next. This will prevent you from ending up with chunks of sugar glue and lots of naked peaches.
Put the fruit into the pie shell and top with billows of whipped cream. Chill in the fridge until ready to eat.
*Oh dear, now no one will ever serve me a peach pie again! Not that many people have ever served me a peach pie—the peach pies I eat are mostly the ones I make myself, and I'm much harder on my own baking than I am on others. So please, go right ahead and make me a peach pie. I'll be thrilled, promise. (See me awkwardly trying to dig myself out of my hole?)
**Nope.
This same time, years previous: tomato bread pudding with caramelized onions and sausage, the quotidian (8.11.14), best banana bread, goodbye, getting my halo on, there's that, a bout of snarky, sweet pickles,