At Costco the other day, I sent my younger son to get a tub of sour cream. It wasn't until we got home that I realized he had picked up a tub of cottage cheese instead. He calls it cabbage cheese, though, and another kid calls it college cheese. With a tub of whatever-you-call-it cheese in the fridge, I decided to make lasagna. I rarely make lasagna, which was evidenced when my younger daughter asked me what was for supper.
"What's for supper?" she said.
"Lasagna."
"Lasagna? What's that?" And then, "Oh, is that the long noodles with sauce and cheese?"
"Yep."
"Yay!"
So I guess she knew enough about it to be excited.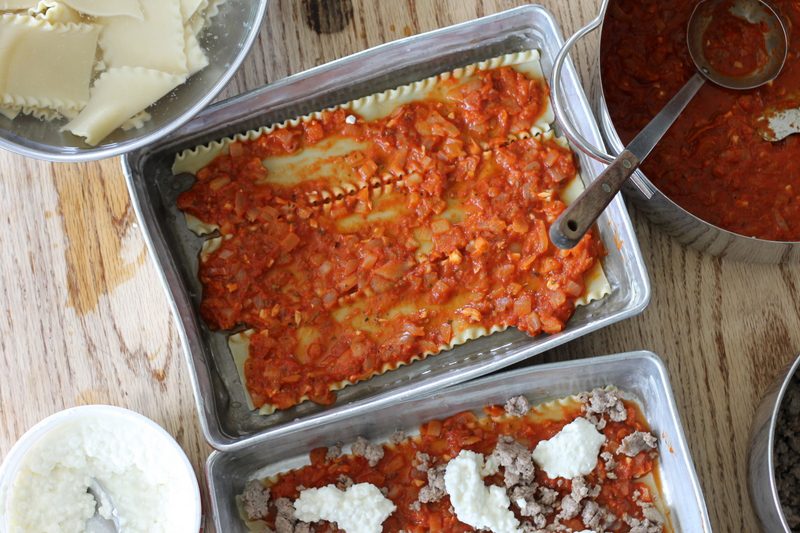 I always feel like lasagna is so complicated, what with all the components: the cheeses, sauce, cooked meat, and the noodles. This time, though, it didn't feel like such a big deal. Maybe because my daughter helped prep the garlic and onions, and I skipped measurements? In any case, the lasagnas—I always make two—came together quickly, and then we had enough leftovers to last us several more meals.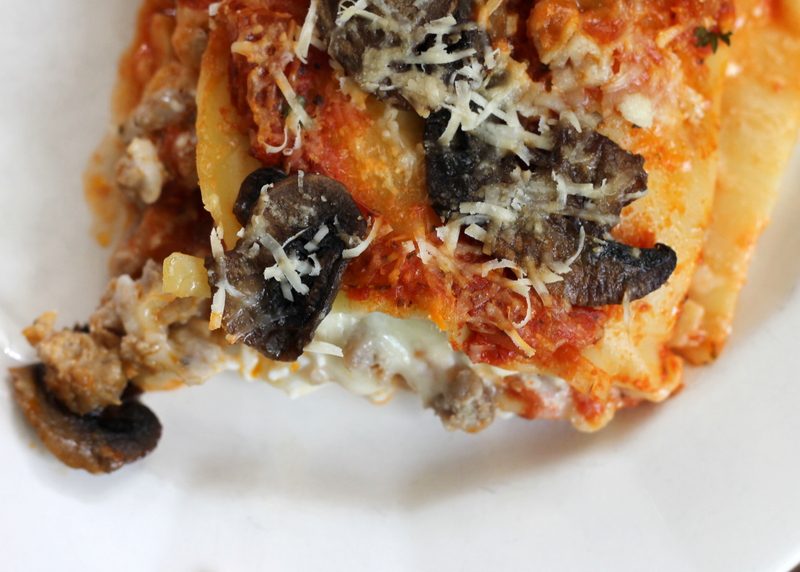 Bonus: when they're baking, they make the whole house smell intoxicating. My husband walked in the door, took one whiff, and groaned with pleasure.
"I don't even need to eat it," he said. "I'd be happy to just sit here, breathing in the smell."
Which was a slight exaggeration, but okay.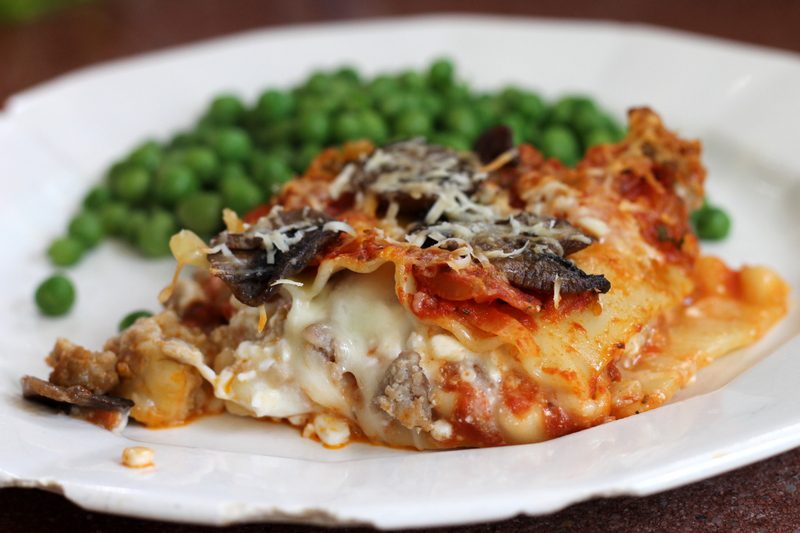 Simple Lasagna
My mother always made her lasagnas meatless, and topped with mushrooms. (The mushrooms totally make the dish, I think.) I added a layer of cooked Italian sausage, which is delicious but completely unnecessary, and I only topped a partial pan with mushrooms since some of my family members haven't yet fully evolved.
1 pound lasagna noodles
2 pounds cottage cheese
1½ pounds mozzarella cheese
1 cup freshly grated Parmesan cheese
4-5 cups tomato sauce
2 teaspoons dried basil
4 teaspoons dried oregano
1-2 teaspoons salt
black pepper
2-3 large onions, small dice
8 cloves garlic, minced
a glug or two of olive oil
fresh parsley, a large handful, roughly chopped
1½ pounds mushrooms, sauteed, optional
1-2 pounds Italian sausage, optional
Cook the lasagna noodles according to package instructions. Drain the noodles and then submerge in cold water so they don't stick to each other. Set aside.
If using sausage, cook it on the stove top and then set aside.
If using mushrooms, saute and set aside.
In a large saucepan, saute the onions and garlic in a bit of olive oil. When translucent and soft, add the tomato sauce, dried oregano and basil, and salt and pepper. Simmer for 15 minutes and then set aside.
To assemble:
Grease two 9×13 pans. In each pan, layer: three noodles, 1/6th of the sauce and fresh parsley and 1/4th of the cottage cheese, mozzarella, and meat. Repeat the layers. Place the third and final layer of noodles in the pans. Top with the last of the sauce, the mushrooms, parsley, and the Parmesan cheese. At this point the lasagnas can be covered and refrigerated for later. (Or cover tightly with foil and freeze. To thaw, let set at room temperature for about 8 hours before baking.)
Bake the lasagnas at 375 degrees for 30 minutes or until the sauce bubbles in the middle. Let the lasagnas rest at room temperature for 20 minutes before serving.
This same time, years previous: the quotidian (5.30.16), an evening together, in her element, a bunch of stuff, showtime!, down to the river to chill, barbequed pork ribs, fresh strawberry cream pie.