This post is for my readers—all three of them, probably—who have a sack of pig fat sitting in their freezers waiting to be turned into lard. Judging from the blank stares I get when I mention lard-making, most people do not dabble in pig fat. Most people, it seems, would rather go through life pretending that pig fat does not even exist.
But then there is me.
I am celebrating because I have crossed from ordinary lard consumer to lard maker. I have chopped pig fat—from our very own pigs that we raised on our very own land—with my very own bare hands and then cooked it down in my very own oven till it turned into liquid fat/gold, I am the Little Red Hen, hear me cluck!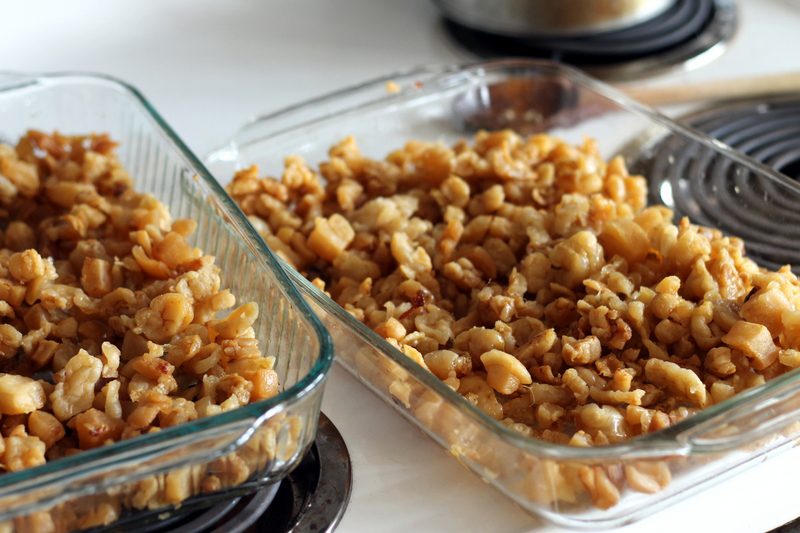 Seriously, though: how many of you have a stockpile of fat waiting to become lard? Two of you? Five? This is not a rhetorical question! It is a test to see just how tiny my little island is—Helloooo! Can anyone hear meeeeee?
Sigh.
Anyway. On the off-chance there's another person stashing fat (in the freezer, not the body since I know I'm not alone there) and not sure how to get it into lard, I am here to tell you everything.
Actually, it's really not that exciting. Just pop the fat in an oven and cook slow and low until you have lard. The main trick (if you can even call it that) is to keep the fat at low-enough temps so it never boils because boiling imparts a bad flavor and color, or so I've been told.
so glorious it glows
I cooked my pig fat for a day and a half, got 4½ pints, and then called it quits. The fat cubes were still pretty big so maybe I could've gone longer? But that last half-pint of lard was no longer pure white, and I was tired of running the oven. The animals thought the scraps were the best snack ever. (I was afraid the smell of the rendering would be overpoweringly disgusting, but as long as the oven door stayed shut, it was actually quite mild. I even had a friend pop in and not notice the smell at all.)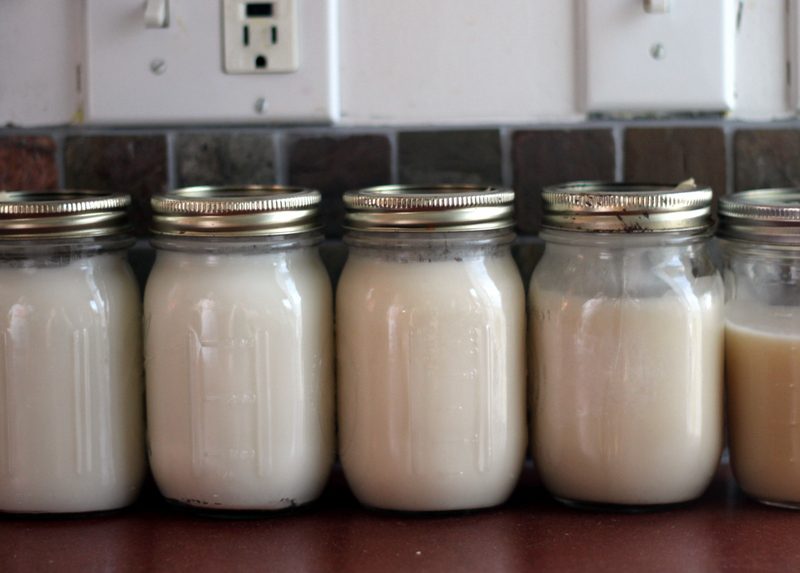 from left to right: the first to last "pourings"
What am I using the lard for, you ask? Oh, silly you! The options are endless. I've already made a batch of sky-high biscuits to celebrate (and to go with this carrot soup), and I mixed some into the pork filling for tonight's empanadas. In the next few weeks I'll be using lard in everything, from pastry crusts to scrambled eggs to refried beans to soup. Trust me: a stockpile of fresh, homemade lard is not a hardship.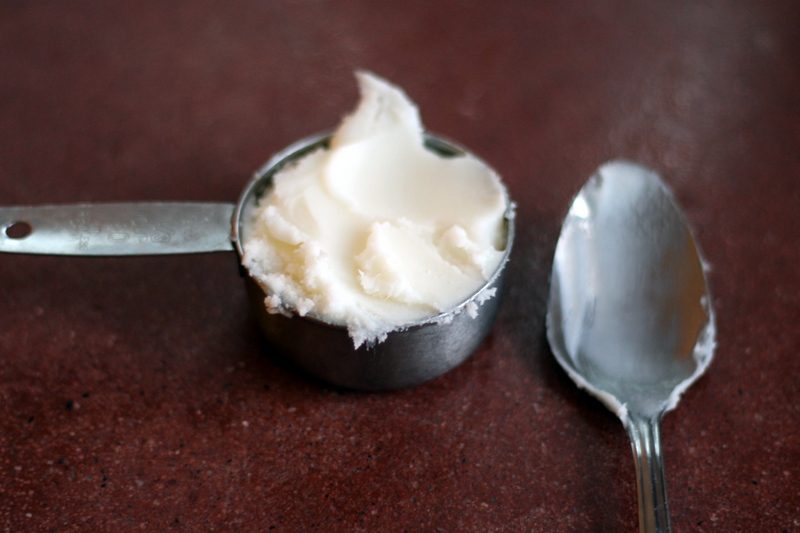 Homemade Lard
Chop pork fat into little cubes (tip: fat is easier to cut if partially frozen) and tumble them into a glass 9×13 pan (or pans, if you have a lot of fat). Bake, uncovered, at 150 to 190 degrees.
After about six to eight hours, liquid (the lard!) will start puddling in the bottom of the pan. When there is enough to make it worth your while, pour it off, through a fine-mesh strainer (or cheese cloth), into a bowl. While the lard is still hot, pour it into jars. Lid the jars (the heat from the lard will make them seal) and let cool to room temperature before transferring to the refrigerator for long-term storage.
Return the pans of fat to the oven and bake for another four to six hours. Repeat the process (pouring off the liquid and baking) until the fat ceases to relinquish more lard.
For more lard-making pointers, go here and here and here.
This same time, years previous: the quotidian (1.11.16), the quotidian (1.12.15), sticky toffee pudding, spinach lemon orzo soup, eyeballs and teeth, creamy blue cheese pasta with spinach and walnuts, and spots of pretty.