Ask my kids what they did for Christmas and they'll answer, "We had cheese!" Their unbridled excitement for coagulated dairy products might seem odd to some, but to me it's thrilling evidence I've done something right.
This year's Christmas Eve Feast Of Cheese was bigger than normal. We invited my parents, like always, and then Mom pointed out that my brother and his wife would be at their house that weekend, so….?
Also, Mom said, your aunt will be here, too, so….?
And then I was like, Well, shoot. Might as well invite my other brother's family and make a party of it!
Mom wondered if she could bring something: Want me to make a pot of soup? No, I said. The menu is set. I might be low-key and flexible about the number of people BUT DON'T MESS WITH MY MENU.
I'd been preparing for our feast for weeks—I followed the sales and bought my cheese, crackers, and sparkling beverages accordingly; I squirreled away links of salamis, dried apricots and dates, prosecco, and jars of gherkins, dills, and roasted red peppers; I tried making fancy nuts and, when they failed, bought a clunky big jar of fancy, already-done nuts—so with the swelling numbers, my needs were specific. Everyone, bless their hearts, was super-obedient, kowtowing to my neurosis most graciously. My aunt rounded out my cheese stockpile. My sister-in-law brought more prosciutto than we could possibly eat (plus a fancy Christmas cake and chocolates!). My mother provided mountains of grapes. And my other sister-in-law contributed an entire flat of all things brined and marinated.
I made a quadruple batch of eggnog and a cranberry sauce for the baked brie. I thrifted for more wine glasses (since, on this one night, the children get to drink their fizzy all fancy-proper) and borrowed little dishes and big cutting boards from my sister-in-law. I hunted down a particular spicy plum chutney and didn't even bat an eye at the 7-something pricetag because Christmas cheese. (Well, I might have blinked once or twice.)
The afternoon of the feast, I spent hours preparing (which sounds kinda crazy, considering that almost nothing was homemade, but there were countless little steps and in the post-Christmas Eve service scramble with a houseful of lurking people, I knew I'd have minimal prep time).
The beverages required three stations, and I preset everything that didn't require chilling:
a) eggnog: little glass mugs, bottles of rum and brandy, and a little dish of freshly ground nutmeg for sprinkling.
b) coffee: sugar, mugs, half-and-half.
c) prosecco, wine, and sparkling cranberry-apple cider: wine glasses.
I filled little dishes with the pickles, olives, marinated mushrooms, etc (and even took the time to change bowls if I didn't like how a particular food looked in a certain dish). I washed and clipped the grapes. I set cheeses on plates, prepped the brie for baking, sliced meats, counted out plates, filled votive cups with fresh candles, and arranged the cutting boards and baskets on the tables. There was no mad dash, just methodical, meditative plodding. It was lovely.
As was the church service! My younger son was Joseph, and there was a real baby Jesus-named-Otis, plus lots of little kids with pokey wings made out of paper plates, a darkened church, dozens of drippy candles, and the same, rich words I've heard every year for my entire life.
Back home, there was a scramble, sure, but it was brief and effective, and then: THE FEAST.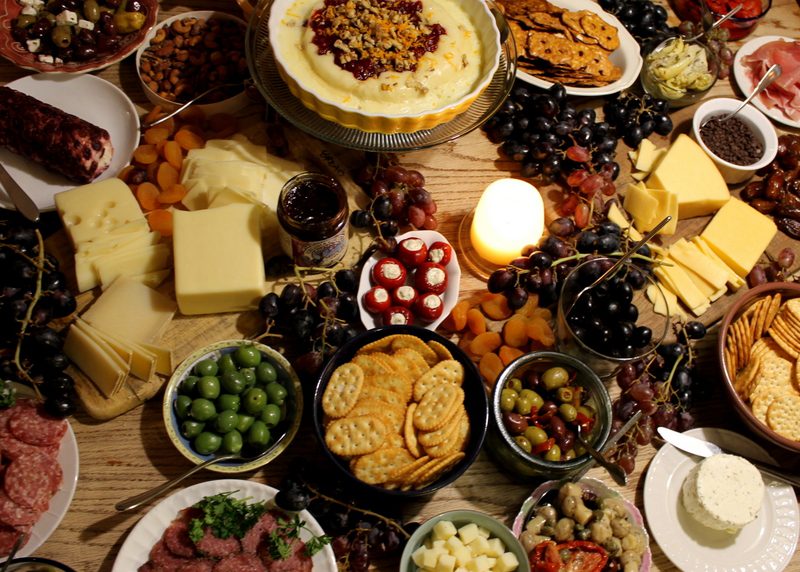 Just as we were winding down, there was a phone call from a friend. Their son was in the ER and would we come? Duh, yes. The trip only took an hour or so—my husband and I hauled their other kids to where they needed to go (and everything is fine)—and when we got back home, the kitchen was cleaned up (We didn't really get an ER phone call, I joked. We just didn't want to clean up!), my kitchen ceiling sported a colorful paper chain, my fridge was stocked with leftovers, and everyone was lolling about on couches. The centerpiece had caught fire, they reported, but other than that, everything was peachy.
How To Have A Cheese Feast: A Summary
Cheeses: Blue, baked brie with cranberries and toasted walnuts, cinnamon-cranberry goat cheese, provolone, boursin, a blend of Gruyere and cheddar, Swiss, Butterkaus, Smoked Gouda, and a couple others, probably….
Crackers: an assortment, plus pretzel chips. Some toasted rounds of baguette would've been nice.
Fresh fruit: grapes, and on the side: clementines, grapefruits, and navel oranges.
Dried Fruit: apricots and dates.
Nuts: candied or spiced.
Meats: sopressata, baby genoa salame, pepper salame, prosciutto.
Olives and Pickles: spicy olives, Greek olive and feta salad, stuffed olives, black olives, big green olives, marinated mushrooms, roasted red peppers, marinated artichokes, gherkins, and baby dills.
Condiments: mini chocolate chips (goes with smoked Gouda—try it!), spicy plum chutney.
Beverages: wine and prosecco, sparkling cider, coffee, eggnog, hard stuff, water.
This same time, years previous: constant motion, when cars dance, classic cranberry sauce, baguettes, and my jackpot.