Baked, so far: butter cookies, gingerbread men, lemon squares, cranberry crumble bars, peppernuts (made by my younger son whose desire to bake is so fierce that denied kitchen access makes him weepy), and this almond shortbread.
They're not called shortbread, though. According to Luisa, they're Heidesand, or Sandy Almond Sugar Cookies, but they don't taste sandy to me, and they're definitely not sugar cookies because sugar cookies are soft, HELLO. Hence, shortbread. (They could also be butter cookies, I suppose, but let's not complicate things, 'kay?)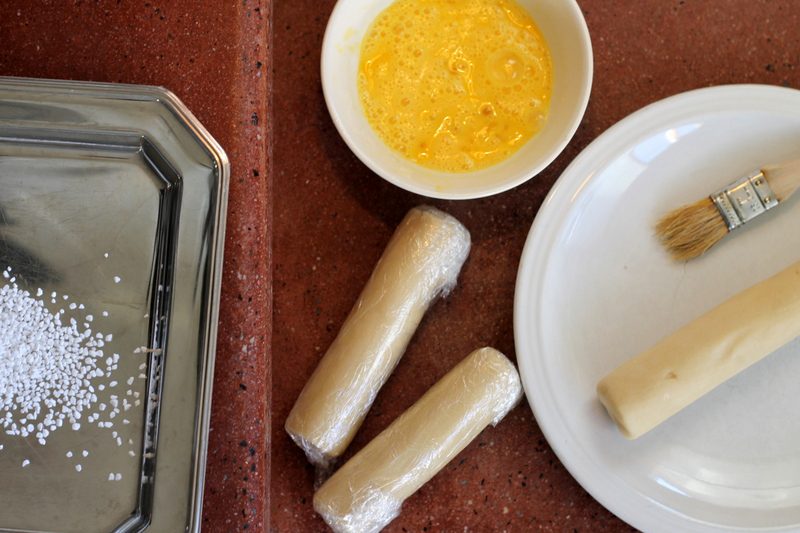 I adore these cookies. Really, really adore them. The crunchy pearl sugar, the strong hit of almond, the dry richness: it's all most satisfying. My husband, however, much prefers the leckerli and everyone (but me) was wild over the pfeffernüsse. Funny thing, taste buds.
But since I am cook and reign supreme of all things food, I made another batch (a double batch, actually) of the ones I loved. Being dictator has its perks (which is not a very funny joke, considering the current political shitstorm, Merry Christmas and Happy—Ha—New Year.) (Wow. I was in a good mood when I sat down to write this. Down, Subconscious, down!)
ANYWAY WHERE WAS I? Oh yes, cookies. Sweet, yummy, cozy-safe cookies. In order to make these cookies, one must have almond paste. I'd never used, tasted, or even seen almond paste before, but I trusted Luisa, noted the book's high volume of recipes calling for almond paste, and shelled out forty-plus dollars for a bucket of the stuff. (And then this week, I saw teeny-tiny boxes of the stuff on the grocery store shelf for over five bucks a pop and I was like, Bulk buying rocks.)
After I opened the almond paste, I divided the paste into 8-ounce portions, wrapped them up tight in plastic, put the whole lot in a large plastic bag, and stuffed them into the freezer where they will last a short eternity. Seeing how much I love the one and only cookie I've made with the paste, I'm awfully glad for my stash. What can I say? I'm half squirrel and almond paste is my nutty security blanket.
What Christmas treats have you made thus far? I have a few more on my list, and weepy boy is at it again. In other words: we're not done yet.
Almond Shortbread
Adapted from Classic German Baking by Luisa Weiss.
No pearl sugar? Use demerara or granulated sugar instead, though it won't be nearly as crunchy.
I used a kitchen aid to mix the dough, but these can be mixed by hand, using your fingers to crumble everything together.
14 tablespoons butter
¾ cup confectioners' sugar
1/8 teaspoon salt
3 ounces almond paste, grated or broken into small pieces
¼ teaspoon vanilla
2 cups flour
1 egg yolk, beaten, and pearl sugar, for coating
Cream together the butter and almond paste. Beat in the salt, vanilla, and confectioners' sugar. Add the flour. Roll the dough into logs, about 2 inches in diameter (though mine were smaller, I think). Wrap the logs in plastic and chill for a couple hours or several days.
When ready to bake, brush the logs with the beaten egg yolk (à la buttering corn on the cob) and roll the logs in the pearl sugar. Slice the logs into ¼-inch slices and place on a cookie sheet. The cookies will only puff slightly, so they can be fairly close together. Bake at 375 degrees for 8-12 minutes or until the edges are lightly golden. Cool completely before storing in a glass jar at room temperature, or, if wanting to keep them for longer than a week, bagging and freezing.
This same time, years previous: the warming, the quotidian (12.14.15), mini dramas, bits of goodness, the quotidian (12.16.13), soft cinnamon sugar butter bars, the quotidian (12.17.12), fig and anise pinwheels, my baby, and cranberry white chocolate cookies.