Guess what, folks! Just as I predicted, I'm up to my ears in German baking. It's been a long time since I allowed myself to wallow in a new cookbook, studying a new cuisine.
I'm only in the beginning stages, which is code for: I'm wobbly. I've been paying particular attention to the yeasted cakes (I'm a sucker for everyday pastries), and while the cakes are simple enough that I'm pretty sure I'm doing them correctly, they're different enough that I'm not exactly sure how I feel about them. This is a good thing (my middle name is Pollyanna): it means I'm stepping outside my box. Thrills!
It's quite the process, determining if a recipe works. Do we prefer it fresh, or is it better the second day? Do my kids turn up their noses, or do they request the item for a snack? Does my husband voluntarily take it in his lunch? If I set the cake stand on the table, will people help themselves to cake for breakfast? When the cake plate is empty, does anyone ask if there is more hidden in a cupboard somewhere?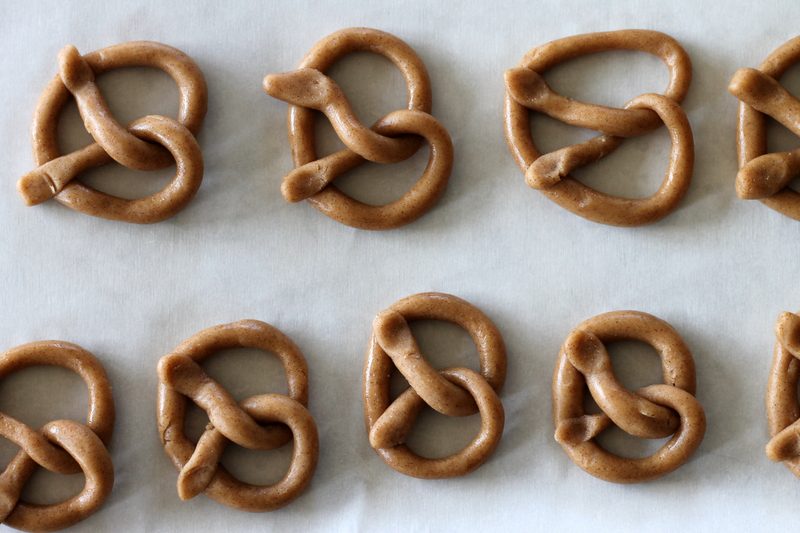 I didn't need any of those tests for the cinnamon pretzels. Right off, they were an enormous hit.
The pretzels taste like a cross between animal crackers, graham crackers, biscotti, and peppernuts. They are mild, faintly sweet, and crunchy. They'd made a perfect snack for toddlers, but—warning—adults are incapable of keeping their hands off them.
It might seem tedious, having to shape all those pretzels, but it was actually quite low-key and mess-free. While my younger two kids practiced carols for their Christmas concert, I stood at the table-that-is-not-my-new-island (waiting, Honey, WAITING) and rolled and twisted the dough into adorable little pretzels.
For one tray, we sprinkled pearl sugar on the egg-washed pretzels to look like salt. It wasn't Luisa's suggestion, so my little embellishment made me feel all kitchen goddess-y, in a Germanic sort of way.
Cinnamon Pretzels
Adapted from Classic German Baking by Luisa Weiss.
Even though the pretzels' utter simplicity is what makes them so beguiling, I can't help but wonder how they'd taste with a hit of ginger, or maybe cardamom. Fabulous, probably. Also, I think whole wheat pastry flour would work well here, especially if making these a snack for little ones.
9 tablespoons, plus 1 teaspoon, butter
1¼ cups sugar
1 tablespoon cinnamon
¼ teaspoon salt
4 eggs, divided
4 cups flour
1 teaspoon baking powder
pearl sugar, optional
Brown the butter over medium heat. Pour the melted butter into a mixing bowl and beat in the sugar, cinnamon, and salt. Beat in three of the eggs, one at a time. Add the flour and baking powder and mix well. The dough will feel like play-dough. Refrigerate for at least an hour.
Break off ½ ounce pieces of dough. (Yes, we used a scale—dough-ball size was my younger son's job.) Roll the dough into 10-inch long strips. (Yes, we used a ruler… in the beginning.) There is no need to use much, if any, flour. Shape the strips into pretzels (you'll figure it out—just do it), and place the pretzels on a parchment paper-lined cookie sheet. The pretzels hardly rise, so there's no need to leave much space between pretzels.
Beat the fourth egg until creamy and brush over the pretzels. Really get a nice coating—the egg gives the pretzels a delightful glossy varnish. Sprinkle with pearl sugar, if you like. (Recommend! Recommend!)
Bake the pretzels at 350 degrees for 10-12 minutes, or until the pretzels are golden brown. Out of the oven, let the pretzels sit on the hot trays for another couple minutes to continue crisping before transferring them to a cooling rack. Store cooled pretzels in a pretty glass jar on the counter.
This same time, years previous: 2015 garden stats and notes, meatloaf, the quotidian (11.4.13), chatty time, posing for candy, cheesy broccoli potato soup, why I'm spacey, sweet and sour lentils, and Greek yogurt.