I've been on a bit of a tomato bender. Of course there's the tomato sandwiches and bruschetta (a friend strongly encouraged me to try goat cheese instead of the fresh mozzarella, so that's next on The Tomato Agenda). A couple nights ago I made stuffed baked tomatoes over creamy polenta. I thought it dreamy, but no one else did, phooey on them. Then last night I made tomato bread pudding.
Now this pudding, I've written about before. I'm not one to re-post recipes—ever—but today I am making an exception. Rather then go back to the original recipe and add in my changes like I usually do, this time I'm presenting you with the entire tomato bread pudding experience all over again. You won't resent me if I force you to luxuriate in cheesy, garlicky, sausage-y, bready, tomato-y goodness, will you? Right. I didn't think so.
After that supper, flavor fireworks still going off in my mouth, I informed my husband that if I ever open a restaurant, tomato bread pudding will be on the menu. I'm not planning to open a restaurant any time soon, nor do I ever even entertain such thoughts, but never mind that. If I do open a restaurant, I will serve tomato bread pudding. In fact, now that I'm thinking about it, maybe I should open a little cafe that sells only tomato bread pudding and red wine. Wouldn't that be quaint?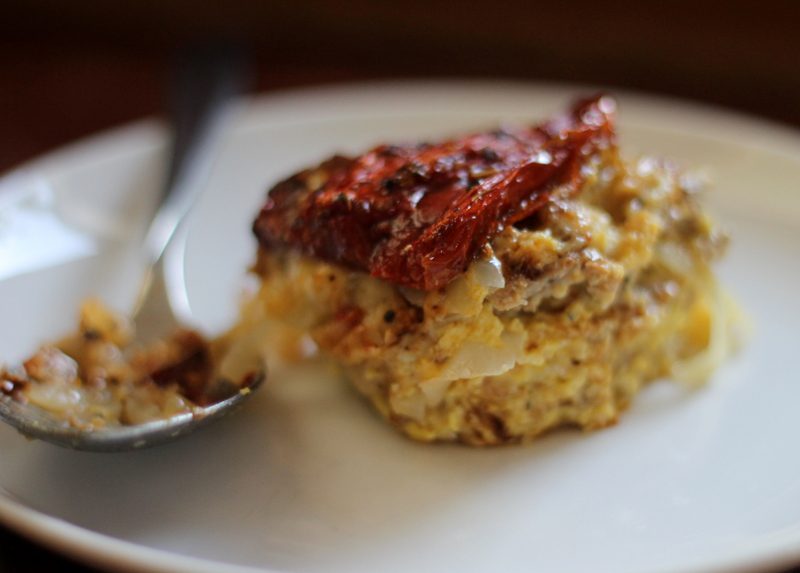 Tomato Bread Pudding with Caramelized Onions and Sausage
Changes I made this time around: I tossed in a pound of browned sausage, two caramelized onions, and instead of the fancy seasoning mix that I don't have, I added a bunch of spices willy-nilly.
The recipe sounds complicated, but most of the components (toasted bread, browned sausage, caramelized onions, roasted tomatoes and garlic) can be made ahead of time. Even the egg custard can be whisked together and then stored in the fridge until assembly.
Also, what with the eggs, sausage, and bread, this is basically a breakfast casserole, you realize. Just saying….
6 cups of cubed rustic sourdough bread (roughly one pound)
2/3 cup olive oil, more or less
3 pounds Roma tomatoes, topped and sliced in half
½ teaspoon each oregano, basil, thyme, rosemary, fennel, sage, salt, black pepper
1 head garlic
2 cups grated Gruyere cheese
½ cup grated fresh Parmesan
8 eggs, beaten
2 cups milk
1 cup heavy whipping cream
2 teaspoons salt
½ teaspoon pepper
1 pound breakfast sausage, browned
2 large onions, sliced thin and caramelized
Toss the bread cubes with 1/3 cup of olive oil. Bake at 375 degrees for 15 to 20 minutes, stirring occasionally, or until golden brown and toasty. Set aside.
Toss the Roma tomatoes with the spices (the ½ teaspoon list) and a couple tablespoons of olive oil. Place the tomatoes on a sided baking sheet, cut sides up. Cut the top off the head of garlic, place the head cut side up on a piece of foil, drizzle it with olive oil, wrap it up tightly, and nestle it in among the tomatoes. Bake the tomatoes and garlic at 375 degrees for one hour. When the garlic is cool enough to handle, squeeze the soft pulp out of the papery husks and into a bowl. Mash the pulp with a fork to get rid of lumps. Set aside the tomatoes and garlic pulp.
Beat the eggs in a large bowl. Add the garlic pulp, milk, cream, cheeses, 2 teaspoons salt, and ½ teaspoon black pepper.
Tumble the toasted bread cubes into a greased 9 x 13 baking dish. Spread the caramelized onions and browned sausage on top. Pour over the egg-cream mixture. Arrange the roasted tomatoes on top.
Bake the pudding at 375 degrees for 40-50 minutes or until the custard has set up and the pudding is puffy and golden brown.
This same time, years previous: the quotidian (8.10.15), the Murch collision of 2015, the quotidian (8.11.14), the quotidian (8.12.13), goodbye, getting my halo on, there's that, sanitation and me, sweet pickles, and orange mint tea.