The garden is pretty pathetic. The green beans didn't even hardly come up and we're not replanting them, which is a shame because I love green beans and store-bought green beans taste like stalks of cardboard. But I like lots of other store-bought veggies, like peas, broccoli, carrots, potatoes, and cabbage, so we'll be okay, I suppose. The meager garden doesn't bother me too much.
I've been thinking about that a lot these days: why it is I feel okay buying produce instead of growing it myself. Is my dwindling garden a result of lack of discipline? Am I selling out? Shortchanging myself and my family?
And then it occurred to me that since I was a little kid—and even in the last ten years—there's been a food revolution. It used to be that store-bought veggies were gross—everything was about as palatable as canned peas, mushy and flavorless—so homegrown veggies did taste a lot better. But now grocery stores are stocked with flavorful, high-quality produce. For bulk purchases, it's a piece of cake to find a local farmer, produce auction, or orchard. And foods that are often preserved at home, like pizza sauce, salsa, and pesto, are easy to find in the store, and they often taste equally delicious.
Which kinda throws a wrench in things.
Of course—of course, of course—I still think it's worthwhile and useful to grow and preserve food yourself (and home-baked goods will always be leagues ahead of anything purchased, can I get an amen?) because there are less pesticides involved, the work keeps you grounded, the self-sufficiency makes you feel good about yourself and reduces carbon footprints, etc, etc, etc. But maybe this food revolution explains why I can't seem to get my panties in (as much of) a twist over the whole thing anymore?
Am I the only one feeling less of a tug to garden and preserve?
* * *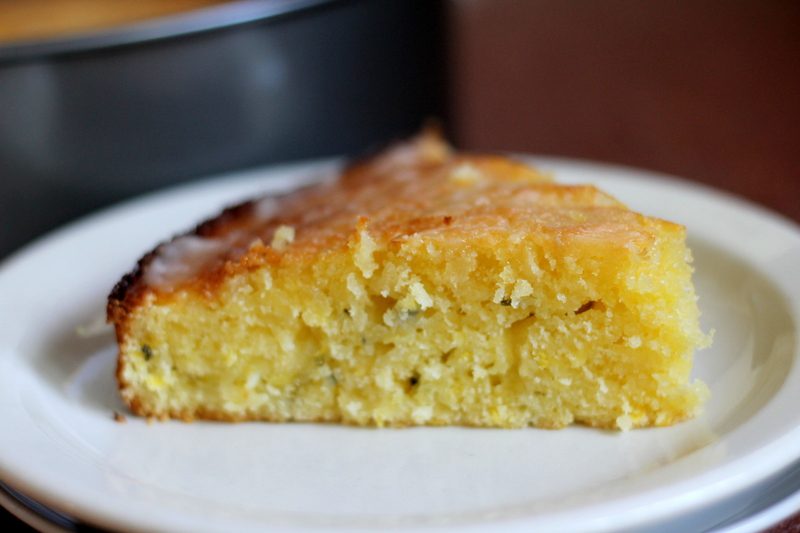 I stuck a bunch of zucchini plants in the ground and now I have zucchinis coming out my ears. The situation feels more dire than normal because I don't need to make any relish this summer so I'm not using up the zucchinis as quickly. Still, I try. Yesterday afternoon I made a double batch of whole wheat zucchini bread, and at suppertime I bulked up our taco meat-sauce-stuff with a grated zucchini.
A few days ago I made a lemon zucchini cake, and even though it didn't use up much zucchini (my main criteria for zucchini recipes), it was so delicious that I forgave its skimpy zucchini ass.
Glazed Lemon Zucchini Cake
Adapted from a recipe from (my cousin-ish relation) Grace, via Facebook.
I doubled the lemon juice and zest. Also, I glazed the cake while it was still hot and some of the glaze soaked into the cake. This could be good, except the cake is already plenty moist. Next time I'll wait until the cake is almost completely cool before glazing.
for the cake:
2 cups cake flour
½ teaspoon salt
2 teaspoons baking powder
2 eggs, beaten
½ cup oil
1 1/3 cups sugar
¼ cup fresh lemon juice
½ cup buttermilk
zest of two lemons
1 cup grated zucchini
Whisk together the oil, sugar, eggs, lemon juice, zest, and buttermilk. Stir in the zucchini. Add the dry ingredients and combine.
Pour the batter into a greased, 9-inch springform pan (or a 9 x 5 loaf pan) and bake at 350 degrees for 40-45 minutes. When the cake is nearly cool, pour the glaze over top.
for the glaze:
1 cup confectioner's sugar, sifted
2 tablespoons fresh lemon juice
1 tablespoon milk
Whisk together and pour over the slightly-warm cake.
This same time, years previous: kiss the moon, kiss the sun, caramelized cherry tomatoes, and Indian-style corn.