For years, the downstairs bedroom has been the bane of my domestic existence. Actually, my house has other banes, such as the back hall, the basement, the attic, and my children's bedrooms, but the downstairs bedroom is one of the larger banes. We can never seem to settle on its purpose. Sometimes it's a study. Other times, a guest room, art studio, minor league living room, or storage shed. We've considered knocking one of the windows out, putting a door in, and transforming the place into a mud room. But it doesn't feel wise to turn that much square footage into unlivable space. So the room has just kinda existed, floating along, never living up to its full potential.
Until now.
A couple months ago, I read a little blurb in our church's newsletter requesting host families for Spanish-speaking language assistants who would be volunteering at our local university through Mennonite Central Committee.
Me: Hey, hon. Want to have a stranger come live with us for a year?
Him: (Grunt)
Me: Great! I'll look into it.
One thing led to another and soon our family was matched with a young woman from Guatemala City. She would be arriving the middle of August and she'd have the downstairs bedroom. Her imminent arrival lit the fire under our butts. Or rather, it lit the fire under my butt and then I, in turn, pestered my husband until he smooshed his nose to the grindstone and got to it already, thank you very much.
We took everything out of the room: shelves, coat hooks, furniture, ratty blinds, filthy rug, lamps, everything. Except for the bed, which we stripped, covered with an old sheet and left to stand in the middle of the room like a four-legged island.
My husband patched holes and mudded, and then he painted the entire room. He swapped the torn screens with the non-torn screens from other windows (and now there's a good chance a bat, or small dinosaur, might fly through my bedroom window), installed new blinds, and replaced the non-functioning light switch.
We contemplated buying a new rug.
"Let's first try cleaning the one we have," I said. "If it works, we save a couple hundred dollars."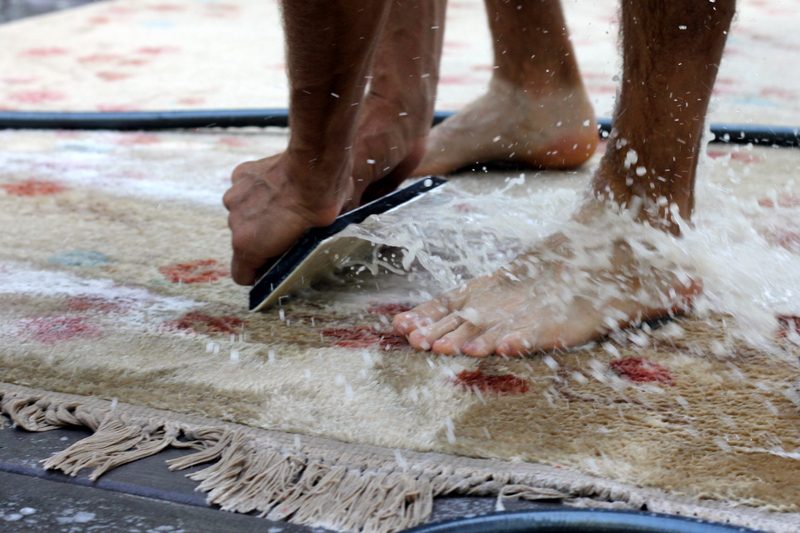 So my husband spread the rug on the deck, sprinkled it liberally with detergent, and then he and the kids scrubbed it into radiant submission. It took at least four rinses until the water ran clean, and then a couple days of basking in the sun to dry. And we had a new—or at least a clean—rug!
For the bed, we splurged with new pillows, blanket, duvet, sheets, etc. A friend gave us a dresser, I bought a desk and comforter from another friend for five dollars each, and we stole the super-comfortable ratty old swivel chair out of my daughter's bedroom. We bought curtains, a bulletin board, new towels (in a color we don't have—white—so the kids will know not to use them), a towel rack, and a fan. My mom gave us a couple lamps. We shopped our attic for a little shelf and a mirror, and my bedroom for a potted plant. My sister-in-law provided cut flowers, and my daughters scoured their rooms for little jars for the vases to put them in. My kids and their cousins made a welcome sign and pinned it to the bulletin board.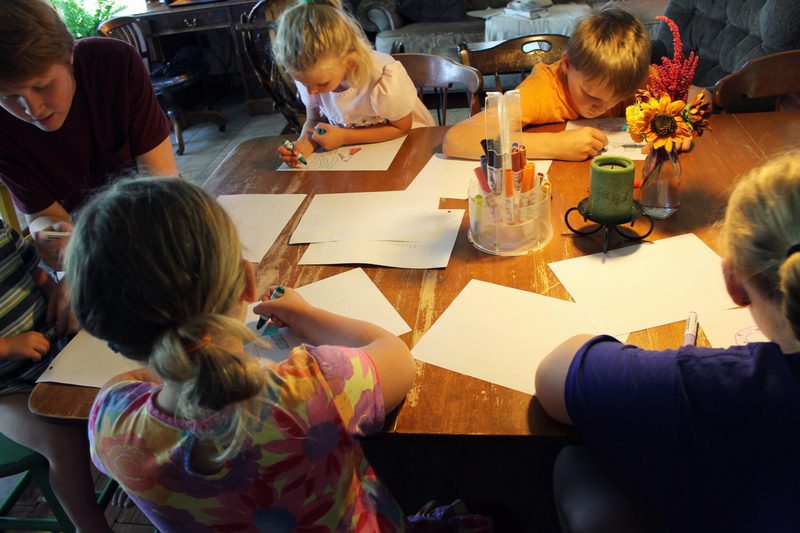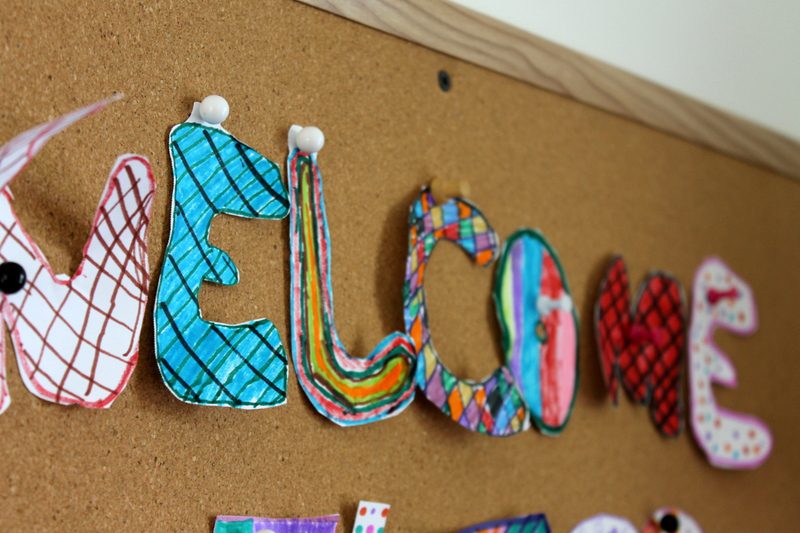 Finally, finally the downstairs bedroom was a real room.
Him: We're on a roll. Why don't we do the other rooms while we're at it?
Me: Because the kids are in them, duh.
Him: Good point. Once they leave home…
This same time, years previous: the quotidian (8.17.15), in progress, the quotidian (8.18.14), starfruit smoothie, garlicky spaghetti sauce, lately, our life, drilling for sauce, tomato and red wine sauce, and thoughts on nursing.