As I've said before (probably), sometimes dogs charge at me when I'm on my runs. My response—a top-of-my-lungs, "CALL OFF YOUR DOG"—is instinctive and very loud. It also happens to embarrass my husband to no end. But I don't even care. I have no desire to have some dog take a bite out of my butt.
This—a dog taking a bite out of my butt—is what I obsessed about while we were rehearsing for the last play. (Well, that and a bunch of other things, like slipping off the road while running and twisting my ankle, getting in a car crash, falling ill, and getting thrown from a horse. That last one was easily solvable: I just didn't get on the horse in the first place.) So when I got attacked by a pit bull on Tuesday morning, two days before this play opens, I couldn't help but laugh at the irony.
Getting bitten was slightly less humorous.
That morning, I hadn't gone even a quarter mile down the road when the dog came tearing around the corner of the house and made a beeline right for me. This neighbor's dogs have charged us before—cue multiple CALL-OFF-YOUR-DOG's—but this time, for some reason (maybe because I just woke up and wasn't yet fully conscious?) I stayed mum.
I heard the owner call the dog from the backside of the house. Usually, one shout from the owner and these dogs freeze in their tracks, but since the owner couldn't see me, he wasn't calling the dog in all seriousness. The dog flew across the road and came screeching to a halt right in front of me. I stood there, frozen. The dog paused. Maybe she'll just sniff my feet and go back to her yard? I thought. But then— BAM! A sharp pain in my hip, a scream (mine), and I was lying on my back in the ditch.
"She don't bite," he called out calmly, tolerantly, as he rounded the corner of the house. He sounded almost like he was smiling, probably thinking, Silly woman, going into hysterics over nothing. Geesh.
Propelled by the shock of the bite, plus his patronizing tone, I rose up out of that ditch, spitting mad.
"BULL! SHIT!" I bellowed. And then I yanked my shorts down to show him the teeth marks on my hip. "LOOK."
"Oh my," he said, taking a step back. "She ain't never bit no one before."
The man's daughter came outside then, and he called to her, "She says Jazzy bit her."
"Aw, she don't bite," she scoffed. "People just say that stuff because they don't like these dogs."
"Look," I said,pulling down my shorts for a second time. "I'll need to see her papers."
While the woman went back inside to find the dog's vaccination records, I stood there, crying, holding my hip, and listening to him tell me what a fine dog Jazzy was. Briefly, I considered continuing on my run, but then common sense (and pain) kicked in and, paper in hand, I hobbled home.
The bite isn't that bad—and the dog was up-to-date on her shots—but I went to the doctor anyway, just to be on the safe side. They filed a report (my husband had already filed one with Animal Control that morning when he came flying home from work to make sure I was okay, sweet guy) and put me on antibiotics.
This morning my husband and I went on a run again. Well, I ran and he rode bike (because he was suffering the consequences of dropping a seventy-five pound door on his big toe). I intentionally chose the route that went by The Pit Bull House. Two dogs were out, but they didn't even bark. Jazzy was nowhere to be seen.
Now here's where I could show you a whole series of bite-wound photos. We've been documenting it daily. The colors are rather artistic: a circle of bright red with an outer ring of dark purple. Like some sort of mystical tattoo. But I'll spare you the bloody photos—you're welcome—and settle for a nice, bandaged one.
ANYWAY. The play opens tonight!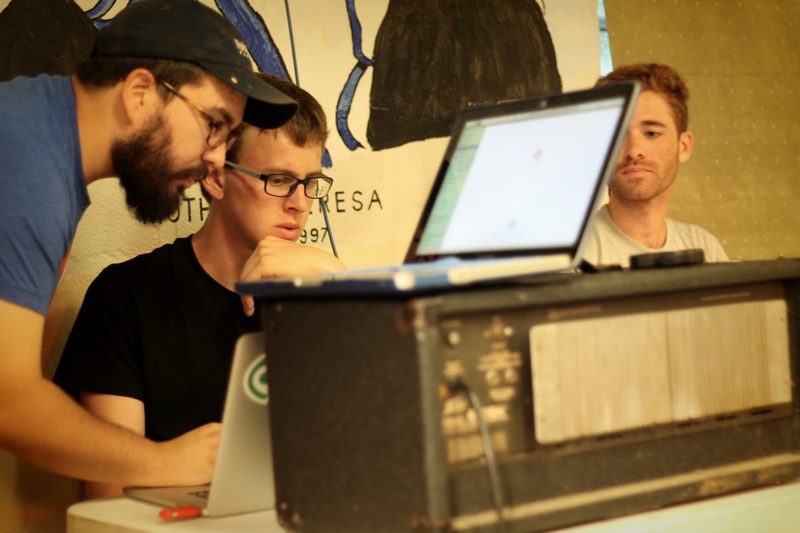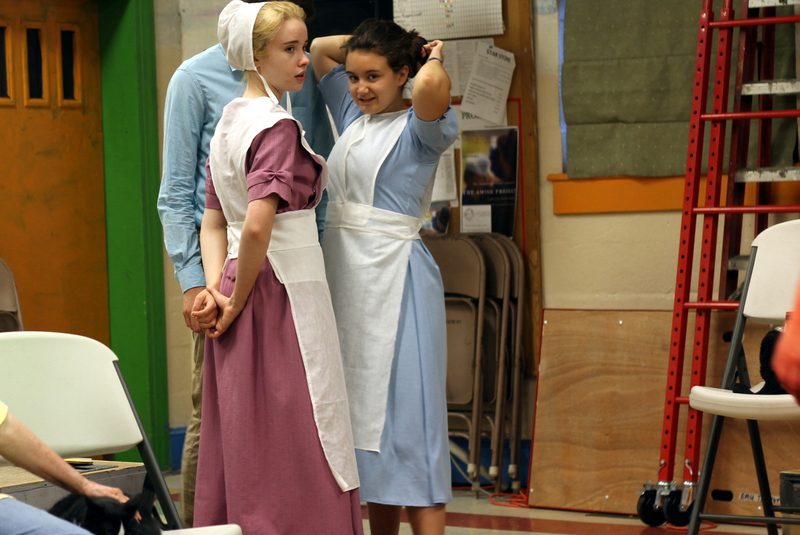 Isn't life amazing? I managed to get bit on the butt (okay, okay, hip) and still the show goes on.
PS. If, during the show when I'm lying on the floor being all dramatic, you see me wince and shift my weight from my right hip to my left, you'll know why. Jazzy.


PPS. Tickets! Tickets!
This same time, years previous: the quotidian (7.13.15) and the quotidian (7.14.14).