The Saturday before the play ended, I bought all the ingredients for this salad. It was going to be my Recuperation Treat. I planned to make it on Monday when I was in The Pit of Despair and then eat myself sick. Or else orange. Because I turn orange when I eat too many carrots. (Or at least I used to. When I was in high school, my skin turned orange. It was noticeable, too, like I had dipped myself in a bag of cheese curls. I think I actually went to a doctor about it and they said I was eating too many carrots. So I dialed back the carrots and my normal, super-white skin color returned.)
Anyway. I discovered this salad at a church potluck, one of my favorite hot-spots for recipe discoveries. As soon as I tasted the salad, I determined to find the maker of said salad as soon as possible, but then I got distracted with conversation and by the time I was ready to chase down the salad maker, most everyone had already left the fellowship hall, their empty dishes in hand.
That afternoon I shot a couple emails to people who I thought might know who had made the salad (no luck there) before remembering that the women in our church have a Facebook page. So I hopped on over and typed in my desperate plea: "Do any of you know who brought the Indian salad to potluck today…the one with chickpeas, shredded carrots, and nuts? I NEED that recipe!" Within mere minutes, the recipe was mine. Social media, at its best!
But then my son dismounted from his bike incorrectly and by the time the dust settled, the fresh bundle of cilantro had rotted in its plastic wrap and the limes had turned wrinkly brown. So then I had to wait till I got my ducks in a row enough to make it to the grocery store again, which I finally did, and then, a few days later—Wednesday of this week, to be precise (this story is making me tired)—I finally got around to actually making the salad, whew.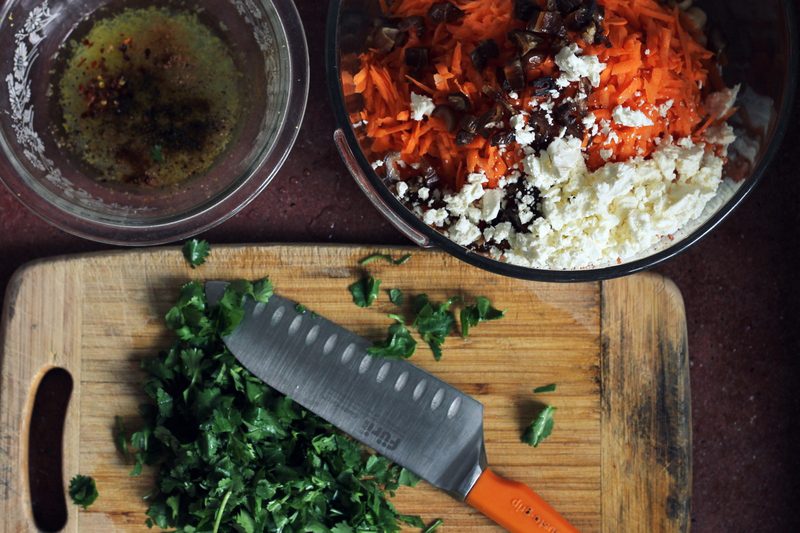 I ate a couple mountains of it for supper that night, and then another mountain for lunch the next day, and there's still enough left for a couple more lunches, hallelujah. (No one else in the family is crazy for it, though they did manage to eat it with minimal theatrics.)
What do I love about it, you ask? Let me count the ways! There's the crunch from the nuts and carrots, the sweetness from the dates, the creaminess from the feta and chickpeas, the complex flavors from the cilantro, cumin, nutmeg, and red pepper, and the tang from the lime. It's light and de-light-ful and I think it's in your best interests to try it.
So do!
Moroccan Carrot and Chickpea Salad
Adapted from Popsugar.
Since my limes were gnarly, I subbed in the zest from one lemon and just used the limes for juice. It worked. Also, I used chopped mixed nuts instead of the pistachios, and minced some regular onion instead of the green onions.
I feel like this is a lot of carrot—perhaps you could dial back the carrot to three cups and toss in another can of chickpeas…maybe?
This salad is great all by itself, but I also enjoy eating it with a generous handful of salad greens. And would some chopped Kalamata olives go good with this, or is that a crazy idea? Just thinking out loud…
4 cups grated carrots
1 15.5-ounce can (or 1½ cups) chickpeas, rinsed and drained
7-10 dried dates, pitted and chopped
1-2 tablespoons minced onion
½ cup cilantro
¾ cup feta cheese
3 tablespoons olive oil
2 limes, juice and zest
¾ teaspoon cumin
¼ teaspoon each nutmeg and red pepper flakes
½ teaspoon each turmeric, salt, and black pepper
½ cup chopped nuts (pistachios, cashews, almonds, pecans)
Toss together the carrot, chickpeas, dates, onion, cilantro, and cheese. In a small bowl, whisk together the olive oil, juice and zest, and spices. Pour the dressing over the vegetables and toss to combine. Just before serving (so they don't lose their crunch), add the nuts.
This same time, years previous: fence, the quotidian (5.6.13), my boy, rhubarb-smothered chicken and chicken with mushrooms, I have nothing to say, the bike question revisited, and baked macaroni and cheese.