The other day when fog swirled through the valley, I hopped in my car (petulant teenager in tow) and set off to capture it with my camera.
The fog was temperamental. Sometimes it seemed to hang in place, and other times it moved so fast I could see it whipping by, tendrils flying like hair in the wind. I drove around one of my running loops, stopping whenever I found a beguiling patch of thick air. I kept having run-ins with school buses: once I met one head-on and was forced to drive backwards down the curvy country road until I found a spot wide enough to pull over and let it pass; the other time I was snapping a photo when I heard the telltale roar coming from behind and had to leap into my car and stomp on the gas.
Sometimes I wonder why I keep working on this book. What drives me? The publisher that kicked off the whole process is no longer in business (and I had never signed a contract), so there's no outside motivation, no one holding a cracking whip. Yet still, on I plod. Two, three, four mornings a week spent sending my (younger) children away so I can write a book about the homeschooling I'm not doing.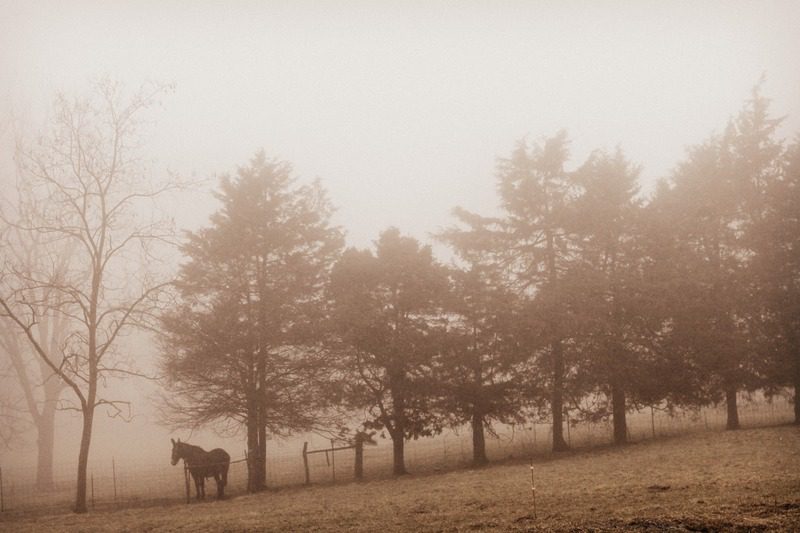 Most days I feel like I'm trying to do the impossible: harness fog. My experiences and ideas swirl heavily through my mind, pressing me into my seat (or making me want to hide under it). How to seize the elusive and distill it into something tangible, logical, readable? This baffles me. Frustrates me, too. My ineptitude looms, jagged and terrifying. I feed myself lies: you've got this, I growl through gritted teeth. Forever hunting clarity, I toy with mere wisps of ideas, twisting and turning them into words, willing them into something bigger than the sum of their parts.
So many hours spent stubbornly tugging at tendrils. It's foolishness, yes? So why do I persist? My answer, the only one I can think of, is this: hope. Crazily enough, it really does spring eternal.
This same time, years previous: a taste, one-pot macaroni and cheese, and then I turned into a blob, school: the verdict, blame it on the cats, to read, addictive and relaxing, a round about compliment, chai-spiced hot chocolate, hauling wood, and my me-me list.