In the morning after I fix my coffee, locate my reading glasses, and snatch a piece of scrap paper out of the desk drawer, I write up a to-do list for all of us. Each child has chores, plus academics. List-making is the only way I can stay on the ball and keep everyone on task. Otherwise, a child might wander off and, without her in my line of vision, I may forget that, oh yes, I wanted her to empty the compost, write an essay, and wash the eggs. So I put all my ideas and goals on paper, first thing in the morning.
Lunch was late today because everyone was on a roll. My older son was practicing his choir music in his room. My older daughter was rewriting an essay we had just edited together. My younger daughter was doing some self-initiated letter writing. My younger son was in the downstairs room listening to a recording of Story of the World while jumping around and waving a wooden stake. While I waited for them to wrap it up, I pulled leftovers from the fridge and began reheating them: broccoli soup, chili, chicken and rice, and, for me, George Washington Carver soup.
I first had this soup at my mother's house. We had stopped by one evening to say hi to their out-of-town guests (and maybe to pick up some of our children? I can't remember now). When we arrived, they were just sitting down to their dinner of Carver soup, onion-corn bake, sauteed greens, and cake (I think). We pulled up chairs, intending to visit for a bit before heading back home. Mom, of course, invited us to eat, too, but we said no. However, she was insistent that I taste the soup. Fine, I said, and watched as she ladled a small scoop into a bowl, plopped a dollop of sour cream in the center, and sprinkled chopped peanuts on top.
One bite and my eyes widened. Wow, I said.
"I know." she whispered. "I think it may be the best soup I ever made."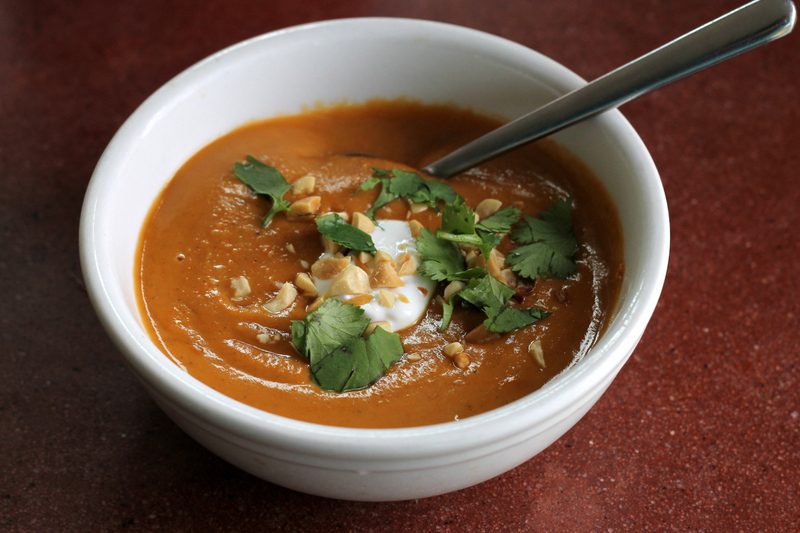 I finally got around to making the soup for myself just last week. The soup appears plain and dull, but it's anything but. There's so much going on: the sweet potatoes give it a creamy sweetness, the peanut butter adds richness, the fresh ginger and cayenne give it a bite, and the spices (cumin! coriander! cloves! cinnamon!) supply depth and complexity. It's like a kaleidoscope for the taste buds. Enjoy!


George Washington Carver Sweet Potato Soup with Peanut Butter and Ginger
Adapted from a recipe that my mother's friend, Lois, found in a some flyer, magazine, or newspaper.
I used about ¼ cup fresh ginger, and the ginger flavor did not overwhelm. Also, I substituted ground chipotle pepper in place of the cayenne, and, while I thought the spice was pleasant, one of the children thought it was too spicy: be discerning.
This soup freezes well. To save freezer space, my mother omits much of the liquid when making the soup, and then adds the liquid when she is reheating the soup.
½ cup peanut oil, divided
2 sweet potatoes (about 2 pounds), peeled and roughly chopped
2 carrots, peeled and roughly chopped
1 onion, roughly chopped
2 cloves garlic, minced
2 teaspoons (or more) fresh ginger, minced
2 teaspoons each ground cumin and ground coriander
½ teaspoon cinnamon
¼ teaspoon each ground cloves and chipotle powder (or cayenne)
½ cup roasted tomato sauce
8 cups chicken broth (or water)
½ cup creamy peanut butter
salt
condiments, optional but highly recommended: fresh cilantro, dry-roasted peanuts, and sour cream.
Toss the sweet potatoes, carrots, and onion with all but 2 tablespoons of the peanut oil. Spread the veggies on a sided baking sheet, sprinkle with plenty of salt, and roast at 375 degrees for 30 minutes, or until fork-tender.
Heat the remaining 2 tablespoons of peanut oil in a large soup pot over medium-high heat. Add the garlic, ginger, and remaining spices and saute for half a minute. Stir in the tomato sauce, peanut butter, stock, and roasted veggies. Stir well and simmer for 15 minutes. Using an immersion stick blender (or a stand one), puree the soup. Taste to correct seasonings: you'll probably need a fair bit of salt.
To serve, pour the soup into serving bowls and top with sour cream, fresh cilantro, and chopped dry-roasted peanuts.
This same time, years previous: the quotidian (11.10.14), butternut squash galette with caramelized onions and goat cheese, the quotidian (11.11.13), the quotidian (11.11.12), mashed sweet potatoes, a boy book, chicken and white bean chili, and peanut butter cream pie.