About a month ago I got this email from my father:
Sometimes I find material which I think the four kids would enjoy, but waiting for the spontaneous moment to read to them has proven elusive. Therefore, I propose a "reading and ice cream evening out." The setup could go something like this: Parent(s) bring progeny about 7:00 then may go on home or stay. I read for up to 60 minutes, during which time Shirley serves ice cream, followed by discussion/lounging for another 10 to 15 minutes. Unless parent(s) has stayed, I drive the kids home about 8:30.
Of course I said yes. I'd have been a fool not to. And now Thursday evenings are reserved for stories and ice cream with the grands.
So far they have read "Nature Man" from Cruise of the Snark by Jack London, Ransom of Red Chief by O'Henry, To Build A Fire by Jack London (out by the fire pit, naturally), A Boy Named Sue, by Shel Silverstein, and "Wully, the Story of a Yaller Dog" from Wild Animals I Have Known by Ernest Thompson Seton.
Last Thursday when I dropped them off, I lingered. The kids immediately made a beeline for their seats (all except for my younger daughter who made a stop by the fridge, to check out the ice cream flavor of the night, I'm guessing). My dad took his seat in the red chair and began reading. At first the youngest had trouble settling—he kept popping up to fold and refold a blanket, and he and his sister had trouble sharing the sofa—but it wasn't too long before he had nestled into his spot and had the dreamy listening-to-a-story expression on his face.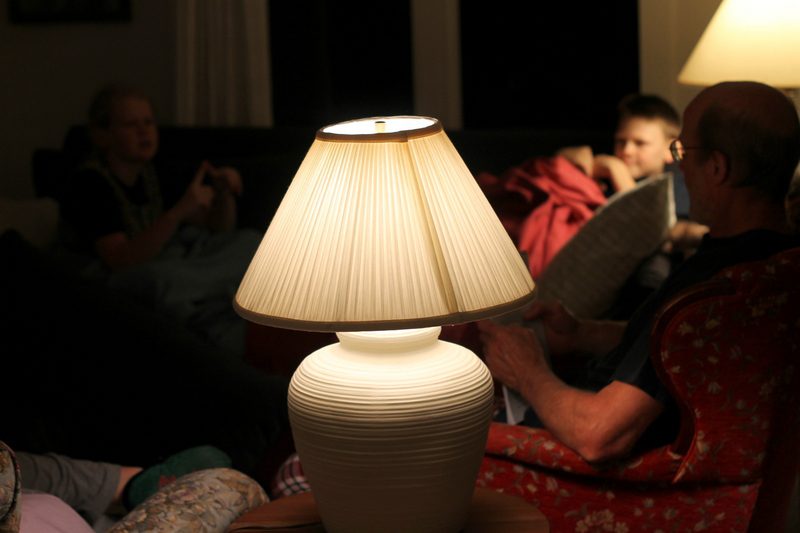 My mother lit the watermelon candle and then set about dishing up the ice cream: mango, topped with a handful of their own handpicked wine berries. I snatched several pretzel rods from the bag and then slipped out the door and back to my quiet house where I showed my grumpy husband a series of funny home videos because the sourpuss man was in dire need of a laugh.
This same time, years previous: the quotidian (10.27.14), the quotidian (10.28.13), the details, under the grape arbor, applesauce cake with cinnamon cream cheese frosting, garden tally 2009, and a pizza creation.