Last night found me sitting at the kitchen table stabbing holes in watermelon chunks with a fork and then carefully filling the little holes with Captain Morgan's. It had been a long day. The muggy heat made me want to beat something.
I was mad at my clothes for being on my body.
I was angry with my hair for touching my scalp.
I was furious at the windows for not letting in more air.
And I was outraged at the weather for not being breezy.
Heat does not a rational Jennifer make.
Also, I was ridden with the worst sort of writerly desperation that I will not detail because it's pathetic and sad and no one likes a whine-fest—
EXCEPT I WILL SAY THIS. A bad stretch of writing and my day is soured, down the drain, fizzled, kaput. So far, I have been incapable of separating my writing angst from the rest of my life. It bleeds into everything, distracts the crap out of me, and drags down the not-writing times when I should be focused on cooking, gardening, or hanging with the fam. Such a brain suck. Knowing that I'll be battling this mind war for the next months (ha, YEARS! who am I kidding?) is enough to make me weep. Or spike my watermelon.
I know (or am pretty sure, at least) that bad spells are just that—spells—and I'm as likely to fall into a groove as I am to fall out of it. The key is to keep grooving. Or something.
Blah, blah, whatever. Let's talk about coffee.
Really, this coffee is not anything new. I've already written about my iced coffee recipe. In this hot weather, I live on the stuff. (Lie: I only drink it once, after lunch. I drink hot coffee in the morning.) But then last week I saw a recipe for Cold Coffee Improved Upon. The recipe called for adding sugar (brown!) to the grounds at the start of the cold-brewing process, and I was like, Heck yessss. No more stirring sugar into cold coffee before drinking! (Hot weather makes me lazy.)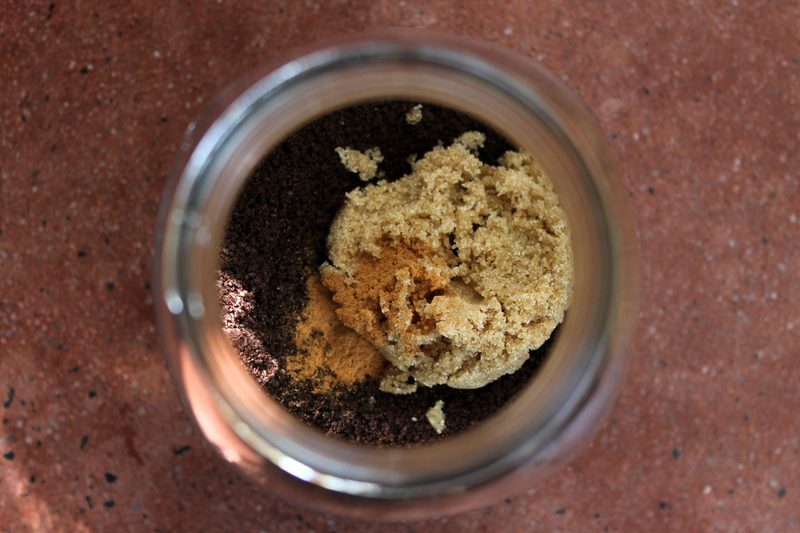 The recipe also called for adding some cinnamon. So I did. I'm not a cinnamon-in-coffee gal, but the addition was rather nice: warm with a kick of fancy. I suggest you try it.
Better Iced Coffee
Adapted from Dinner with Julie.
1 cup finely ground coffee
¼ cup brown sugar
¼ teaspoon ground cinnamon
Put all three ingredients into a quart jar. Fill to the top with cold water. Screw on a lid and shake. Set the jar in the fridge for 24-48 hours. Strain, put the coffee concentrate into a clean quart jar, and refrigerate.
To serve: fill an ice-filled glass half full of coffee and top with milk. Stir and drink, ahhhh.
This same time, years previous: weigh in, please, my ethical scapegoat, cilantro beet salad, orange cranberry scones, spaghetti with fresh herbs and fried eggs, chocolate peanut butter cake, cabbage apple slaw with buttered pecans, and sour cherry crostatas.