At our latest church potluck, I stumbled upon a goldmine.
(The way I write about church potlucks, you probably think that's all our church does. And it is.)
(Kidding! We do other things, too. But we do like to eat. During the summer we meet at a park. The kids get to play and the grown-ups talk and supper clean-up is a snap. Yay for potlucks.)
Back to the goldmine. Seriously, that's what it was. It was gold (colored) and I got the recipe and made it myself (the "mine" part). Bonus, unlike a real goldmine, this one is affordable.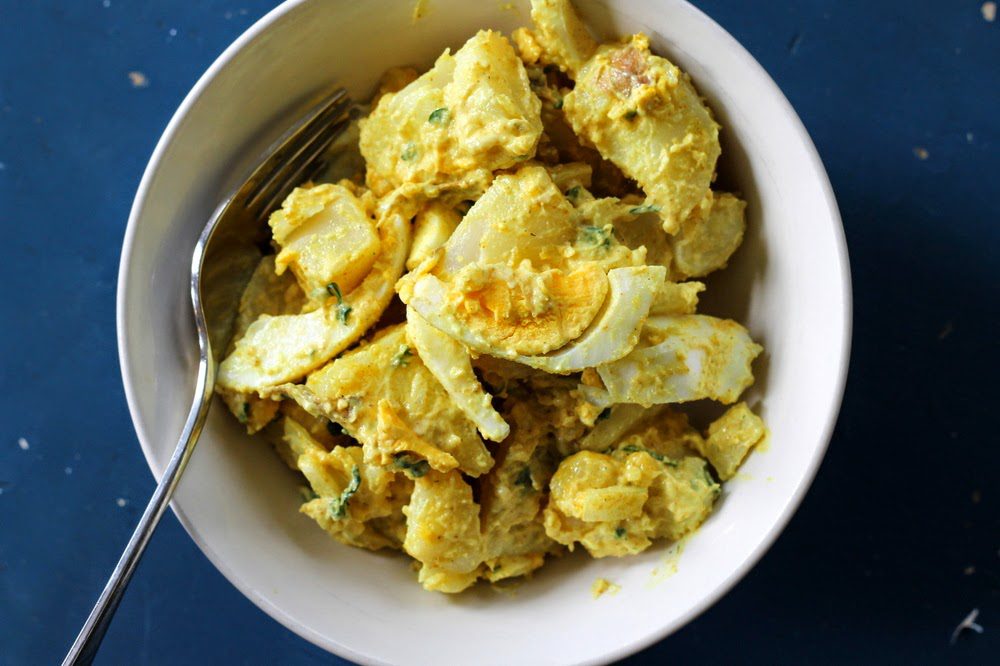 It's a curry potato salad and the first time it touched my lips, I swooned. Actually, there was an abundance of swooning going on—everyone at our table was eating it and swooning, or so it seemed. (One might say they were "sweaning," which is swooning combined with eating, see?) My husband even went back for seconds and then had the audacity to refuse me a bite. So I stole his Triscuits.
The salad is a cinch to make. It's mostly just potatoes with mayonnaise and a scary-huge amount of curry, plus eggs, cilantro, onion, and vinegar. I've eaten it for lunch, two days in a row. And the kids, never huge potato salad fans, eat this one without fuss. Sometimes they even take seconds.
Curry Potato Salad
Adapted from Martha Stewart's recipe.
3 pounds new potatoes
2 tablespoons white wine vinegar
½ cup mayonnaise (plus more, probably)
3 tablespoons curry powder
1 medium onion, thinly sliced and then chopped
2 teaspoons salt
1/4 cup cilantro, chopped
5-6 hard-boiled eggs, peeled and cut into wedges
Boil the potatoes until fork tender. Cut into wedges while still warm and sprinkle with 1 teaspoon salt and the vinegar. (There is no need to peel the potatoes, though if that's your preference, peel away.)
In a small bowl, mix together the mayonnaise, curry powder, and remaining teaspoon of salt.
Add the onion, cilantro, eggs, and mayonnaise mixture to the potatoes and toss to combine. (I found I needed a good bit more of the mayonnaise than called for.) Taste to correct seasonings.
This same time, years previous: half-mast, a free-wheeling education, and braised cabbage.