Earlier this week when Mavis posted a recipe for chocolate peanut butter shortbread squares, I was suddenly reminded about her other recipe—a recipe for peanut butter and jelly bars—that I was going to tell you about but then promptly forgot .
Well, not exactly promptly, I suppose. I did make the bars, twice. Photographed them twice, too. But then my camera broke and a bunch of other distractions wedged themselves between the peanut butter bars and my keyboard and that was that. Until Mavis kindly reminded me, that is.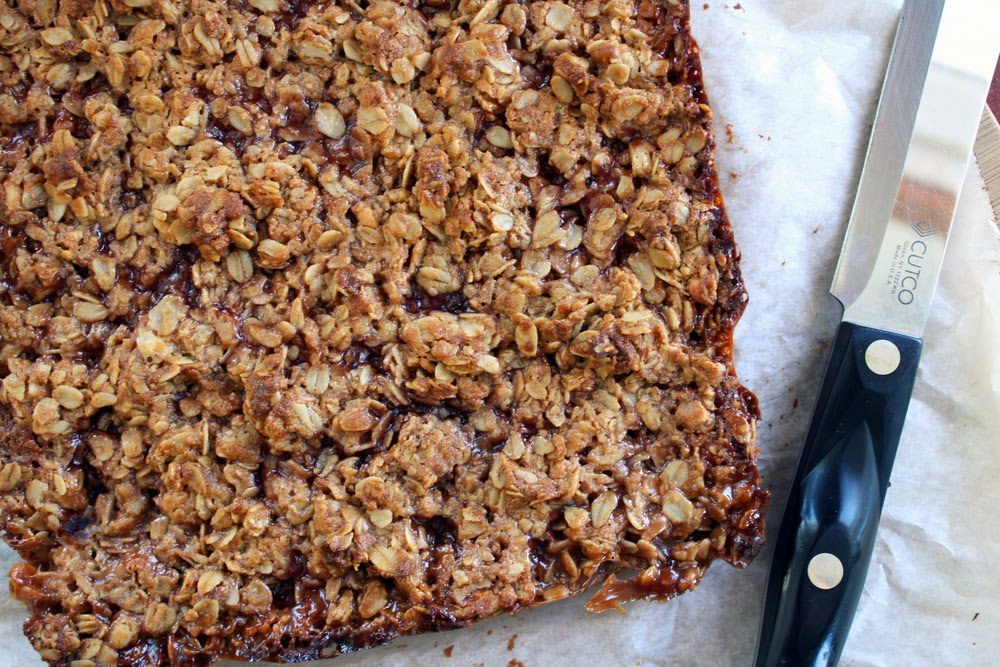 Funny thing is, I'm not crazy about these peanut butter jelly bars. They are good, yes, and I've eaten (more than) my fair share of them, but I wasn't all hog-snortin' wild about them. And I don't make it a practice to write about recipes that I'm not hog wild about. However, the children went bloomin' nuts over those bars.
The first time I made them, our house was filled with a higher-than-average number of children. Almost as soon as I sliced the bars, the kids were crowed around the table, begging and eating and reaching and eating, like you never did see.
One little friend got rather repetitive in expressing her appreciation for them. "These cookies are really good," she said. "You need to give my mom the recipe."
pause
"I like these cookies a lot. You should give the recipe to my mom."
pause
"These are yummy. Can you give the recipe to my mom?"
(I never did give the recipe to her mom.) (Until now.)
The bars are like granola bars, but with a cleaned-up ingredient list: flour, oats, brown sugar, butter, and, of course, peanut butter and jelly. They come together fast and are delicious served still-warm from the oven, washed down with lots of cold milk. This makes them an excellent mid-afternoon snack for those days when your house is overrun with short ruffians.
So it's for the children (and for the weary adults who have to feed them) that I make an exception to my only-write-about-my-favorite-things rule. These bars turn hungry children into happy children.
So I guess I kind of do love them after all.
Peanut Butter and Jelly Bars
Adapted from Mavis Butterfield's blog.
2 cups rolled oats
1/3 cup flour
½ cup brown sugar
½ cup butter, melted
3/4 cup peanut butter
1/3 cup jelly (I used grape)
Combine the oats, flour, and sugar in a bowl. Add the butter and peanut butter and stir to combine. Set aside ½ cup of the oat mixture.
Press the oat mixture (except for the ½ cup that I just told you to set aside, duh) into an 8×8-inch baking dish that has been lined with parchment paper. Spread the jelly over the dough. Sprinkle the reserved oat mixture over the jelly layer.
Bake the bars at 350 degrees for 20-30 minutes, or until the edges are lightly browned and the jelly is bubbling. Cool completely before cutting the bars (unless you want to eat them slightly warm, with a glass of milk, which I suggest you do).