That I'm posting about a chocolate dessert on Valentine's Day is entirely coincidental.
I'm ambivalent about the holiday. Some people love it, others hate it. I'm somewhere in the middle. Celebrating LOVE is a wide-open opportunity. A person could take it in a million directions which I find positively paralyzing and the reason that I have not even mentioned it's Valentine's Day to my children or husband. I don't want to get cornered in the kitchen with butter and pink food coloring, nor do I want reams of construction paper cluttering up the house.
But maybe you love it? Maybe you do magical things for your children and friends? Fairy gardens, pink boxes tied up with twine, jaunty little poems, and cards with Beatrix Potter-esque illustrations? I bet it's really nice.
Maybe I'm feeling jealous. A little guilty, perhaps. It'd be such fun to be That Person loving on everyone with boxes of hand-crafted magic. People like that are so appreciated and loved. I want to be appreciated and loved—really, that's the only reason to celebrate Valentine's anyway, to get our warm fuzzies on.
See, it all comes back to me. I'm so not cut out for Hallmark. (Speaking of which, there's a whole bunch of awkward, not-really Valentine's Day cards out there. If I were to write one, it'd say something like, "Here's a gift because giving it to you makes me feel good.")
I suppose I could make pizza or some other family-loved favorite for supper. A nice dessert would be appreciated, too. But truth is, we eat nice desserts and family-loved favorites rather often. Case in point, this chocolate pudding.
It happened, not because of V-day (in case you didn't already catch that) but because I have all this cream on hand (thank you, kind neighbor!) and for some odd reason, I developed an inexplicable hankering for pudding. I recalled a post of Deb's that piqued my interest, hit up her blog, and did what needed to be done.
Her recipe is super basic, calling for straight-up milk and chocolate chips—there's no need to even crack an egg—but I used mostly cream because it's what I had. I served the pudding in little glasses with spoonfuls of whipped cream dolloped on top because I believe that chocolate pudding isn't worth eating if it's not topped with whipped cream. I have strong feelings about this. Do not contradict me.
Serve this pudding to people you love and they will be happy which will make you feel good. This fact holds true for any day of the year, Valentine's included. xoxo!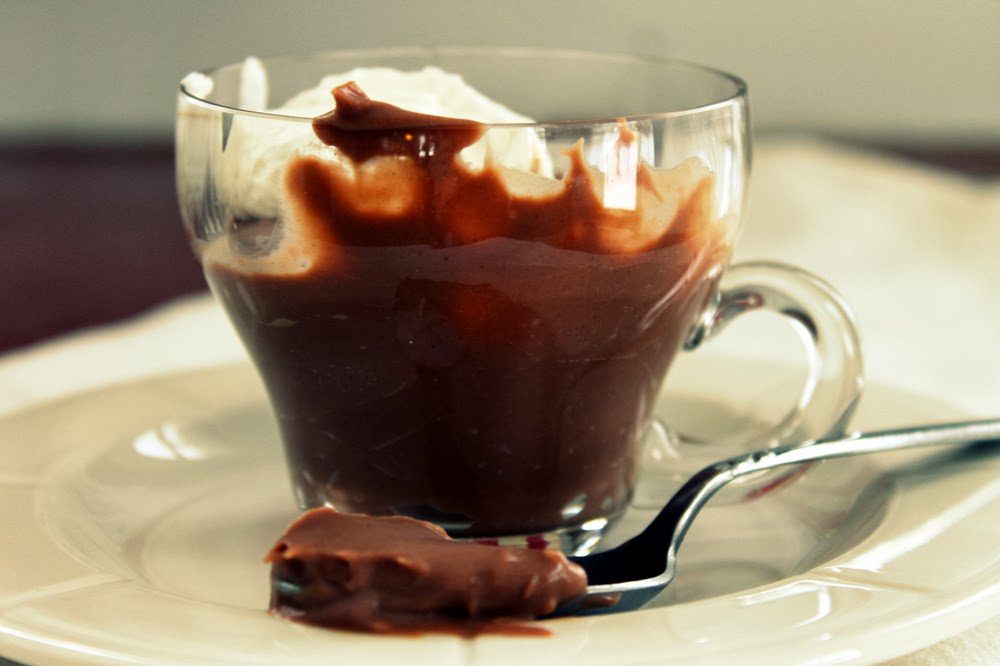 Chocolate Pudding
Adapted from Deb of Smitten Kitchen.
I considered naming this pudding "Pantry Pudding" because it's made from pantry staples, but then I decided, no, that's too boring a name for something this good. Besides, Pantry Pudding doesn't reveal the decadent chocolate nature of said food. So I scraped the idea. (Still, I like the economy of the name.)
Deb calls for chopped dark chocolate. I used a mix of chips, both semisweet and milk.
½ cup sugar
1/4 cup cornstarch
1/8 teaspoon salt
3 cups milk (I used half cream and half milk)
1 cup chocolate chips
1 teaspoon vanilla
homemade whipped cream, not optional
Put the sugar, cornstarch, and salt into a saucepan. Whisking steadily, add a bit of milk at a time. (Add it all at once and you run the risk of lumps. Making a thick paste first and then gradually thinning it out reduces that risk tremendously.) Stirring constantly, cook the milk over medium high heat until thick and just beginning to bubble. Remove from heat and add the chocolate. Stir until they have melted completely. Stir in the vanilla.
Pour the pudding into a serving bowl and top with wax paper, pressing it onto the top to prevent a "skin" from forming. Cool to room temperature. At this point, remove and discard (after licking clean) the wax paper and cover the pudding with plastic wrap. Chill in the refrigerator. Serve with whipped cream.