When we visited my parents over Thanksgiving, my mother had cinnamon raisin bread on hand for the breakfast toast. Thursday morning (or was it Friday?) she snuggled in bed with the littles to read library books while my father trotted back and forth between kitchen and bed, bearing plates of cinnamon raisin toast. The children scarfed it as fast as he could make it.
I watched the toast-making marathon from my corner in the kitchen where I was curled up in the red chair sipping coffee and reading An Inconvenient Truth. After my younger son came running out to the kitchen with the empty plate yet again, I pointed out, "You know, Dad, you can say no to them."
"Yeah, I know," he said as he spread butter on yet another golden brown slice, taking care to keep his fingers out of the sticky, hot icing. "This is the last batch."
Year after year, my mother makes enormous loaves of cinnamon raisin bread topped with a rich butter frosting for holiday breakfast toasting. Cinnamon raisin bread belongs to Christmas. I never make it any other time of year. It'd be like playing Christmas carols in May.
But despite my love of the bread, I almost never get around to making it. It could be because my December obsession with all things cookie allows so little time for other baking, or it could be because the cinnamon raisin bread is my mother's specialty. She provides the traditions and I do the weird new stuff.
But this past weekend when my mother sent home a partial loaf and we polished it off in no time flat, I decided I wanted a big batch of that bread all for us-eses. If my kids liked it this much (and raisins in bread is something they've had to grow into), then now was the time to be baking—and icing, toasting, buttering, and eating—it, claiming the tradition for ourselves.
Hot: waiting for its slick of butter.
This bread makes excellent gifts (and one year I gave mini loaves to all the neighbors as Christmas gifts), but I'm always a little nervous that people won't fix it proper. I worry they won't heed the instructions written on the attached card and will eat it without the toasting and buttering and, if doing it up all the way, the cinnamoning and sugaring. And then they'll never know the bread's full glory and all will be for naught. With so many variables, maybe it's not the most excellent gift after all?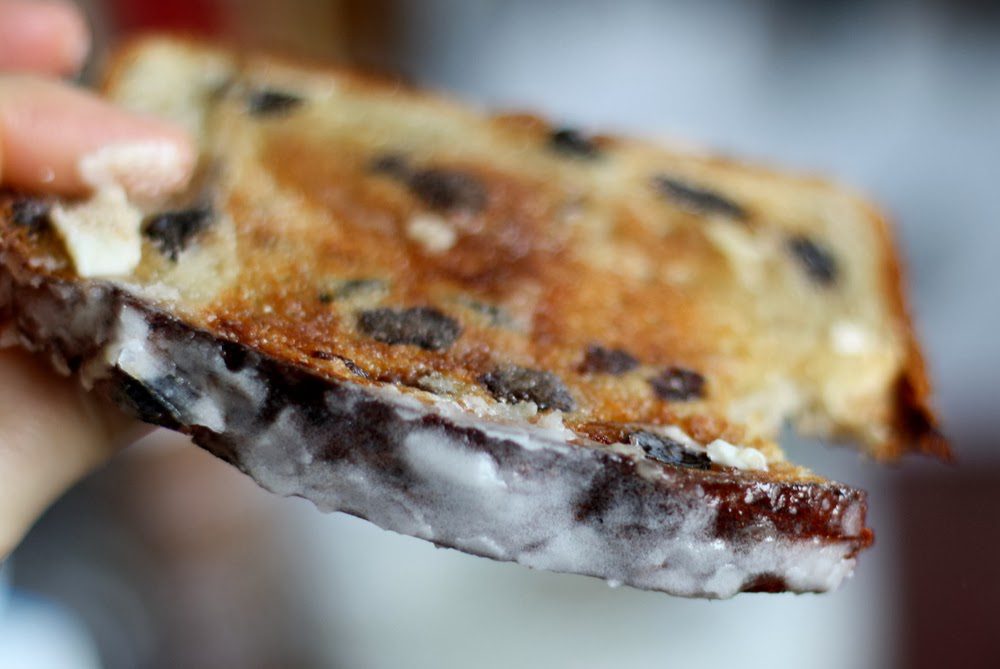 Which is fine. I can make cashew brittle and crack and butter cookies for everyone else. The cinnamon raisin bread will belong to us. (And, in all honesty, the cookies will, too. But never mind that.)
See how the icing got gooped up where I held onto the loaf to cut it? It happens. No biggie.


Cinnamon Raisin Bread
Adapted from my mother who adapted it from The Mennonite Community Cookbook, or so says she.
Updated (QUICK) Method, February 23, 2022: Put the cooked, unpeeled potatoes in a blender along with all the cooking water and the butter and blend until smooth. Mix with sugar and salt, a half cup of coarse whole wheat and a couple cups of bread flour. Once cooled to lukewarm, add the yeast/water mix. Add the rest of the flour and spices and stir well. Knead briefly and then add in the raisins. Knead until smooth. Let rise until double. Shape into loaves. Rise. Bake.
1 medium potato, peeled and chopped in cubes
1 quart water
2 tablespoons butter
3 teaspoons salt
2 tablespoons yeast
1 cup warm water
1 cup sugar
11-12 cups bread flour
1 pound raisins
2 teaspoons cinnamon
½ teaspoon ground cloves
vanilla frosting (see below)
Put the potato pieces and the quart of water in a saucepan. Simmer until the potatoes are fork-tender. Drain, reserving the liquid. Mash the potatoes with the butter and salt. Add the reserved liquid.
In a small bowl, stir together the yeast and 1 cup of warm water. Let rest for 10 minutes.
In a large bowl, stir together the potato-water mixture, 6 cups of flour, and the sugar. When the mixture has cooled to lukewarm, add the yeast. Stir until smooth. Cover with a towel and rest for about two hours.
Work in the spices and remaining flour (or as much as is needed to make a nice dough). Add the raisins. Turn the dough out onto a floured surface and knead until smooth and satiny. Return the dough to the unwashed bread bowl and cover with a towel. Let rise until double. Shape into loaves (three large, four medium, or a bunch of mini-loaves) and place in greased pans. Let rise, covered, until doubled in size. Bake at 375 degrees for 40 minutes (for big loaves—if making smaller loaves, reduce the oven time accordingly). Cool completely.
To serve: spread the top with vanilla frosting. Slice, which can be tricky since it's hard to hold onto the bread thanks to the frosting—persevere. Toast, making sure to put the bread in the toaster with the icing facing up. Thanks to the high sugar content, the bread toasts quickly, so watch it closely. Carefully remove from toaster. Butter, and sprinkle with cinnamon sugar.
To give as gifts: frost the bread and then slip it into the fridge, uncovered, for about 15-30 minutes so the frosting can harden up a bit. Then wrap the loaves in plastic wrap. Lay out several strips of plastic flat on the table (overlapping, in an x shape), set the loaf in the middle, and carefully pull up the corners until the whole loaf is encased in plastic. Tie a bright ribbon around the plastic. What you'll end up with is a loaf of bread with a sprout of plastic on top. Confused? Here's a picture (not of raisin bread).
To freeze: Bag up un-iced loaves of bread and freeze. Store the frosting in the fridge. To serve, thaw and frost.
Vanilla Frosting
1 stick butter
3½ cups confectioner's sugar, sifted
1 teaspoon vanilla
half-and-half
Cream the butter. Beat in the sugar, a cup at a time. Add the vanilla. Beat in the half-and-half, starting with a couple tablespoons and adding a little at a time until it's a spreadable consistency but still thick. Extra frosting can be stored in the fridge for a couple weeks or in the freezer indefinitely.