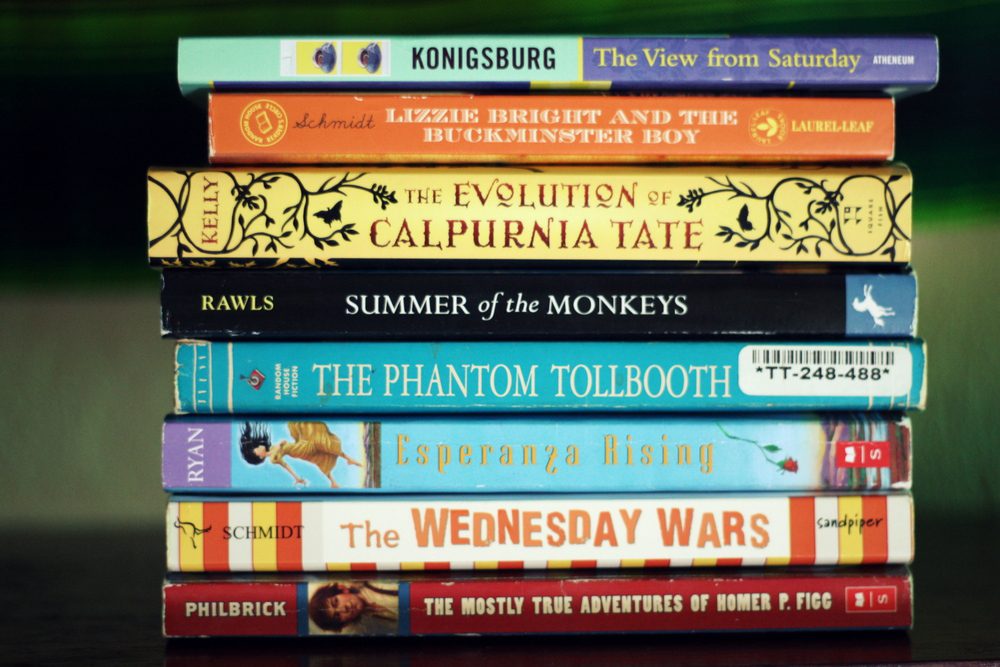 Last November and December, I spent hours poring over reading lists and Amazon reviews, and then I slapped down a hundred bucks in exchange for a small stack of brand new books. Thanks to that planning, we have had a whole string of top-quality books to keep alive our bedtime tradition of reading aloud.
In retrospect, it was the smartest thing I did.
Esperanza Rising was the first book we read, and we couldn't have picked a more fitting one to start with. It's all about a rich Mexican girl who ends up, due to tragic circumstances, immigrating North and becoming a migrant worker. Her distaste for her lower standard of living closely mirrored what my children were going through. It was perfect.
The Phantom Tollbooth was a bit deep for the youngers, but my older son thought it was hysterical. Also, it gave us The Island of Conclusions (a place we jump to it on a daily basis). Summer of the Monkeys was a fun, light read. The Mostly True Adventures of Homer P. Figg made us laugh. Shakespeare and the 7th grade came together in The Wednesday Wars.
Beautifully written, informative, and entertaining, The Evolution of Calpurnia Tate hit home on a deeper level for my children. In the book, Calpurnia has a science-loving grandfather called "Granddaddy." In real life, my children have a science-loving grandfather called Granddaddy. The connection was so startling, so real, that my younger daughter begged me in tears not to say the word Granddaddy while reading—it made her too homesick. But I persisted and she acclimated.
A couple nights ago we started Lizzie Bright and the Buckminster Boy. Next up is The View from Saturday.
I brought other books, too. For me, I brought This Rough Magic, Blood, Bones, and Butter, My Berlin Kitchen, Dignity, and An Everlasting Meal. For my son, I brought All Quiet on the Western Front, Roll of Thunder, Hear My Cry, and Touching Spirit Bear. Other books have found their way onto our shelves via generous neighbors and blog readers.
My son is branching out from the popular teen books on his Kindle to some of the classics like Twenty Thousand Leagues Under the Sea and some of our more adult reads such as The Story of Edgar Sawtelle and The Boy Who Harnessed The Wind. That last book, plus Foreign to Familiar, a book I read to the older two children, so impressed him that he wrote to his friends suggesting they, too, read the books. And just this very morning, he copied down the name of the boy who harnessed the wind so he could watch his TED talk during his computer class at school.
In conclusion, three thoughts:
1. The books I brought, along with a few that
some friends have shared, will be enough to get us through our time
here. I wish we had more books, of course. I miss having ridiculous quantities of
literary entertainment at our fingertips. But you know what? It's been enough. I don't know what to make of it. It's proof, I guess, that I really do come from a culture of excess.
2. If traveling, take books.
3. The high quality of the reads and the great fun we have gotten
from them make me wonder if it is worth spending a hundred bucks each
year on some brand new, carefully selected books even if I don't plan to go anywhere. It'd be like menu
planning, but with a literary twist. What do you think? Do you have a tried and true method for selecting your reading material?