In these here parts, a popular treat is helados, little baggies of frozen fruit beverages. I don't let my children buy the helados they sell on the streets for fear of all things bacterial (goodness, I sound like my mother!), and, oddly enough, they don't fuss about their deprivation, probably because I pronounce Doom and Gloom whenever they suggestively point out a cooler of frozen treats.
I did, however, buy a bunch of little baggies in the market so that we could make them ourselves. Below is my most recent concoction—
Hang on. I just interrupted our house help's industrious sweeping of our floors to ask how the people here make helados.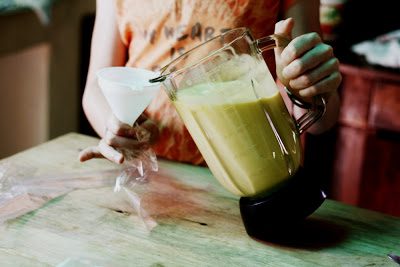 She said they are simply fruits blended up with sugar and water or milk, depending on the type of fruit and the desired flavor. For example, strawberries are blended with water and sugar, while bananas and coconuts are blended with milk and sugar. Mangos and pineapple don't have any liquid added to them, just sugar. And then there are plain milk helados that are made with just sugar and vanilla.
…um, wait. I just stuck my head out of my room to ask her a couple more questions, and this time around she said that strawberries, cantaloupes, watermelon, etc, are blended with milk and sugar. I guess this means there is no set-in-stone formula?
Okay then! So here's what you do, says I. Just make a runny fruit smoothie of your choosing, pour it into little bags, tie them shut, and then freeze for the next day's after-school snack.
tearing a hole in the bag
Note: eating them is half the fun. Bite a little hole in one of the bottom corners of the bag and suck, slurp, and chew until gone.
Mango Banana Helados
2 very ripe bananas
1½ cups chopped mango (the equivalent of one large, juicy-sweet mango)
1 pint peach yogurt
1-2 cups milk
Whirl it together in the blender. Pour 1/4-1/3 cup portions into long, skinny baggies. Tie baggies shut as you do a balloon (this is where a helper comes in handy—one to fill bags and the other to tie them shut). Freeze.