Several weeks ago, my younger daughter turned nine. Or rather, two and a quarter, since she's a Leap Year Baby.
We made whoopie pies to share with her class (and a taxi driver and the neighbor kids and another volunteer who was celebrating a birthday), and that afternoon we had a piñata, in honor of both the February birthdays. There was a chocolate cake and a few little gifts—a recorder for school, a fake Barbie, a stuffed Pooh Bear, etc.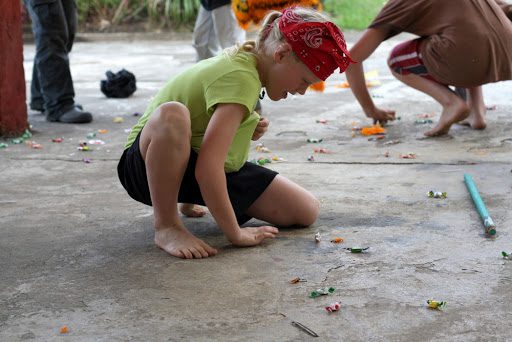 However, it wasn't until yesterday that she got her real gift. We weren't sure it was all going to work out, so we downplayed the whole thing: we said that her uncle was bringing one of her birthday presents when he came, but it wasn't any big deal. Which was a lie and I think she knew it.
See, a ways back when I wrote this post about her one and only toy, I alluded to her great, persistent and vocal longing for an American Doll. My cousin-in-law read the post and immediately announced, She can have mine. And then she, bless her heart, bent over backwards to travel to her parents' house, dig it out of their attic, and mail it to my brother.
Yesterday after school, we called everyone together and handed her the box.
When she opened it, there was a loud gasp followed by much hollering.
Hers is the Felicity doll, the girl from Virginia, which is fitting, I think. I read all about her online the night before—how she was the first doll to be added to the collection in 1991 and how she was discontinued in 2002 and how there was such an uproar that they re-introduced her a couple years later.
My daughter, however, doesn't care about all that. She has an American Doll of her very own and that's all that matters. She has opted to call her "Lily," which is probably some type of American Doll sacrilege.
Lily has her own bed under the night table. My daughter goes into her room and shuts the door and I can hear her happily chattering away to her new friend.
Thank you, Kate. You have made one little girl (and her mama) very, very happy.