When I went over to the table to reclaim my dishes at our last church potluck, I spied a pan with a few leftover plain brown bar cookies in it. So unassuming, they were. Obviously, something that drab looking must have some pretty good flavor, I thought. So I broke one in half and took a bite.
Chewy, caramelly, soft, and a little toffee-like around the edges—the bars were golden. Of course I demanded the recipe.
I made the bars and took some to our support team meeting. Of the several desserts there, this one was the most homely and the most exclaimed over.
"What is in these?" people asked. "Coconut? Oatmeal?"
The bars do indeed seem to be full of something. It's a bit of a letdown (or thrill, depending on your perspective) to find out it's just the basics—butter, flour, sugar.
I call them sparkle blondies. Instead of plain white or brown sugar, the recipe calls for the coarser raw cane sugar which pebbles the bars, freckling them with the sparkly granules.
Of course, you could add coconut and pecans and chunks of chocolate if you want. But I like the simplicity that allows the raw, crunchy sugar to shine.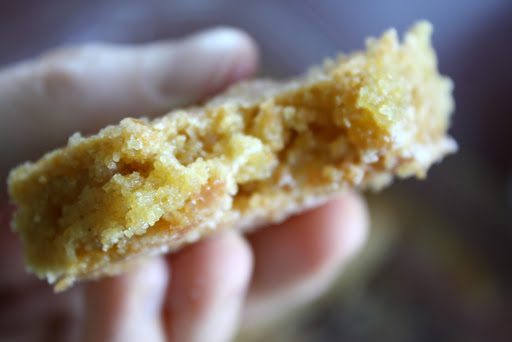 Sparkle Blondies
Adapted from Carmen's recipe
I subbed in some whole wheat for a little more nuttiness. (Later I tried all whole wheat. It was a miserable experiment. Don't try it.)
Not the blondie recipe you're looking for? Here's another recipe. I make them frequently.
1 cup whole wheat pastry flour
1 cup all-purpose flour
2 cups raw cane sugar (I used part demerara)
1 teaspoon salt
2/3 cup (10½ tablespoons) butter, melted
2 eggs, beaten
2 teaspoons vanilla
Stir together all ingredients, the dry ones first and then the wet. Pat the batter into an ungreased 9×13 pan—I wet my hand with cool water to keep the dough from sticking to it.
Bake at 350 for about 20 to 25 minutes until brown around the very edges.
This same time, years previous: chicken salad, Chinese cabbage and apple salad, why I homeschool