The summary:
Sunday was a big day at church. I got up at 3 am to finish baking for the bake sale. I did the children's story. I, or rather, our support team, hosted the congregational lunch. And then there was a congregational meeting to attend. After that I went home, changed into pajamas, and crawled into my bed for a two-hour nap.
The details, summarized:
*My husband was kind of grumpy about all the food I was making. "There is no way this is all going to sell," he griped. "This is ridiculous."
*Before breakfast, he smacked a mouse dead (not saying where or how because that would be TMI and because I get PTSD just thinking about it) and Charlotte ate it.
*We discovered that my husband sent my daughter's laid-out church clothes home with my brother last night when he came to pick up his girls that we were babysitting (follow? good) , so my daughter had to hike over to their house to get dressed.
*We stacked the car full of deliciously-filled washbaskets and made each of the kids hold a tray or pan of something.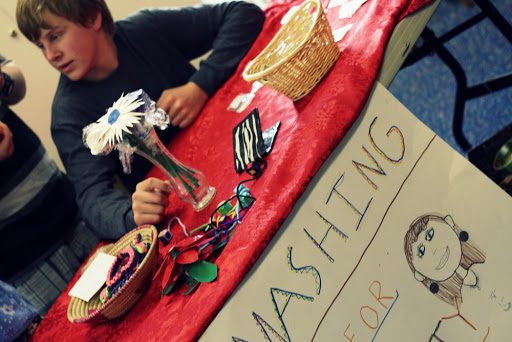 *At church we flew around stuffing mailboxes and setting up for the bake and craft sale.
*I got miked up for the children's story and then, ten minutes before the church service started, I realized that I'd left my carefully written out and practiced story at home—PANIC. So I called my brother. His wife sprang into action, zipped over to our house, located the papers, and sped all the way into town, bless her heart. The usher delivered them to me with about six minutes to spare, whew.
Question: how many children fit inside a K'ekchi' skirt?
Answer: twenty.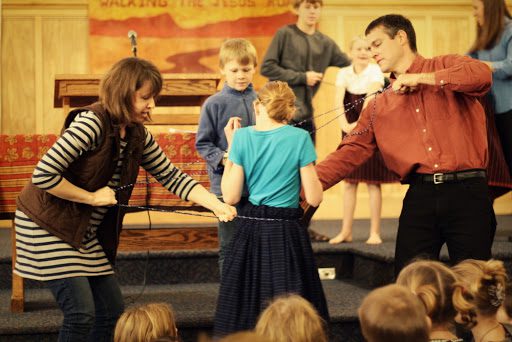 children's time photos courtesy of girlfriend Anita
*Every single one of the baked goods sold. Take that, Mr. Grumpy!
*We fed people lots of pizza.
The end.
This same time, years previous: ushering in the fun