Quotidian: daily, usual or customary;
everyday; ordinary; commonplace
bedhead
lettuce, o beautiful lettuce
basking
the face of luuuv
(and the reason I flinch when anyone puckers up in my general direction)
fork-feeding the chickens
I had high hopes for this pineapple mango salsa,
but my husband and I both thought it a little flat.
I probably did it wrong.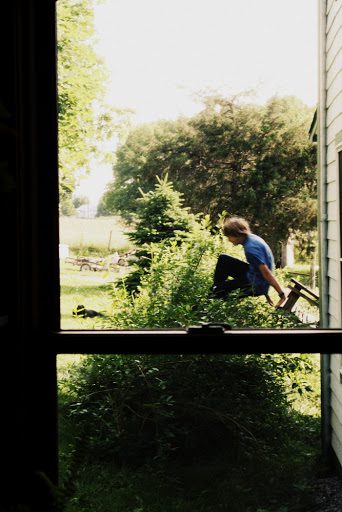 My husband looked out the window and this is what he saw: the kids had turned the porch swing around so it faced out into the front yard and were happily sailing over the forsythia.
Yee-haw.
white shirts for kids = the stupidest idea ever
I set my script on the roof of the car while I dug in my bag for my keys with one hand
and shoved a cupcake into my mouth with the other.
"You are going to forget you put it there," I warned myself.
And then I proceeded to do just that.
Not until I was pulling out of the parking lot did it come crashing down
and completely burst apart on the pavement.
I was laughing so hard I could hardly pick up the papers.
The end.