Quotidian: daily, usual or customary;
everyday; ordinary; commonplace
dirt on my doorstep: 'tis the season
a new game: what you don't see—the two siblings who are hurling black walnuts at his head
Mise en place for spicy Indian potatoes, my contribution for a fundraiser that, because it was my fourth year to cook for it, I got to attend for free. Talk about amazing ethnic food!
I'm still dreaming about the posole.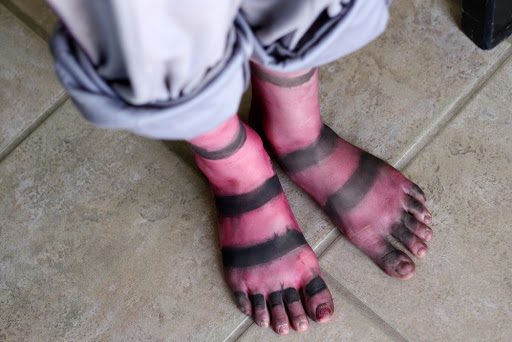 rest time results: marker socks (they're all the rage, didn't you know?)
eighty pounds of frozen vegetables: 50 peas, 20 cauliflower, and 10 carrots
Our newest family member: a congratulatory, you-have-your-own-newspaper-column!
gift from a reader (oh my word WOW). We are all completely smitten.
(Today the grill face-planted on the deck, thanks to some boisterous breezes. We got it back on its feet right quick, and my son tied it to the deck railing with bailing twine to keep it there. The grill seems perfectly fine, though the deck is bunged up a little.)
the inaugural meal
(the next night we had hamburgers, broccoli, and ice cream cones)
post-supper relaxation: a grill, a deck, warm weather…I couldn't ask for more
swinging off the Edy's ice cream sugar rush