I feel like I owe you a Christmas post. To assure you that we got the tree and put it up and strung (a little) popcorn and set up a couple nativities, etc. (Or maybe it's to reassure myself that I'm on the right track?)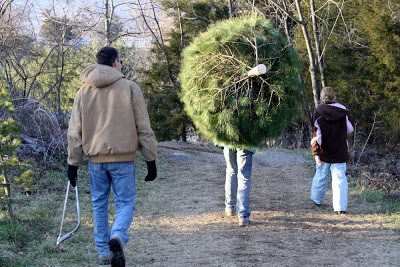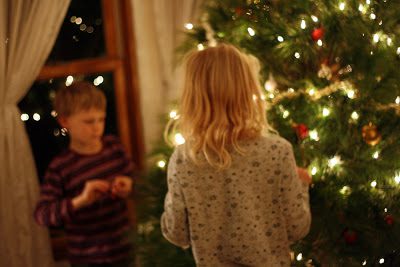 We've done it all—and parts of it have even been fun!—but what I really want to know is: HOW IN THE WORLD DOES ANYONE EVER KEEP THEIR HOUSE CLEAN?
I don't know how anyone does it, period, but I really don't know how you all cope with the mess and filth during the Christmas hoopla—I mean, holidays.
The glitz and glam make more mess, do they not? And the decorations are supposed to be up for at least several weeks, so you have to clean around all The Extra Pretty, right?
Seriously, people! Are you okay with this?
I read blogs and see magazines and all these people are doing such wonderful festive stuff and all I'm thinking about is the pine needles that are falling on the floor (and the mittens that fall in the tree's water pan—why are there mittens in the tree's water pan, willsomeonepleasetellme?) and that all the pretty votive candles eventually burn down and then need to be washed out before I can fill them with fresh votives but the little votive holders clutter up my sink for days because I hate washing them out and then my counter looks trashy.
So… I corral the five children in my charge—all under 10 years of age and two of them not mine—and make them work. They dust baseboards and chairs, wash dishes, desprout the potatoes, scrub sink and toilet, empty the compost, collect the trashes, all while I run around washing windows, dusting, and wiping down the stairs. It feels really good and I even call my husband to tell him he married a goddess.
But then the next day comes around and I spend the entire morning with the four children in my care—all under 12 years of ages and all of them mine—cleaning the house again. There are more windows to wash and picking up to do and organizing and vacuuming and a toilet to scrub and the kitchen floor to wash and empty canning jars to be taken to the basement and full ones to be lugged back up (and washed and shelved) and firewood to be hauled to the front porch and—
I am so sorry. This is probably boring you to tears. Heck, it's boring me to tears. My point is: the house still feels messy and I feel defeated. All these blog-and-magazine people go waltzing through the holidays, red ribbons and twinkle lights and sanding sugar galore, and all I can think is: WHO IS CLEANING YOUR TOILETS! WHO IS DUSTING AROUND ALL THOSE KNICK-KNACKS AND WHO IS MOPPING UP THE STICKY SUGAR AND DON'T YOU EVER GET SICK OF IT AND FEEL LIKE SCREAMING?
I'm not really that shouty. I just start talking in all caps when I feel like my reality is totally different from everyone else's. Perhaps they have better filters on and know not to talk about such boring stuff on their blogs. Perhaps they have cleaning ladies. Perhaps their houses are such screwball messes that they have to focus on the sparkly lights with uber concentration, because if they let themselves even notice the dust rhinos under the piano, the facade will crumble into a pile of dust, which is just one more thing to clean up.
Baby Jesus' halo has fallen off and the windows are dirty, but hey,
there's a bouquet of poky red berries to divert the eye and boost the happy!
P.S. I don't have an open fire in my kitchen, in case you wondered. Those pictures are from our annual visit to a local Christmas tree farm where the kids get to hunt for the hidden candy cane tree, drink hot chocolate, and pick out a free ornament. Oh, and cut down a tree, too. It's a jolly affair.
P.P.S. I love Christmas. Seriously. It doesn't even stress me out.
P.P.P.S. Messes stress me out.
This same time, years previous: middle-of-the-night solstice party, lemon cheesecake tassies