Quotidian: daily, usual or customary;
everyday; ordinary; commonplace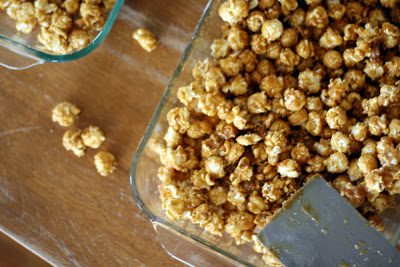 *blue, blue, oh so blue!, autumn skies: but today they are heavy and dark with rain
*the fruits of my (much needed) inspiration to clean out my spice cupboard, thanks to Aimee of Simple Bites
*an apple pie, ready for the oven
*fixing the wheelbarrow tire: he hooked up the air compressor all by himself (and without me knowing) and then used it correctly, too
*slicing apples for the dehydrator
*cozy reading time
*caramel popcorn cooling on the table: decreasing the popcorn and (unintentionally, I promise!) increasing the butter makes for some out-of-this-world deliciousness
*a trash can lid hat
*gorgeous green, good for both my eyes and my tummy. (Bonus, my kids love them, too.)
*after an evening of guests: the table, still dressed and lit. As we've had a lot of company in the last couple weeks, we've been burning candles endlessly. I light them as soon as I get up in the morning to make the cold, dark mornings a little more inviting.
This same time, years previous: a homeschooling experiment report