Our evenings have gotten busier than I like. Take this week for example: something has been scheduled for every singe late afternoon and/or evening. Lots of good stuff. Lots of fun stuff. But stuff that, nonetheless, requires coordination, car keys, fossil fuels, hurried suppers, and missed bedtime stories.
Suppers have been bare bones: an ovenfull of baked potatoes, veggies from the freezer, beans and rice. Only one night did I make a meal that involved any creativity whatsoever, and that was the night that my husband did the running and I got to stay at home. I made a lemony red lentil soup, and wouldn't you know, the kids hated it. But I thought it was so incredibly delicious that I didn't even care. It is the perfect soup to have on hand for my lunches: nourishing, easy to reheat, and intoxicating with exotic flavors.
Just a little over an hour ago I returned from an errand that involved an entire morning spent in the car listening to Harry Potter while one carsick child moaned in my intolerant and unsympathetic ear (me: If you're going to throw up, tell me; otherwise, stop groaning), and by the time I got home, I was starving hungry. I threw some cheese sandwiches and apples on the table for the kids (toast for the recovering sicky) and then went about preparing my feast of soup. I sauteed a large handful of fresh spinach in some butter, and heated up a bowl of brown rice and another bowl of soup. The presentation of this soup is most important and I take care with it, even when it's just for little old me's lunch: soup on the bottom, then a mound of brown rice on one side, the spinach on another, and some plan yogurt on yet another. A grind of black pepper and I was set.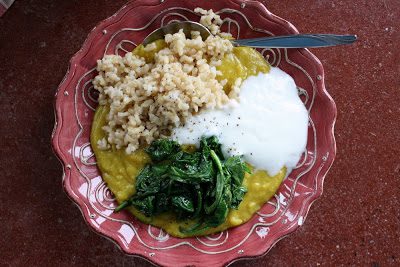 The first bite went in my mouth. "Oh wow," I said out loud, even though the kids were already in rest time and there was no one else in the room to listen to me swoon. But, and I'm not sure if you know this already or not, some foods are so exquisite they simply must be appreciated out loud—this soup is one of those foods. I sat down at my desk and tried to force myself to eat slowly, but all too soon my spoon was scraping up the dregs of lemony lentil goodness.
This soup is not an Indian food, per say, but it reminded me of dahl. There are the seasonings—cumin, turmeric, and mustard seeds—a couple large onions, and the salted, earthy spinach. But it's the lemon—oh, the lemon!—which elevates the dish to a whole other level. Chapatis, while superfluous, would be a delicious accompaniment.
This season of business is passing, I think (I hope), but in the meantime, for this week at least, this soup will be key in getting me through.
Red Lentil Soup with Lemon and Spinach
Adapted from Heidi Swanson of 101 Cookbooks
I made a couple significant changes (omitting the cilantro and cooking the lentils [and rice] in lots of flavorful chicken broth), so I'm not sure Heidi would want me to associate my recipe with hers, especially considering that my version is rich with chicken broth and she's a vegetarian.
Note: this recipe is also posted here.
2 cups red lentils, rinsed
6 cups chicken broth (or water)
2 teaspoons salt
1 tablespoon turmeric
4 tablespoons butter, divided
2 medium onions, chopped
2 teaspoons ground cumin
1 ½ teaspoons yellow mustard seed
2-3 lemons, the juice of
lots of fresh spinach
cooked brown rice
plain yogurt
black pepper
Put the lentils, turmeric, 1 tablespoon butter, and salt in a large pot and add the chicken broth. Simmer, stirring occasionally, until the lentils are very soft. Puree the soup using a handheld immersion blender (or a regular blender).
Melt 2 tablespoons of butter in a large skillet and add the onions, cumin, and mustard seed. Saute until the onions are very soft—about 15-20 minutes.
Add the onions to the pot of pureed soup. Squeeze in the juice of two (or three) lemons. Taste to correct seasonings.
Immediately before serving, melt the remaining tablespoon of butter in a large skillet and add the spinach. Sprinkle with salt and toss until wilted.
To serve: fill the bowls with soup, and garnish liberally with scoops of warm brown rice, the sauteed spinach, plain yogurt, and freshly ground black pepper.
This same time, years previous: bad mamas