My daughter has been taking sewing lessons from a friend for about a year. Sunday was her last lesson. They finished up the skirt she's been working on for several sessions.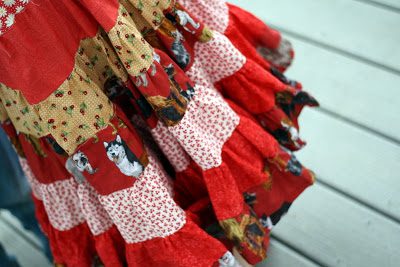 When she walked into the living room to model it for me after I got home from the soiree, I stopped dead in my tracks and gasped. I had no idea.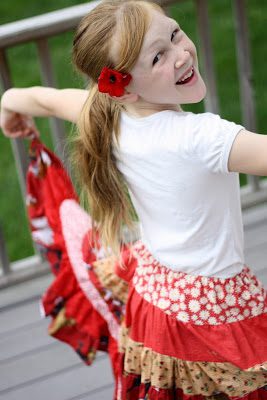 No idea it would turn out so pretty. No idea that the crazy fabric we picked out at the shop ("But I want dog fabric, Mama!") would come together so nicely. No idea it would be so full and twirly. No idea that she'd actually want to wear it.

My daughter is not a skirt girl, but this red little number has seemed to change her mind. She's puffed up with pride and glowing like a thousand watt bulb. I have to keep telling her to change out of it so it'll stay nice.

Last night when I went upstairs for chatty time, she was industriously ripping out threads. "What are you doing?" I yelped, panicked.
"I'm taking out the gathering threads," she explained.
"What do you mean? Did your teacher tell you to? Are you supposed to do that?"
"Yes, it's fine," she said, waving a seam in front of my worried eyes.
"Well, don't damage it," I warned.
"I'm not," she said, without lifting her eyes from the skirt in her lap.
She didn't crack a smile, but I could tell she was pleased as punch that our roles had reversed and she knew more than me.

This same time, years previous: birthday minutia