Don't you hate it when you post a recipe and tell everyone how great it is and then find another recipe that is similar but way much better and then you have to decide what to do with that recipe you thought was so wonderful but is really rather awful now that you've seen the light? Yes? I hate that.

Remember that two-minute peanut butter chocolate cake I wrote about? The one I thought was so fun and kind of quirky and rather yummy? Delete it from your memory, m'dearies, and make this instead.

I had reservations with the previous cake (there was that spongy texture from the egg), but with this one I have none (no eggs!). Making and eating it was the highlight of my day yesterday. Just ask my mother. Just ask my husband. Just ask my kids.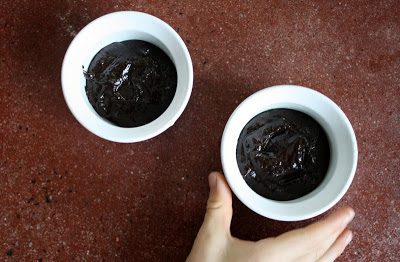 The other reason I hesitate to write about this recipe is because it makes me look like all I do is cook and post Julie recipes (and I have another one of hers waiting in the wings!), but facts are facts, and nine times out of ten Julie hits the nail on the head. She knows her food and does a lovely job making it accessible to the average cook. She's one of my main sources of inspiration.
So anyway, she wrote about these brownies and I thought, oh posh, whatever. I am so not into microwave cooking. That is, like, way below me.
I waited a whole six days before giving it a go.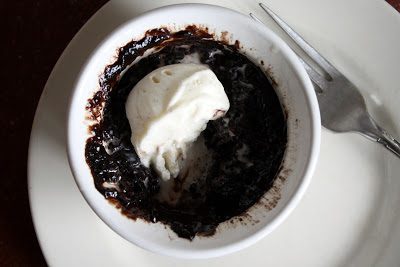 And then I swooned my fool head off and made two batches and got a major case of Sugar Highitis. My side kick efficiently executed the taste-testing portion of the job and cleaned up every bowl I placed in front of him.

True, he didn't give much quotable feedback, but there was lots of sticky lip-smacking. I understood what he was saying just fine.
Julie calls these cakes "brownies," and with that name, I take issue. They are definitely more of a pudding cake, or maybe a molten chocolate cake. Or maybe that's just because I underbaked them? There certainly is an element of brownie, no doubt about it. In any case, the top was fudgy and cakey and the bottom was chocolate-y syrupy and combined with the ice cream, it was perfection.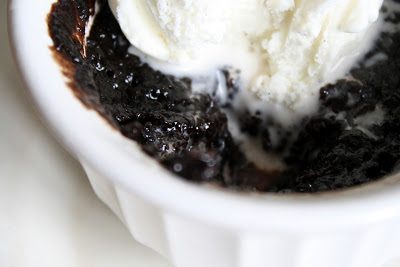 The best thing about these babes is their immediacy. I like something sweet and cakey with my afternoon coffee but often there is nothing to be had (yes, it's true!) and I get all woeful and forlorn. However! These cakes, these glorious cakes, have smacked that problem into oblivion and beyond.
Here's how I do it: while the kids finish up their lunch, I stir together the dry ingredients. I make my coffee, reserving two tablespoons for the batter. As the children scamper oh-so-cheerfully (not) off to their rooms, I mix the wet with the dry, divide the batter between two small ramekins (putting one in the fridge for later), and microwave the remaining dish for thirty seconds. A bit of vanilla ice cream scooped on top and I'm all set for my happy computer, caffeine, sugar, chocolate time.

One of my friends left a comment on the previous two-minute cake post that read: "It's too quick and easy. I need hurdles." So, in her honor, I'm naming these miracles…
Hurdle-Free Molten Brownie Cakes
Adapted from Dinner with Julie
I've been experimenting like a crazy chocoholic. See below for adaptations and notes.
The coffee flavor comes through loud and strong. It's a key player.
1/4 cup flour
1/4 cup packed brown sugar
2 tablespoons cocoa
pinch of salt
2 tablespoons flavorless oil (I use canola)
2 tablespoons strong coffee (or milk or water)
Mix dry ingredients, add wet, and stir to combine. Divide batter between two, ungreased ramekins. Cover one ramekin with plastic and refrigerator for later. Microwave the other for 30 seconds. Top with a scoop of vanilla ice cream and eat with a spoon (not a fork, like you see in the pictures—I was being a dorkus).
Variations:
*Reduced Sugar: reducing brown sugar to 2 packed tablespoons yields less molten and more brownie.
*Chocolate Chips: unnecessary additional sweet.
*Espresso: 1/4 teaspoon grounds and milk instead of coffee—not much flavor.
*Whipped Cream: not dense enough to stand up to the warm cake.
*Heath Bar Chips sprinkled on top: meh (too much chemically flavor).

This same time, years previous: soiree 2010, we love Fred, soiree 2009