When I left for the soiree, I made a list for my husband. Things like drop-off and pick-up times for kids, food suggestions, a few jobs that must take priority, etc. At the end of the list I wrote, "Clean the house," and "Baby me," because I'd be arriving home on my birthday and did not want to come into a mess or have any responsibilities or anything to get under my pms-y skin. (We're both getting pretty good about tiptoeing around the pms monster. When provoked, it will eat both of us alive. And neither of us likes being eaten alive all that much.)

When I walked in the door at 7 pm, the house was spotless and all five of my most beloveds were sitting on the sofa watching a movie, and an iced cake was sitting all pretty on the table. While they finished up the last ten minutes, I unpacked and put away my stuff, got a shower, changed into my new cherry pie pjs with ruffled edges (thank you, auntie!), and came back downstairs for cake, cards, and presents.

Each of the kids had made me little book-cards (should I call them "cooks?" or "bards?") bedecked with cut-outs, drawings, nonsensical poems, coins, paper doors that latched and opened up to reveal birthday messages, hearts, etc. Gifts included measuring cups, a bouquet of wooden spoons (my husband is grossed out by my cracking—and therefore, food-collecting, ew!—wooden spoons), a lemon press, a salad spinner, and a camera lens. There was also a bag of cheap, disgusting, chemical-laden florescent cheese popcorn that my baby bought me with his own money so it was super sweet and special. And my little girl bought me a selection of gummy candy from Martin's bulk food bins, also with her own money.
And then we ate the cake.

Now, I have very low expectations when it comes to my birthday fare. Past birthday menus have included burned pancakes and take-out pizza and I'm fine with that. My only stipulation is that I do not want to cook. On my birthday, someone else gets the honor of feeding all the mouths. So I wasn't expecting the cake to be anything special. Just, you know, cake.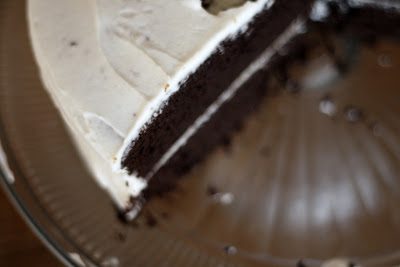 But cutting into it, I got worried. It was heavy and dense to the point of brickishness. And it felt dry, too. I smiled behind my face (which is another way of saying "to myself") at how cute it is when my family tries to step into my shoes and started eating. Almost immediately, I stopped eating and studied the cake. What was it? A few more tentative bites and the mystery was not solved. I slowed down even more and turned my full attention to cake contemplation. Bites without icing and bites with. Middle bites, edge bites. I was very thorough. Then I said, "This is really good cake."
My husband, who was giving it the same thorough going over, nodded in agreement. "Yeah, it's not bitter. But is it dry, do you think? Maybe I over-baked it?"
"No, I don't think so," I said. "I think it's supposed to be this way. Kind of fudgy and dense, but not wet at all. The texture is really unique. I like it."
"The kids will probably be up all night," he said. (They weren't.) "It has half a pound of chocolate in it and a three-quarter cup of cocoa."
"So that's why it's so good!" I crowed, mystery solved.

Chocolate Birthday Cake
The recipe comes from a the back of a children's book, The Bake Shop Ghost, by Jacqueline K. Ogburn. (I know! He got the recipe from a children's book! How sweet is that?)
The recipe called for 4 tablespoons buttermilk powder and 1 cup water. My husband didn't think I had buttermilk powder (but I did!), so he used homemade buttermilk in place of the water. I'm using his adaptations below.
1 ½ cups sugar
1 1/4 cups flour
3/4 cup cocoa
½ teaspoon baking soda
1/4 teaspoon salt
1 ½ sticks (3/4 cup) butter
8 ounces semisweet chocolate
1 cup buttermilk
4 eggs, beaten
1 teaspoon vanilla
Whisk together the dry ingredients in a large bowl.
In a saucepan, melt the butter and chocolate on low heat. Remove from heat and beat in the buttermilk and then the eggs and vanilla. Add the dry ingredients and stir until blended.
Divide the batter between two greased, wax paper-lined 8-inch or 9-inch baking pans. Bake at 325 degrees for 35 to 40 minutes. An inserted toothpick should come out with crumbs still attached, not completely dry. (My husband reports that there were no crumbs clinging to his toothpick, so perhaps it was over baked? Maybe it's supposed to be more of a brownie cake? Perhaps the mystery is not just yet solved? There may be another chocolate cake in my future?)
Let the cakes rest for 10 minutes before running a knife around the edges of the pans and inverting onto a cooling rack. Frost and serve.
Vanilla Water Frosting
Instead of milk, this recipe uses water to thin down the icing. As a result, the icing has a lighter, cleaner taste, kind of like a glaze. Though it is definitely still an icing. Follow?
3 cups confectioners' sugar, sifted
1/3 cup butter, room temperature
1/4 cup water
1 teaspoon vanilla
pinch of salt
Combine all ingredients in a mixing bowl and beat until smooth. Yields enough, but just barely, to ice a two-layer cake.
This same time, years previous: ciabatta, dumping, peposo, butterscotch cookies