I've gotten a number of questions via emails and comments about our latest birthday bash, and most specifically, regarding the cake and interview.
The birthday cake goes first. Because I'm a firm believer in dessert first. (Not really, it just seemed like the right thing to say. I'm actually a very boring person—the kind of mom who insists on veggies first or else. The "or else" being, most often, no dessert.)

This cake was inspired by pinterest: this picture. I told my daughter that she could choose the flavors for her party cake, but not the decoration. That part would be a secret till the very end. She was delighted with it, I think, but there wasn't much time for fawning over it. As soon as the candles were out, the kids tore into it.
To get the four cake layers, I made one recipe of dark chocolate cake and then sliced the two 9-inch cake layers in half. I don't normally cut my cakes in half like that because I am horrible at cutting in a straight line, but with one kid stationed on the other side of the cake to yell orders at me (go down! go up! go down! go up!), it was actually pretty simple. So simple, in fact, that I think I'll do it more often. The cake to icing ratio is better that way, especially when I use the creamy fluff frosting in between the layers.
Which is what I used for this cake: one recipe of the cream fluff frosting. Man, I love that stuff!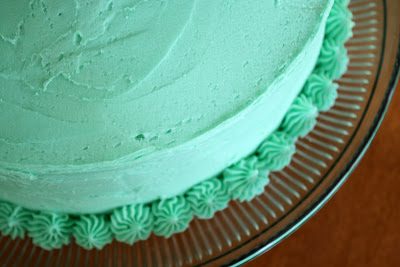 Then I iced the outside of the cake with mint buttercream, which was just this recipe but minus the vanilla and with the addition of 3 drops of peppermint oil and a bunch of green food coloring. Then I made a second batch because I was afraid I wouldn't have enough. When I was all done, there was an ample cup leftover—it's now in the freezer waiting to deck out some future cake.

To make the ice cream cone dump, I crumbled up a ball of foil and iced it with the classic chocolate frosting. (I made an entire batch of it even thought I was only going to use a tiny bit—I didn't want to waste my good ganache or use the green frosting and then have green splotches showing through. So there's a quart of chocolate frosting hanging out in the freezer now. I'm jealous of its chilly living quarters.) After the iced foil chilled in the fridge for a little, I stuck it on the cake and mounding more chocolate icing around the base to make it look flattened and smooshy, like ice cream looks when it hits pavement, or a mint green cake.

I made one recipe of chocolate ganache (minus the peanut butter) and poured it over the ball of "ice cream" and down over the edges of the cake. Then I stuck an ice cream cone on the ice cream and sprinkled multi-colored sprinkles on the ganache.

And then we ate the cake. And it was good.
Full disclosure: 7 sticks of butter were used in the making of all those icings.
(For the record, I think a delicious cake would be the dark chocolate cake with the cream fluff frosting between the layers and then a ganache over top—no buttercream. It'd be like a giant whoopie pie, mmm.)
Now for the birthday questions.

I'm not sure how this tradition came about but it was probably as a result of me wanting to get inside my kids' head, see how they think, document it, and then, over the course of many years, use the questions as a way to track how they grow and mature. It's the scholarly nerd in me poking through.
I didn't expect it to become one of their favorite birthday traditions, but it has.

Starting when each kid is about five years old, I go off in a corner with them on their birthday and ask them a whole list of questions. As they answer, I scribble furiously in an effort to keep up. Then that evening, over the birthday supper or after the gifts have been opened, I take the envelope of all their previous interviews—an envelop that has not been opened for the entire year—and read each question and all its answers. Sometimes the answers are boring and sometimes they're hilarious. Sometimes there are big changes from year to year, and sometimes the answers are surprisingly alike.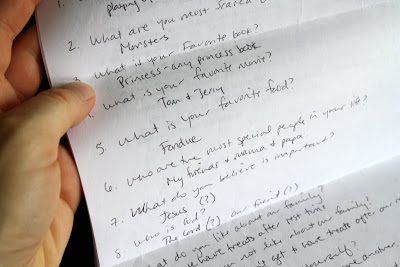 My questions are embarrassingly bad, poorly worded and simplistic. (But in my defense, I started out writing these for little kids.) Eventually I put the list of questions into a word document—I print off a new copy as needed. There are fifteen questions—here are just a few, to give you a taste:
*What are you most scared of?
*What is your favorite book?
*Who is God
*What do you not like about our family?
*What do you like about yourself?
What are your document-their-growth birthday traditions? I'd love to know….
This same time, years previous: limeade concentrate, brown sugar granola, Dutch puff