I apologize for flooding you with my moody ups and downs this week. I've been so imbalanced—blue one minute, happy the next, and then sick for two days. I'll try to stabilize things for a little while here so you can recover from reader whiplash. Heck, I need a chance to recover. Living inside my body can be so trying.
Despite all my kvetching, things have been moving along quite nicely (at least in hindsight). It was freezing cold on Saturday so Mr. Handsome couldn't work on his barn and had to find things to do around the house. He repainted whole stretches of soiled walls.

Talk about giving the house a face-lift. It made the place feel so much cleaner. (He didn't touch Yo-Yo's room. Yo-Yo's room needs more than just a coat of fresh paint.)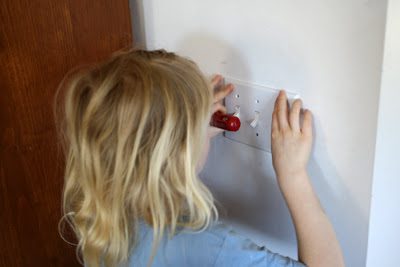 Sweetsie helped with the outlet covers.

Nickel was everywhere he wasn't supposed to be. He made Mr. Handsome get all ruffle-y and hot under the collar. The two of them were like some sort of live slap-stick comedy show.
"Papa, is that wet?"
"DON'T TOUCH THAT!"

"Papa, is that wet?"
"DON'T TOUCH THAT!"

"Papa, is that wet?"
"DON'T TOUCH THAT!"

Et cetera. (There's a reason he doesn't have a shirt on.)
*****

One morning we got out the roll of newsprint paper and the kids spent a couple hours drawing a town (or something).
*****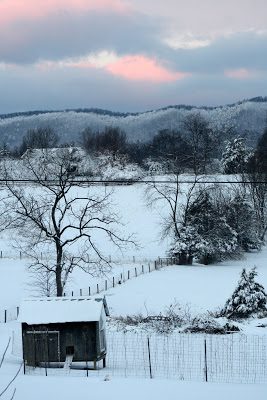 We had a snowstorm! And we didn't lose power!!!
*****

There was one wild and crazy night when my kids dressed up and walked on the kitchen table.
They postured.
They flashed.
They smooched.

They were full up to the brim top with themselves and couldn't get enough.
*****
Miss Beccaboo is taking sewing lessons from a church friend. She had her first lesson this past weekend. When she got home that afternoon, she made us all wait out in the hall while she shut herself up in the bathroom to change into her self-made pajama pants. When she came out, she was glowing.

Mr. Handsome got our sewing machine down from the attic (I love to not sew) and set it up in the downstairs bedroom. She loves her new machine and her new, different-from-anyone-else-in-our-house skills. Her lessons are sure to be the highlight of each month.
*****

I let the kids do the unheard of: they watched two movies in one day. More, if you count that I let them rewind and watch the fun parts over and over again.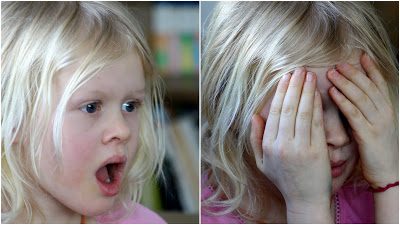 I was recuperating, Sweetsie had sprung a small fever, and Nickel was draggy.
Yes, I do believe my daughter is wearing make-up.

It was the perfect way to spend a blah afternoon and evening.
*****
The kids had spent the greater part of that morning playing in the snow while I shuffled around the kitchen, cooking up a storm in slow motion. I turned eight pounds of beef into sloppy joe meat, made a chocolate mayonnaise cake, and cooked up some deliciousness for our dinner. (Both the cake and sloppy joes were not for us, much to the consternation of my children. The way they acted, you'd think I never fed them cake.)

After living on a yellow and white diet—eggs, toast, oatmeal, potatoes, oatmeal, toast, eggs—we were in dire need of a real meal. And what I made was a real meal, alright. Green chili with sour cream and green onions and fresh corn tortillas. (And peas.)

Let me tell you, I am totally sold on these corn tortillas. I can't get enough of them. I like them so much better than the fresh-but-thin locally made tortillas. They're so comforting, so filling, so satisfying, so real. I'm afraid I'm a bit ga-ga over them. And Mr. Handsome, who isn't really a corn tortilla lover, is rather fond of them, too.

But about the chili. My friend Gretchen brought us this chili back when Miss Beccaboo was a tiny new baby. I remember the entire meal (green chili, tortillas, sour cream, fresh cantaloupe chunks), it was that delicious. I got the recipe (of course) and made it a couple years later for my aunt and uncle when they visited. My uncle doesn't like spicy food, it turned out, but politely suffered his way through a bowl of the stuff. I don't think I've made the chili since then—not because I don't like it, because I do, do, do—but because I don't usually have stew pork on hand and because my kids don't like spicy stuff, either.
But I spied a green chili recipe in the latest Bon Appetit (didn't even look at the ingredient list, though) and it got my wheels a-turning. We'd be going to to the local butcher shop for all that ground beef anyway, so I called in my order ("cubed pork?" "yes, one-inch cubes, please" "huh? one-inch cubed pork?" "yes, cubed pork, like cubes of beef, you know, like stew beef, but just stew pork" "oh! you want stew pork!" "yes, stew pork, please!"), and Mr. Handsome picked it up on his slip-slide-y drive home through the snowstorm, and the next morning I browned up the pork pieces, drowned them in tomatoes, and then braised the whole mess in the oven for several hours.

I can guess your next question: so if it's tomato-based, why is it called green chili? Well, I'm not exactly sure, but I do know that you're supposed to put in a couple cans of diced green chilis (I added diced, fresh jalapeños). In any case, it's a totally red chili but it likes to be called green. Just go with it, okay?

Gretchen's Green Chili
I'm giving you the recipe as I made it this week. The heat was perfect for my palate, but too spicy for the kids'—dial back or amp up according to your family's specifications.
For what it's worth, the original recipe called for two cans of diced green chilis and no fresh jalapeños.
2 pounds of pork, trimmed and cut into cubes
a little olive oil, for frying
1 onion, chopped
5 cloves garlic, minced
2 jalapeños, minced
8 cups stewed tomatoes
2 tablespoons chili powder
1-2 teaspoons salt
for garnish: sour cream, diced green onions, fresh cilantro, grated cheese
Heat up your Dutch oven till it's good and hot, pour in a little oil, and, working in batches, fry the pork cubes. I try to get good brown color on at least two sides of the cubes, though you could be pickier and do more than that. When the pork is browned, set it aside.
Add a little more oil to the pan, if necessary, and add the onion and jalapeño. Saute it for a couple minutes. Add the garlic. After a few more minutes, add the tomatoes, chili powder, salt, and the pork (and any juices that have collected on the pork plate). Clap a lid on the Dutch oven and pop it into a 350 degree oven for 2-4 hours. You want the chili to thicken up a bit, but you don't want all the liquid to boil away, so keep an eye on it. (Conversely, you can simmer the chili in a crock pot for 4-6 hours, or so.)
Fancy up the chili (more of a stew, really) with sour cream and a bit o' green, and serve with fresh corn tortillas.
This same time, years previous: shoofly cake, my real name, gripping the pages, ode to the Titty Fairy