Last Thursday we had a potluck with the Up With People folks and all the host families. It was a standard North American potluck—pasta, pizza, and donuts and hardly any vegetables or whole grains. I couldn't complain too much, though, since my two contributions—I took this and this—didn't help boost the green factor.
The good thing was, most people ate like North Americans (sorry to be so negative, fellow Americans, but when it comes to food, we have A Problem)—this means that even though I was at the end of the line, the salads were mostly untouched. There was also this bland looking casserole dish—a mound of white rice on one half and a mound of dry-looking brown lentils on the other—of which I, expecting the worst but trying to be responsible nonetheless, took a small serving.
Back at my table I tasted the lentils and promptly turned to a stranger lady sitting beside me, jabbed my fork in the air, and exulted mightily, "Oh my word! These lentils!"
"Yes, I know," she said. "I had some of them and they are good. I want to know who made them."
As soon as my plate was empty, I went back for seconds of lentils. So did the stranger lady who, I learned, was named Susan. Then we sat back down, elbow to elbow, and began scrutinizing our lentils, taking small bites and murmuring to each other: Vinegar? Yes. Sugar, of course. Fruit juice of some sort? Apple or pineapple? Yeah, I think so. Onions? Yes, we can see those.
We sighed happily, "We have got to get the recipe."
Our husbands, sitting across from us, shook their heads. Please don't, they whimpered. Susan's husband couldn't eat lentils for health reasons and my husband, well, you know all about how he feels about lentils.
When I went back for thirds, another woman was helping herself to the lentils. "Did you make these?" I asked.
"No," she said. "But I'd like to know who did."
It came time to leave. We gathered up our dishes and kids and started moving towards the door, but when we came to the table of food, I stopped. "You go on," I said to my husband. "I want to see who claims the lentil dish."
And then I spied my midwife standing off to one side with her family and I knew immediately that she was The One.
Because it's a common known fact that all midwives live on lentils and herbal tea.
"Melanie!" I called. "Did you make the lentils?"
She nodded and I pounced. "What's in them?" She rattled off the ingredients: brown sugar, vinegar, apple juice, onion, cloves. "The recipe is from the More-With-Less cookbook," she added.
I was dumbstruck. I had the recipe for this incredible dish at my fingertips for my whole entire life and didn't know it? Holy freakin' cow!
I thanked Melanie, pointed her out to Susan, and then scurried out to the car.
Last night I made the lentils for supper. I asked my husband, in Spanish so the kids wouldn't understand, what he thought of the lentils. Eyes all shifty and downcast, he mumbled sheepishly, "They're good."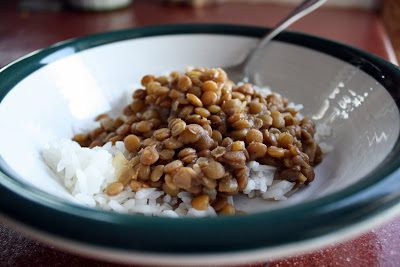 Need I say more?
Sweet and Sour Lentils
Adapted from More-With-Less Cookbook
You may use beef broth or water in place of the chicken broth. Also, I suspect that this would be wonderful with maple syrup in place of the brown sugar.
Updated January 2019: to a double batch of lentils I added two dried lemons. Used less of vinegar (a couple splashes) and brown sugar (a couple scoops), and added a scoop of caramelized onions along with the regular ones. Before serving, I stirred in a handful of chopped dates. Served over rice, with kalamata olives and feta. Yum.
1 cup lentils, rinsed
1 bay leaf
2 ½ cups chicken broth
1 small onion, finely chopped
1 clove garlic, minced
1 tablespoon butter
1/4 cup brown sugar
1/4 cup apple cider vinegar
1/4 cup apple juice (or pineapple, peach, or pear, etc)
1 teaspoon salt
1 pinch ground cloves
Simmer the lentils and bay leaf in the broth for 20-30 minutes, or until tender. In a separate kettle, saute the onion and garlic in the butter till translucent.
Remove the bay leaf from the lentils and stir in the sauteed onion and the remaining ingredients. Heat through, taste to correct seasonings, and serve over rice.
Yield: 6 servings
This same time, years previous: lemon squares, blessing hearts