I'm so proud of myself! I made those ribs, and they far exceeded my expectations and fully met my hopes. I'm pumped.
I was pretty convinced I would ruin them, you know. I'm not so confident around large chunks of meat (they tend to go all tough on me), so my success was extra sweet. I may even have crowed about it a little.
Now that I look back on it, the ribs weren't at all hard to make. It only felt difficult because I had no idea what I was doing. I did, however, have sense enough to pick a recipe from Julie's blog. That woman has a knack for churning out high-quality and high-quantity food on a daily basis, and she writes about it in such a way that you feel like you can do it too.
I tried, that day, to crank out the food a la Julie, but even with my mother's help, I struggled. We were on our feet for hours. My mother grated, chopped, pitted, topped, sliced, minced, peeled, and mashed till her eyelids sagged and her shoulders slumped. And then she washed dishes till her eyes crossed.
I cooked, gave orders, cooked more, and gave more orders. Mom thinks I could have a restaurant, but even with kitchen staff to boss around, I'm convinced I never could.
Along with the meat, we fixed two different salads (both good, but no swoonage happened), skillet cornbread (swoonage happened), oven-roasted asparagus, and Sour Cream Ice Cream with Three Reds Fruit Crumble (copious amounts of swoonage ensued). We were prepping dishes for other meals, too, plus I had done a bunch of cooking already that morning. But even though I was bone-weary, when I got up the following morning, I headed straight out to the kitchen to make a cake (which you'll hear about later).
Perhaps I need an intervention?
So, reflecting my current state of no-holds-barred cooking, I'm going to pile on the recipes. There will be a barrage of food-related posts (okay, perhaps only two or four, maybe five), so I suggest you just go ahead and surrender now. Or else clear out.
First, the ribs.

Mr. Handsome wrestled them from cooler to fridge that evening, and the next morning I made a dry rub mix.

After rubbing them good with the mix (I took the "rub" part very seriously)…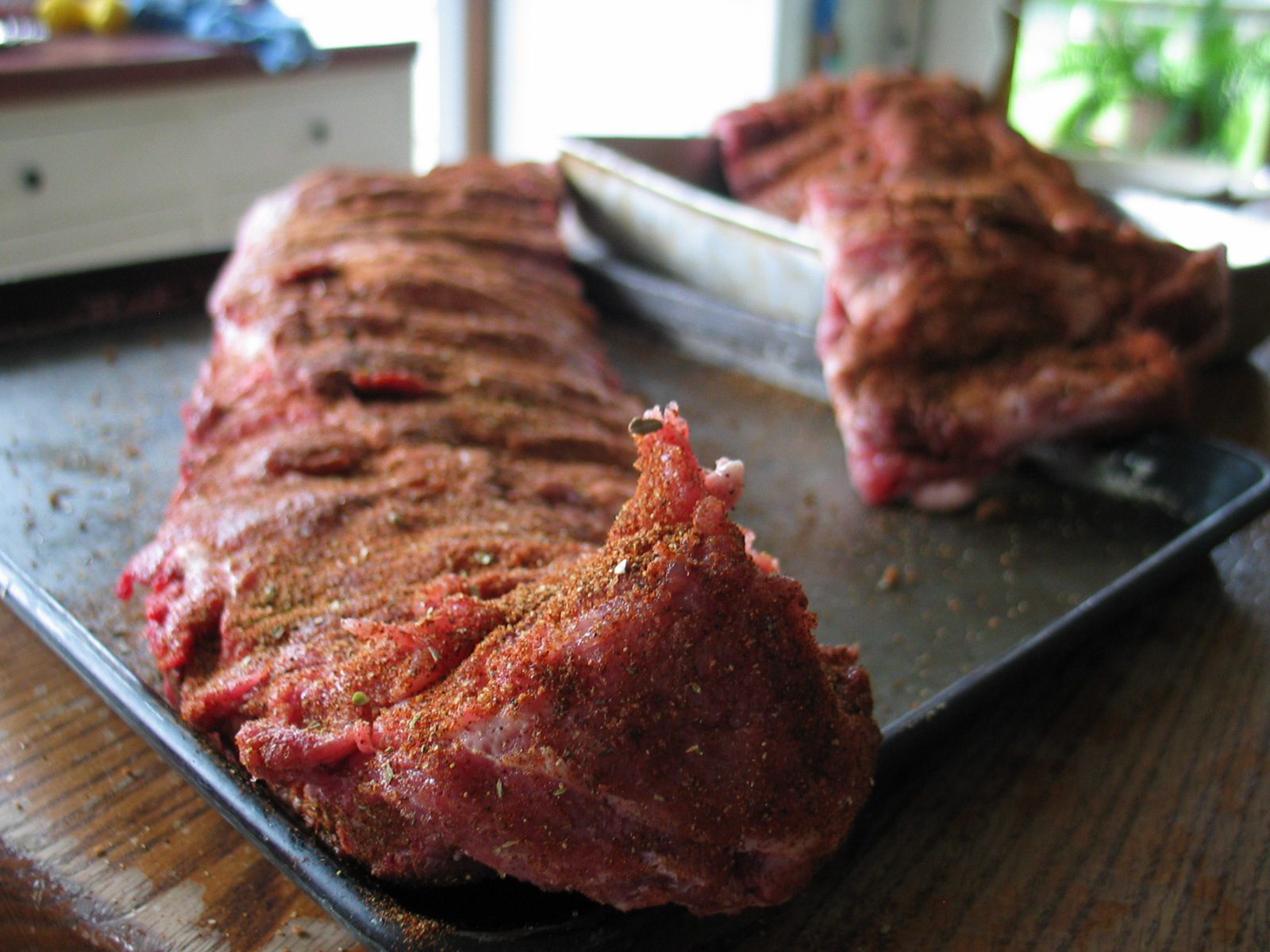 I cut them in half again so that the once gargantuan slab of meat was now in four, more reasonable pieces.

I let them sit at room temp for a couple hours before popping them back into the fridge for another six hours. Mid-afternoon I plunked them onto two trays, tightly covered them with foil, and baked them for nearly three hours. Then out to the grill (very low heat) they went, where I repeatedly brushed them with sauce and turned them, in between times closing the lid.
Niecelet lovin' on the meat
The end results were flavorful, not terribly fatty (I discarded a couple cups of grease after the baking), and fall-off-the-bone tender. Yee-haw!

Barbecued Pork Ribs
Adapted from Julie's blog, Dinner with Julie
1 rack of ribs (as in, a whole-honkin' half of a pig, about 9 pounds), cut into quarters
2 tablespoons smoked paprika (or plain)
1 tablespoon chili powder
1 tablespoon ground cumin
1 tablespoon salt
1 tablespoon brown sugar
2 teaspoons black pepper
1 teaspoon dried oregano
2-3 cups sweet barbecue sauce
Six to twenty-four hours before cooking time, mix together the dry rub spices (everything but the sauce) and rub it on both sides of the ribs. There may be a little leftover which you can either save or toss. (I tossed.) Let the ribs sit at room temperature for an hour or two before covering tightly with plastic wrap (I wrapped them up in individually and then piled them into one pan) and transferring them to the refrigerator to "marinate" till you are ready to cook them.
Place the ribs, meat side up, in two trays that have sides and cover them tightly with foil. Bake at 300 degrees for 2 ½ hours. (Warning: they don't smell that great while baking—not at all how you hope they will taste—but stay calm, they will be delicious.)
Using tongs, remove the ribs from the pans (be cautious when pulling the trays out of the oven because they are sloshy-full of hot, bubbling fat) and transfer them to a couple plates. Brush them all over with barbecue sauce and put them on the grill. Grill on very low heat, lid closed, for thirty minutes, turning and basting every ten minutes.
And that's it!

About one year ago: Rhubarb Tea and Rhubarb Tart