Yesterday I drove out to a local orchard to pick up two bushels of Jonathan apples. While I was there I also bought five enormous butternut squashes—the woman went out to her garden and picked them while I waited. In the grocery store, butternuts sell for 99 cents a pound. These butternuts weighed a total of 62 pounds, so I should've paid 62 dollars for them, right? Wrong! I paid $67.29 for my total purchase, which besides the squash, included the apples, a fifty-pound sack of potatoes, several pounds of onions, some sweet potatoes, and a head of lettuce.
Why do I even bother growing butternuts? I'm not sure anymore. While our butternut squashes did do a lot better than last year's squashes (that time around we didn't get a single butternut, thanks to a fungus or bug or something disgusting like that), this year's squashes didn't do so hotsy-totsy. They have a tendency to start rotting before they fully ripen, and the ones that I did manage to harvest are smallish and rather pallid. I'm about ready to give up. I just can't seem to get it right.
But I continue to give it my best shot. I clucked my tongue appreciatively at the child-sized squashes lying on the industrial farm scale and dutifully asked the orchard owners what type of squash they were, and I even jotted down the name (Waltham) as though I had every intention of attempting to plant them next year. 'Cause I like to pretend that I know what I'm doing. Fanciful dreaming is all it is.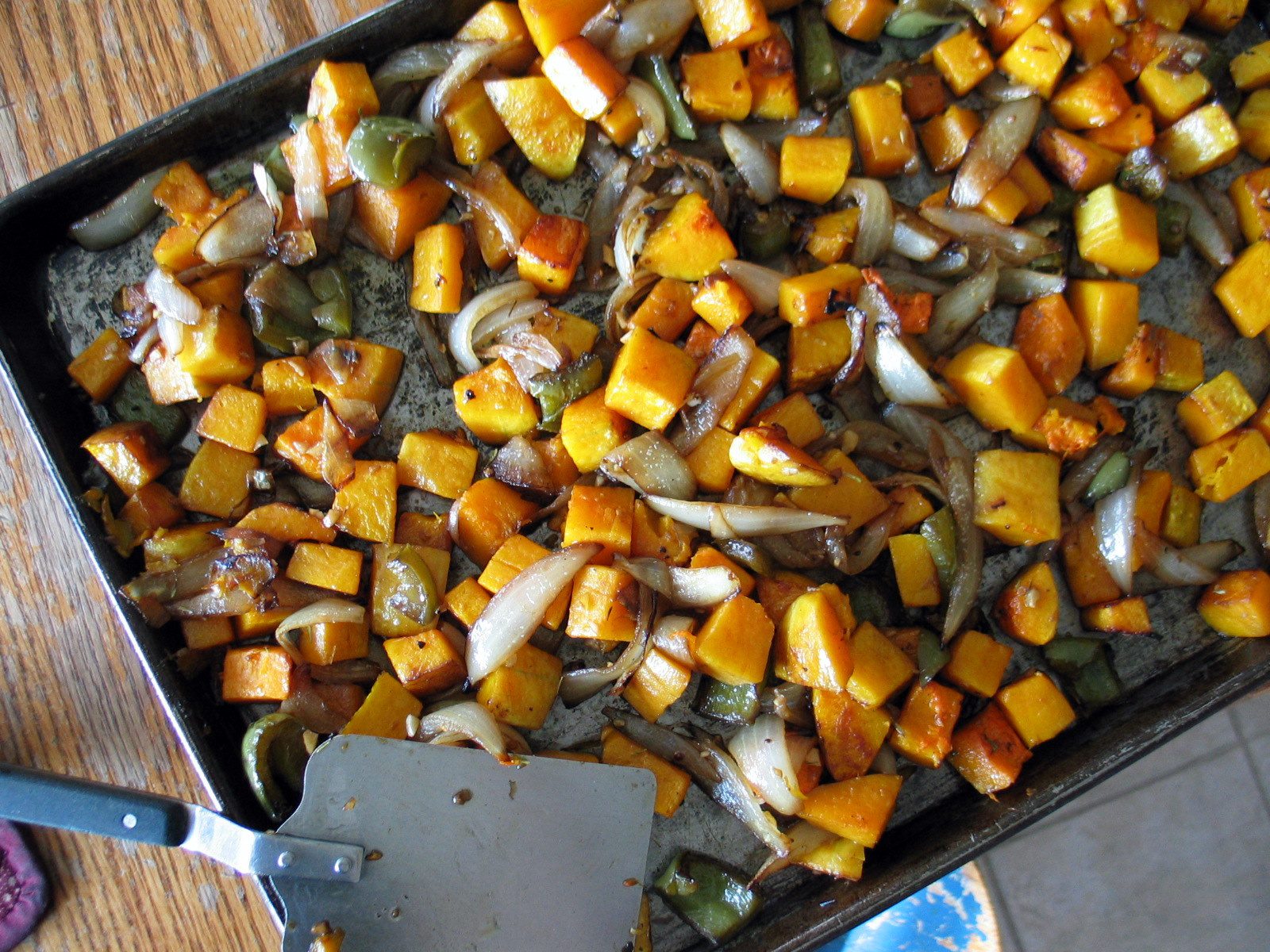 But my best kind of dreams, way better than the garden dreams, are my cooking dreams. And now that I have 62 pounds of orange, vitamin-rich flesh to play around with (that sounds rather sexual and I'm sorry if that bothers you, but the truth is, cooking is sensual), I have plenty of material for dreaming.
Normally we just eat our butternuts plain (our standard method involves boiling the squashes and then mashing and salting and baking them, with pats of butter and a sprinkling of brown sugar on top) or in pie (the kids' off-the-chart favorite), and now I have a new recipe, thanks to one of my friends.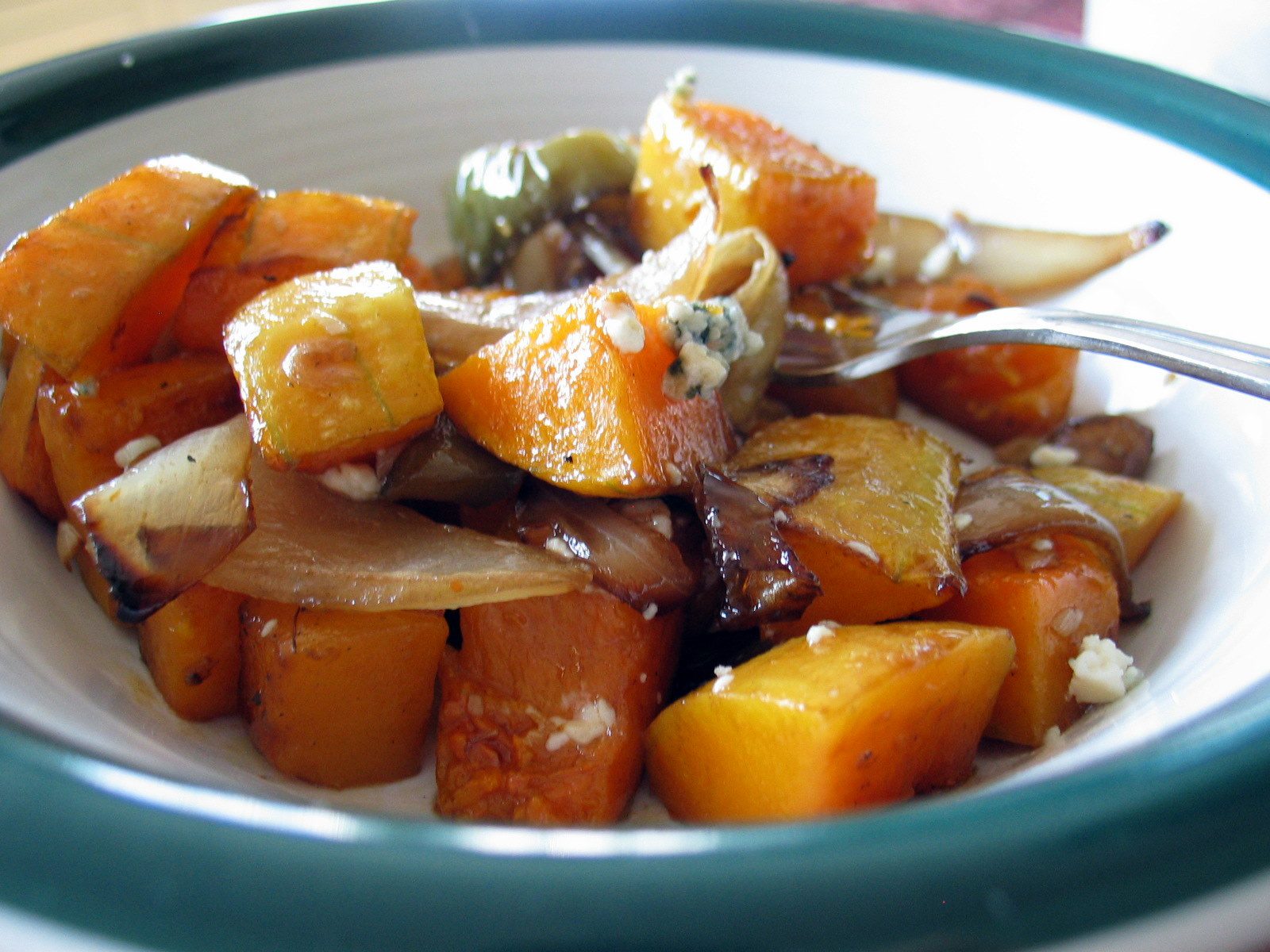 Linell—bless her!—gave me this roasted squash recipe. She is the same person who is responsible for introducing me to the Potatoes in Cream with Gruyere and the Walnut Balls, so when she emailed me this recipe, I knew I better sit up straight and grab a knife. I'm so glad I did.
This salad is the embodiment of autumn. It's composed of fall vegetables—peppers, onions, and, of course, butternut squash—that are tossed in a wine-y sauce and then bolstered with red pepper, garlic, and a sprinkling of feta. The vegetables are roasted in the oven, a perfect remedy for those chilly-but-not-quite-cold-enough-to-light-the-woodstove days; when you make this salad, you warm not only your tummy, but the whole kitchen.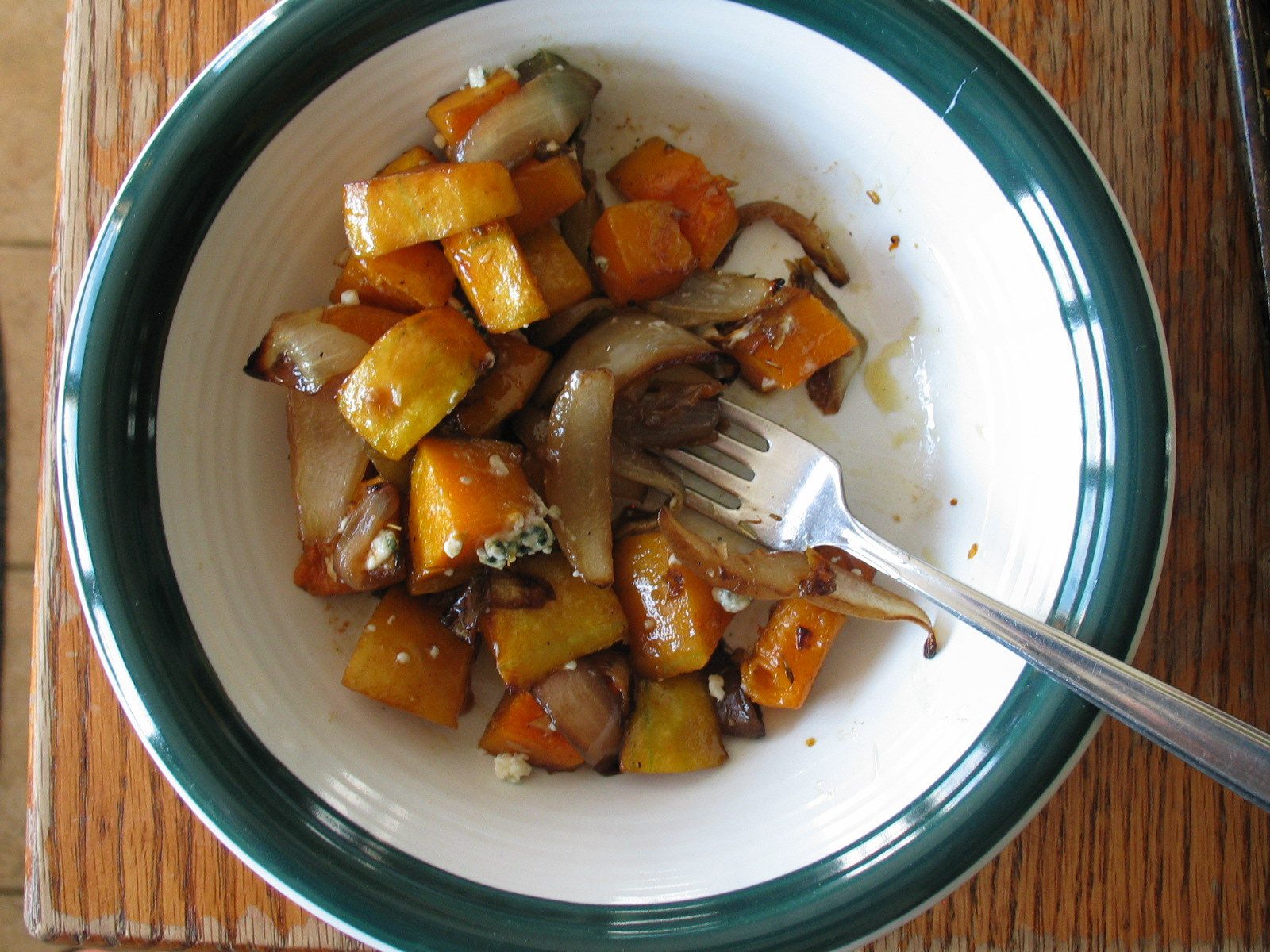 Roasted Butternut Squash Salad
Adapted from a recipe from my friend Linell.
This salad goes well with any meat dish, but I served it with curried lentils and brown rice. I didn't, however, get a chance to eat any of the lentils and rice as I was too busy scarfing down multiple bowls of the squash salad.
Just so you know, the original recipe called for shallots instead of onions and a red chili pepper instead of red pepper flakes. Also, I used some crumbled blue cheese in place of the feta (because I didn't have any feta on hand). I thought the blue cheese was delicious, but feta cheese might be more of a crowd pleaser. (And if you don't like feta or blue cheese, feel free to leave them out. Mr. Handsome isn't fond of either cheese and opted to eat his salad without them; he still thought the salad was mighty fine.)
This is an easy recipe to assemble and the oven does most of the work, however, there is the problem of peeling the squash. What is the best method for peeling a squash? I'm not sure, but I gave it my best shot with my vegetable peeler. It did the trick just fine, though it wasn't exactly easy.
Leftovers are delicious.
1 medium (2-3 pound) butternut squash
1/4 teaspoon red pepper flakes
4 medium onions
1 green (or red) sweet pepper
5 cloves garlic, minced
1 tablespoon soy sauce
1 tablespoon balsamic vinegar
5 tablespoons olive oil
½ teaspoon dried thyme
sea salt
freshly ground black pepper
feta cheese
Cut the peeled onions into wedges or large chunks. Do the same with the green pepper.
In a small bowl, mix together the soy sauce, balsamic vinegar, and olive oil. Toss it with the onions and pepper and spread it on a large baking sheet (that has sides). Liberally sprinkle the onions with salt and black pepper. Roast the onions in the oven for 15 minutes at 400 degrees.
While the onions are roasting, peel the butternut squash, scoop out the seeds, and cut the squash into 1/2-inch pieces. When the fifteen minutes are up, add the squash to the baking sheet and stir briefly. Sprinkle on more salt and pepper, the red pepper flakes, and the thyme. Roast for another ten minutes. Add the minced garlic, stir, and roast for another 20 minutes, stirring every 5 or 10 minutes.
When the squash is fork-tender, remove it from the oven. Dump the vegetables into a serving bowl, season to taste, and sprinkle with feta cheese. Serve warm.
About One Year Ago: One Hot Chica, a photo documentary of Sweetsie's short-lived (and accidental) love affair with hot peppers.