Taking a spare minute I don't have to tell you why I don't have a spare minute.
1. Three bushels of peaches.
2. A couple wagon-loads of sweet corn.
3. Four bushels of apples.
The first corn supper—thirty-six ears down the hatch
Other things in the works: Sweet pickles soaking, dill pickles to be made, lettuce to be washed, bacon to be fried, peach desserts to create and savor, beans to pick, lettuce seeds to be harvested and dried, beets, tomatoes…
Tonight: Two meetings and my parents are coming to spend the night (I called to tell them that if they were bored they could come early to do corn—my dad politely laughed and hung up the phone).
Cucumbers on their way to becoming sweet pickles
Checked off the list: yogurt, croutons, caesar dressing, baked oatmeal, lunch, one wagon-load of corn husked, coffee half-way drunk, piece of blueberry coffee cake inhaled.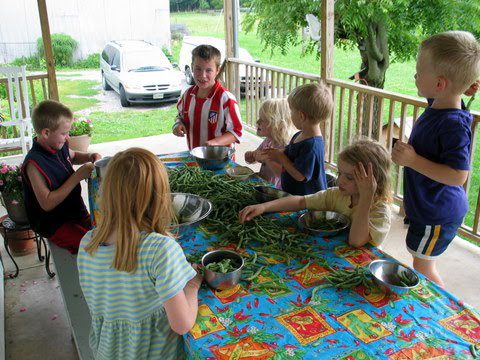 Snapping beans—and the kids wonder why no one wants to come over and play with them…
Sincerely,
A victim of a garden tsunami
About One Year Ago: Quiche.