We all know people that have monodiets, right? Frances, of the children's book Bread and Jam for Frances, is a perfect example. She subsisted on—you guessed it—bread and jam. At first her parents attempted to persuade her to try different foods, but finally they gave up trying. Then her mother got smart and only offered (to Frances) the coveted bread and jam at every meal until Frances broke down and cried and ate meatballs. It's a great book.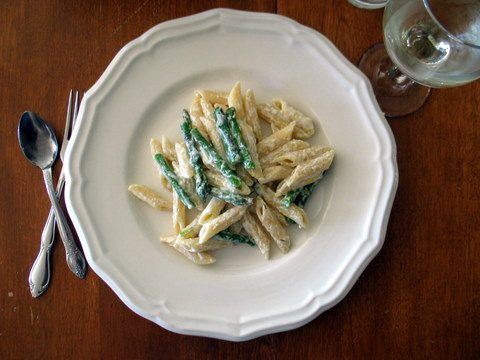 I've turned into Frances, and it's all because of Asparagus, Goat Cheese, and Lemon Pasta. I made it for dinner the other night, and then I ate if for breakfast the next morning. And lunch. And breakfast the next morning. And maybe for lunch, too, but I'm fuzzy on that detail—my meals had turned into one long pasta orgy.
I took a couple days off, not because I didn't want to eat it but because I was preparing other foods for everyone to eat, but then I had it for lunch again yesterday. There's enough left for one more meal, and for that I am grateful.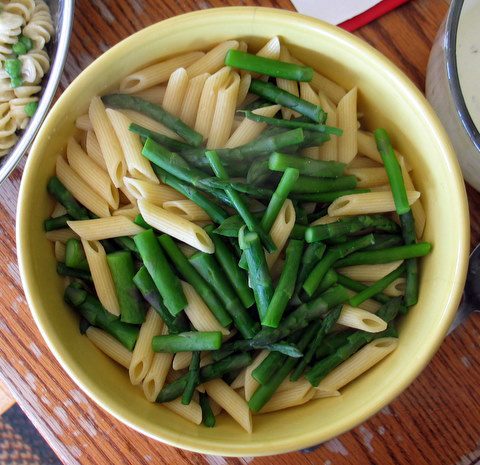 As you can probably guess by the abundance of the leftovers, the rest of the family did not like the dish. Crazy people. My kids don't like asparagus, so I expected them not to eat it, but Mr. Handsome said it didn't taste like anything. Didn't taste like anything?! Sometimes he's just not quite right in the head and it's best to turn the other direction and ignore him entirely. This is delicious.
Because I knew my children would not like this meal and because I didn't want to hear them fussing and whining for the next few hours, I made a parallel dish (I almost never do this) using the same premise. I used cream cheese in place of the goat cheese and omitted the thyme. Also, I subbed peas for the asparagus. They ate it, but they didn't really like it. I thought that dish didn't taste like anything which leads me to believe that the goat cheese is the highlight—it adds an earthy, musky flavor that I can't seem to get enough of. Obviously.

Asparagus, Goat Cheese, and Lemon Pasta
Adapted from Deb at Smitten Kitchen
Deb calls for fresh tarragon, of which I had none, so I substituted dried thyme. Also, Deb says to use the logs of goat cheese—not the crumbly kind. As far as I can tell, my little grocery only sells the goat cheese in log form, so I don't even know what crumbled goat cheese looks like; however, if you have to pick between the two, I suggest you listen to Deb and get the log of cheese.
Updated on April 15, 2010: One pound of asparagus is definitely not enough. I recommend doubling the asparagus, at the minimum.
one pound tube pasta, such as Ziti
one to two pounds asparagus spears (see headnote), trimmed and cut into one or two-inch lengths (the same size of your pasta)
1 tablespoon lemon zest
2 to 4 tablespoons fresh lemon juice
1/4 to ½ teaspoon dried thyme
1/4 cup olive oil
5 to 6 ounces soft goat cheese
a cup of reserved water from the pasta pot
salt
black pepper
Cook the pasta according to package directions. Towards the end of the cooking time, scoop a cup of the pasta water from the pot.
While the pasta is cooking, prepare the cheese sauce. Put the rest of the ingredients In a small bowl. Using a fork, mash the oil and lemon juice into the goat cheese until you have a thick creamy paste. Add the pasta water—you'll use at least half a cup of the water and maybe even as much as an entire cup—to thin the mixture, making it easier to more thoroughly coat the pasta.
About three minutes before the pasta is done, add the asparagus. When the pasta is done cooking and the asparagus is bright green and briskly tender (none of this floppy-slimy business), drain the pasta and asparagus, place them in a serving bowl, and toss with the goat cheese mixture.
Taste to check the seasonings (it may need more lemon and don't skimp on the salt) and serve.
Leftovers are coveted.