Supper eaten? Check.
Dishes washed? Check.
Mr. Handsome placed in charge of the house and kids? Check.
Mr. Handsome is aware that he is in charge of house and kids? Check.
Just to be sure, Mr. Handsome has been given a list specifying what being in charge means? Check.
Got a hot shower? Check.
Shaved/shorn legs? Check.
Raining outside? But of course check.
In my bed? Check.
Noise machine on? Click-check.
Pillows stuffed behind my back? Check.
Alrighty then! It appears that I am all set to tell you about macaroni and cheese.

I can't believe I haven't shared this recipe with you yet seeing as I make it about once every other week, if not more often. I mean, if we're talking minutia, then this macaroni and cheese is It.
This is not high-end stuff (Gruyere, white wine, clarified butter). Nor is it low-end (boxed) stuff. It's not low-fat (whirled up cottage cheese with spices) and it's not high-fat (cream cheese, triple cheese, cheese-on-cheese) macaroni and cheese. It's a standard baked macaroni and cheese, simple, no-frills, may-I-please-have-more-mama macaroni and cheese.

Now that we've gotten that all straightened out, I'll show you how it's made.
First, boil a pot of water—salt it good. Then add a pound of macaroni and cook till soft. Al dente. Whatever.

While that's burbling away, make your white sauce. Melt some butter in a pan. When it has melted, add some white flour. Whisk well.

Gradually add the milk, a little at a time. Cook till bubbly and thick. Salt it good.

Drain the pasta and put it back in the kettle. Add the white sauce to the pasta and toss to coat.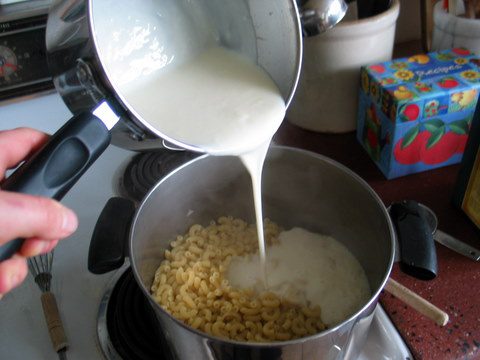 Dump the saucy pasta into a greased pan.

Sprinkle on the cheese.

Bake till brown and bubbly.

Eat.

Baked Macaroni and Cheese
You can gussy this up, if you wish, by adding a scoop of pesto to the white sauce, some chopped oven-roasted tomatoes, other spices (think Italian), caramelized onions, ham, etc.
The white sauce can be thinned out by decreasing the flour (and made lighter—ek!—by decreasing the butter) and increasing the milk. Likewise, it can be thickened by using more flour. Or, if you like your mac and cheese to be real soupy, increase the milk to four cups. White sauces are fun to play with—don't be shy.
Of course, you can replace some of the milk with cream or add some cheese to the white sauce to boost its cheesability factor. If you're that kind of person.
1 pound macaroni
4 tablespoons butter
1/3-1/2 cup white flour
1-2 teaspoons salt
3 cups milk
2-4 cups grated cheese, such as cheddar, Monterey Jack, or Colby
Cook the macaroni according to package instructions. Drain and set aside.
For the white sauce:
Melt the butter in a saucepan. Add the flour and stir well. Keeping the kettle on the hot burner (medium-high) slowly add the milk, a little at a time, whisking rapidly to totally incorporate it into the flour mixture before adding more milk. (If you add the milk too fast, without taking the time to stir it in, you may end up with a lumpy sauce.) Once all the milk has been added, continue to cook the sauce, stirring steadily, until it is bubbly and thick. Add the salt and remove the kettle from the hot burner.
Pour the white sauce into the drained macaroni and stir well.
Dump the macaroni into a greased 9 x 13 pan and sprinkle with cheese. Bake the pasta at 350 degrees for 20-30 minutes, or until bubbly and golden brown.
Note: This can be assembled ahead of time and kept covered in the refrigerator until you are ready to bake it. However, it tends to get drier (the pasta absorbs the sauce), so you may want to add an extra half cup (or more) of milk to the white sauce if you know you'll be waiting a few hours to bake it.